So much thought goes into planning a wedding. Whether you've known what you wanted since you dressed up as a bride as a little girl, or are starting fresh, there's some work to be done… But what kind of "work" is more fun than planning a party based on love?!
Many brides, understandably, fret over all the details— the perfect dress, food, flowers, hair; something old, new, borrowed, blue!—but those who have already walked down the aisle know that it'll all come together beautifully just in time 🙂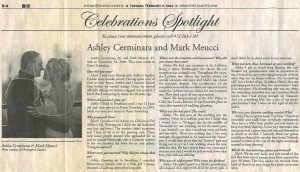 As Ashley and Mark (in the feature above) realized at their Pittsburgh wedding, a great wedding band can really make the reception. A bride may remember the flowers and the dress, but the guests will remember the PARTY! "I honestly think our guests could have danced for another four hours! Nobody wanted to leave at the end of the night, everyone wanted to keep dancing!" What a great testimony to the City Heat Band!
John Parker Bands always strives to do just that—keep the party going! By responding to each unique crowd, and adjusting accordingly, they're able to include everyone for a guaranteed great time.  Simplify your search for the perfect Pittsburgh wedding bands by starting with John Parker Bands!
Happy planning!
Special thanks to Ashley and Mark; The LeMont Pittsburgh; RIU Palace, Cabo San Lucas; Pittsburgh Post Gazette; and of course, The City Heat Band!