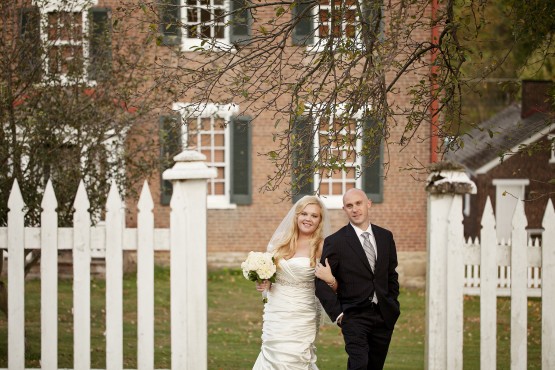 Maggie and Joe's laid back wedding had a distinctly intimate feel thanks to the modest 'family & close friends' guest list and sweet hand-selected decor. For this celebration,  the wedding band Dreamscape put on one heck of a show for the newlyweds and their guests!
Tiffany, one of the talented founders of TJZ Creations, provided us with some delightful photos of this charming wedding for you to enjoy.
Both the ceremony and the reception took place inside the West Overton Barn, a rustic venue. It was the perfect canvas for the antique decor that the bride and groom had in mind! The ceremony space was beautifully simplistic, decorated with only a few rows of wooden chairs and some flower boxes.
In the reception area, guests kicked off the night by signing bottles of anniversary wine for the newlyweds instead of a guest book. The old wooden beams of the barn were dripping with festive lights, giving the room a romantic glow. English-style flower arrangements, old newspaper table runners, book stack centerpieces, and window pane seating charts contributed to the distinct vintage feel of the wedding!
Pittsburgh's coolest wedding band played sensational melodies that gave guests reason to move, keeping this dance party running late into the evening. Even the kids joined in on the fun!
Maggie and Joe's bash proves that bands are not just for huge weddings with many hundreds of guests! If you want to bring a little swagger to YOUR wedding reception, then Contact John Parker Bands.
VENDORS
Entertainment  Dreamscape Band  |  Venue  West Overton Barn  |  Photography  TJZ Creations