Claire and Michael's wedding was a sweet country affair. The couple exchanged vows at the St. Peter's Catholic Church with many of their friends and family in attendance. Their reception took place at the Bakersville Banquet Hall with pretty white tables and gold chandeliers. There were many little touches throughout their wedding, from the cake with a porcelain bell topper and handwritten place cards. For entertainment Claire and Michael found a fun and classy live band to perform at their reception- the Modern Times Band. Family and friends had a blast listening to 80's and 90's music, jazzy tunes, and participating in a dollar dance!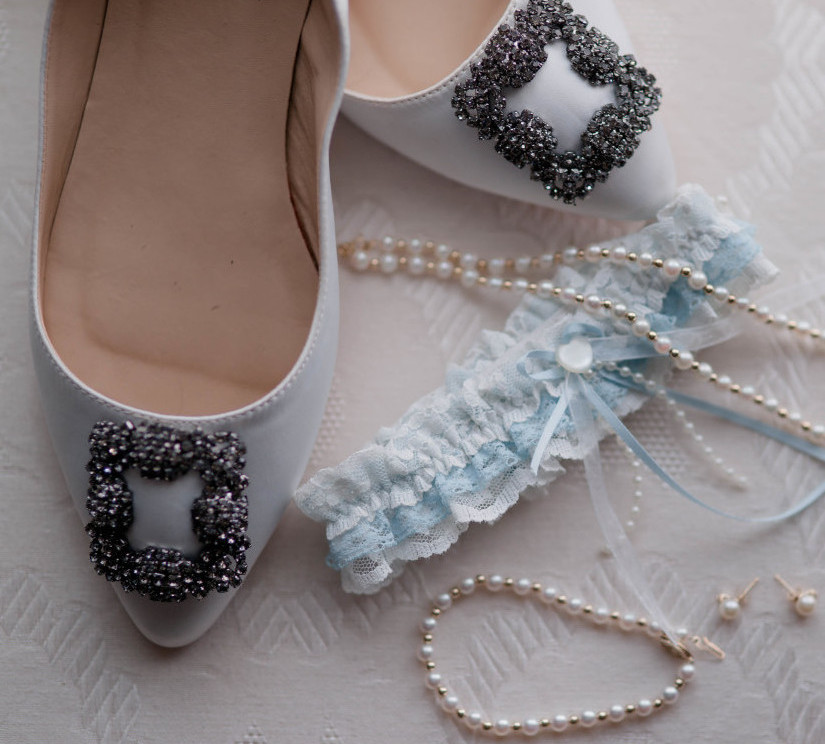 We love this photo taken by their photographer, Glessner Photography, of all the bride's trinkets. Her something blue; a garter, her pearl necklace, earrings, and bracelet. Even her shoes with a vintage brooch were so pretty.
Truly a throwback to the 80's, with big bows and ruffles, the bridesmaids really knocked it out of the park with a fun twist on the traditional bridesmaid dress. So great for dancing, too! The bridesmaids wore different styles, some short and some long and the only thing they had in common- the color, white!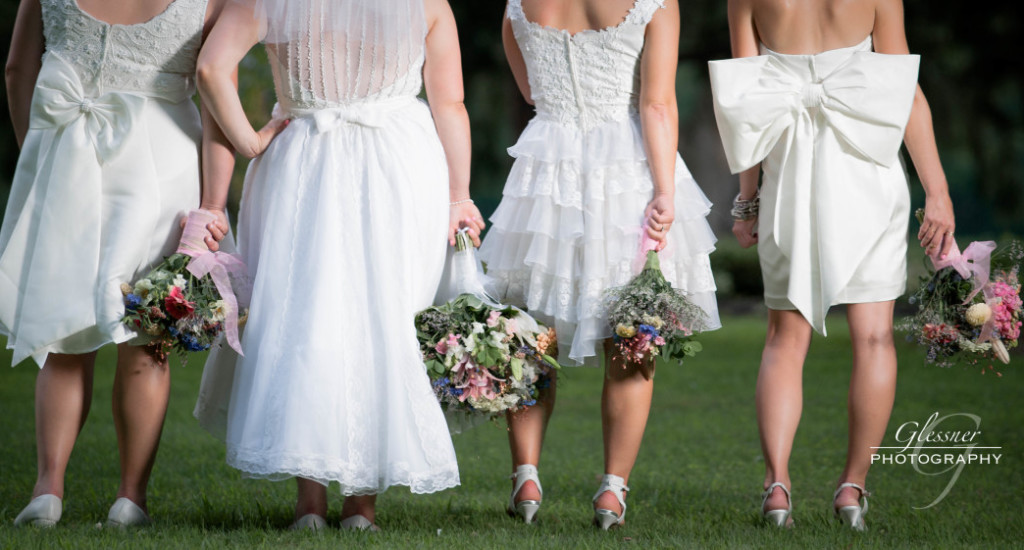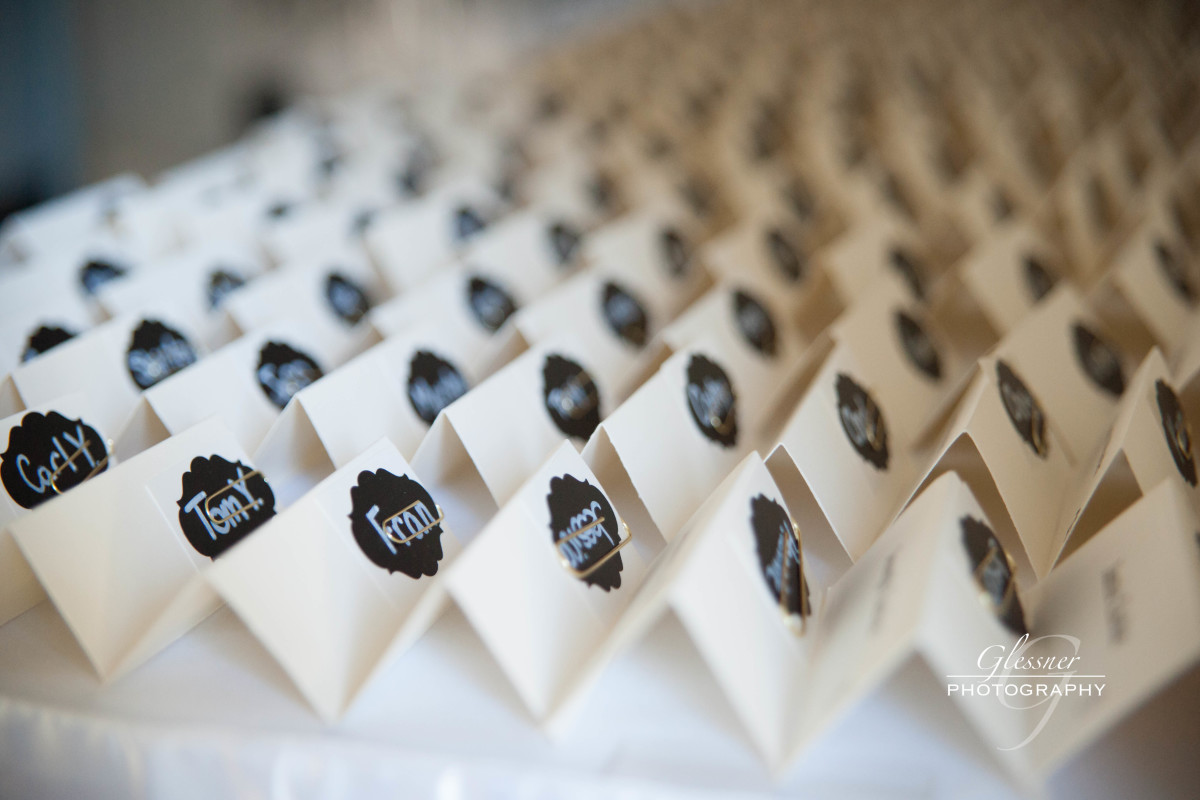 After the ceremony guests headed for the Bakersville Banquet Hall for the reception. The ballroom was decorated with white tabletops and colorful napkins. The bride and groom had their own table with their wedding cake, a delicious buttercream confection done by My Daughter's Wedding Cakes. The dance space was huge and had plenty of room for Modern Times Band to set up!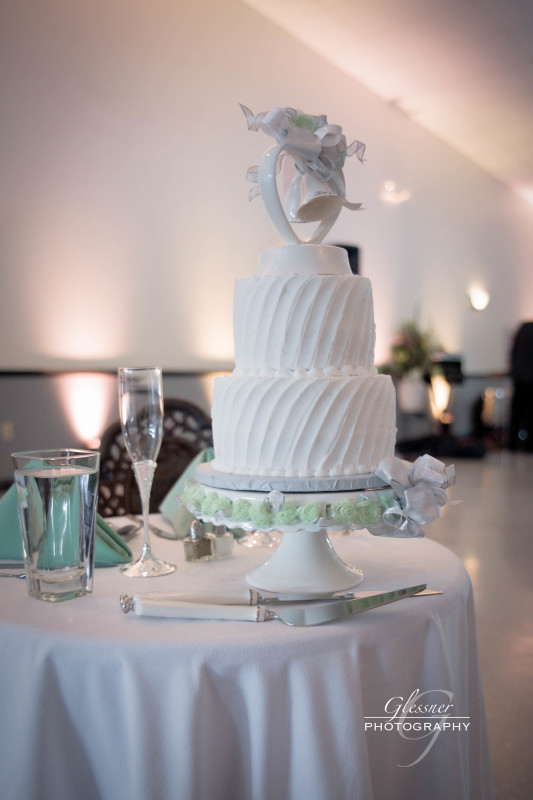 The room was all lit up once it was time for the newlyweds to make their grand entrance. The band introduced them and the rest of the bridal party. For their first dance the band played "Just You N' Me".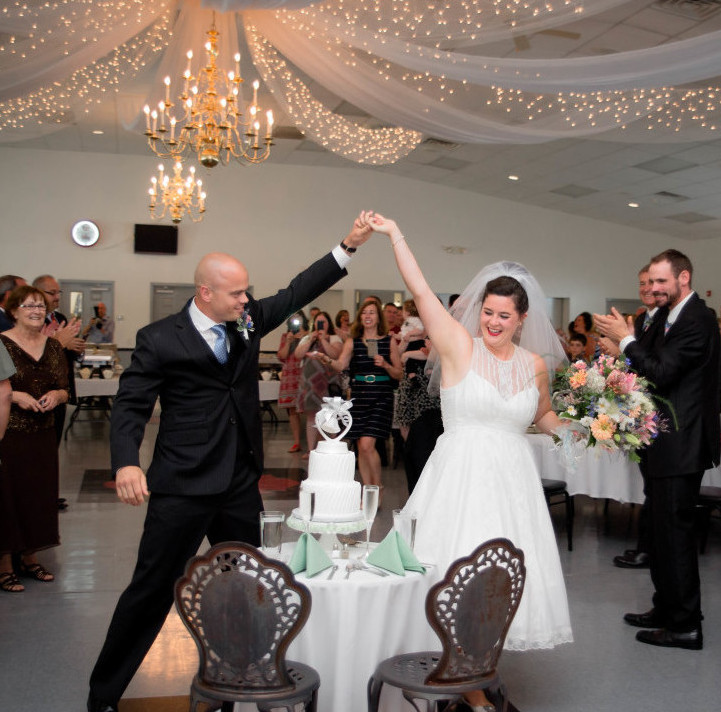 We must pause for a moment to admire the bride's bouquet. An arrangement of wild flowers with white, pink, orange, and blue. It was beautifully done by Putman Flowers.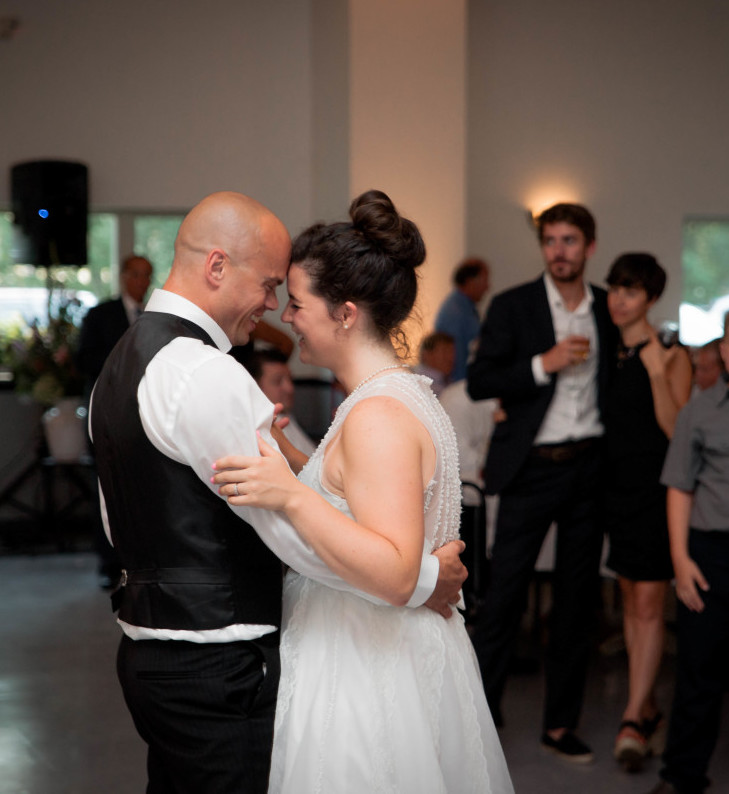 Ah, the first dance as husband and wife! Modern Times Band made sure to make their song extra special. Following dinner, the band would then play a song for the bride and her father to dance, "The Girl From Ipanema".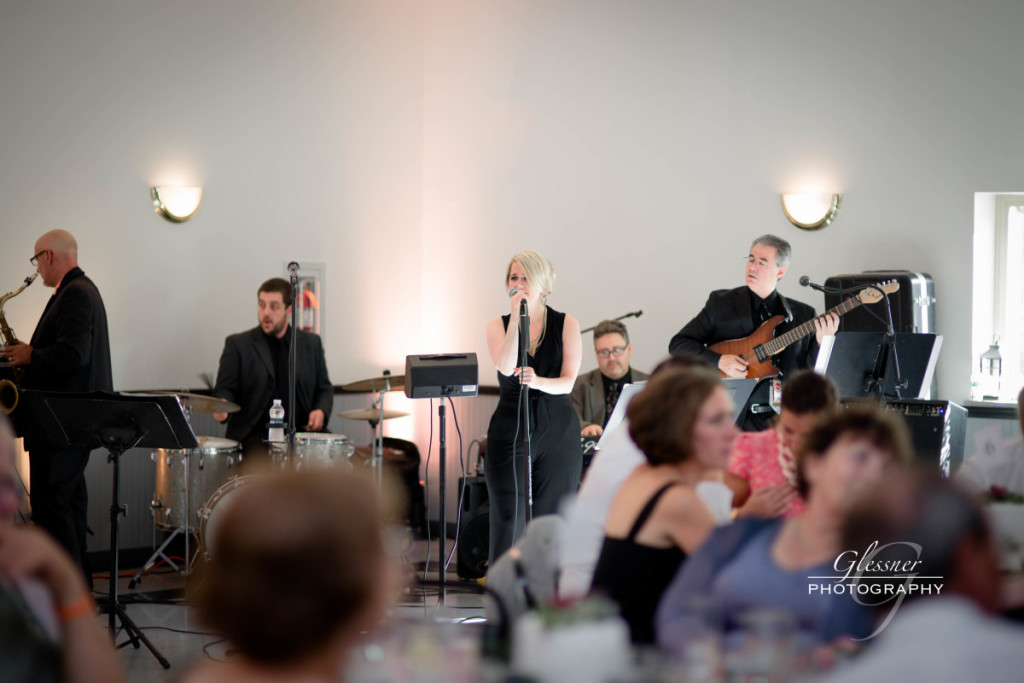 ~Reception Music:~
Bride and Groom First Dance: Just You 'N' Me, Chicago
Bride and Father Dance: The Girl From Ipanema, Frank Sinatra
Other Requests: Oh What a Night, The Four Seasons,
Today I Met The Boy I'm Gonna Marry, Darlene Love
Special Dances: Dollar Dance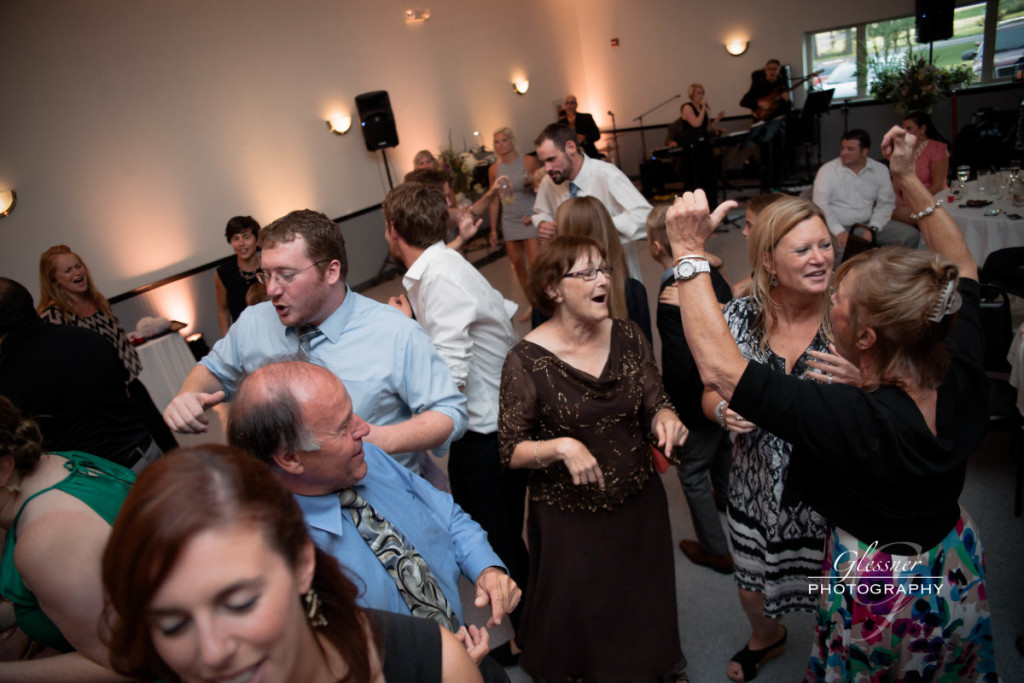 The party really started after the newlyweds cut their cake. The couple love 80's and 90's music and the band played many of their favorites. They also played classic Frank Sinatra hits, keeping up with their jazzy theme. Friends and family twirled around the dance floor and paused to admire the happy couple. Their night was a flawless celebration!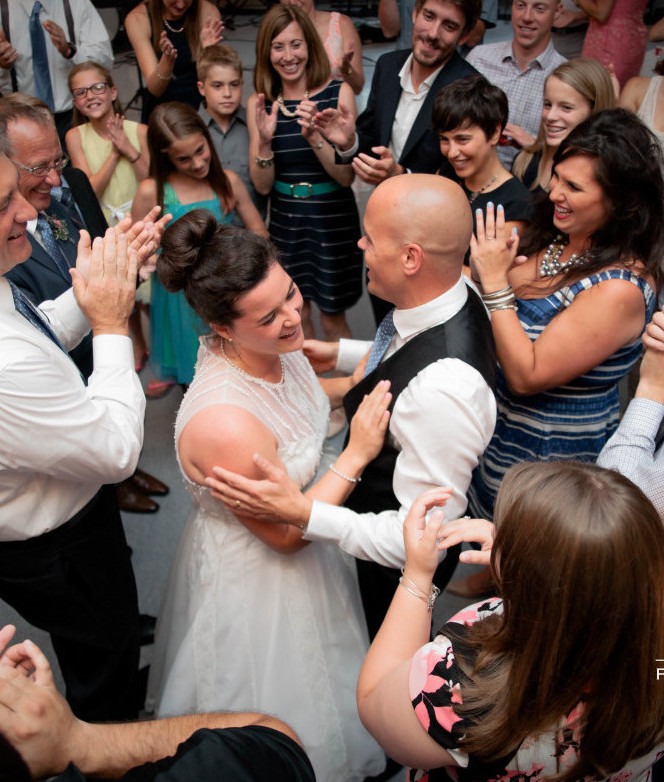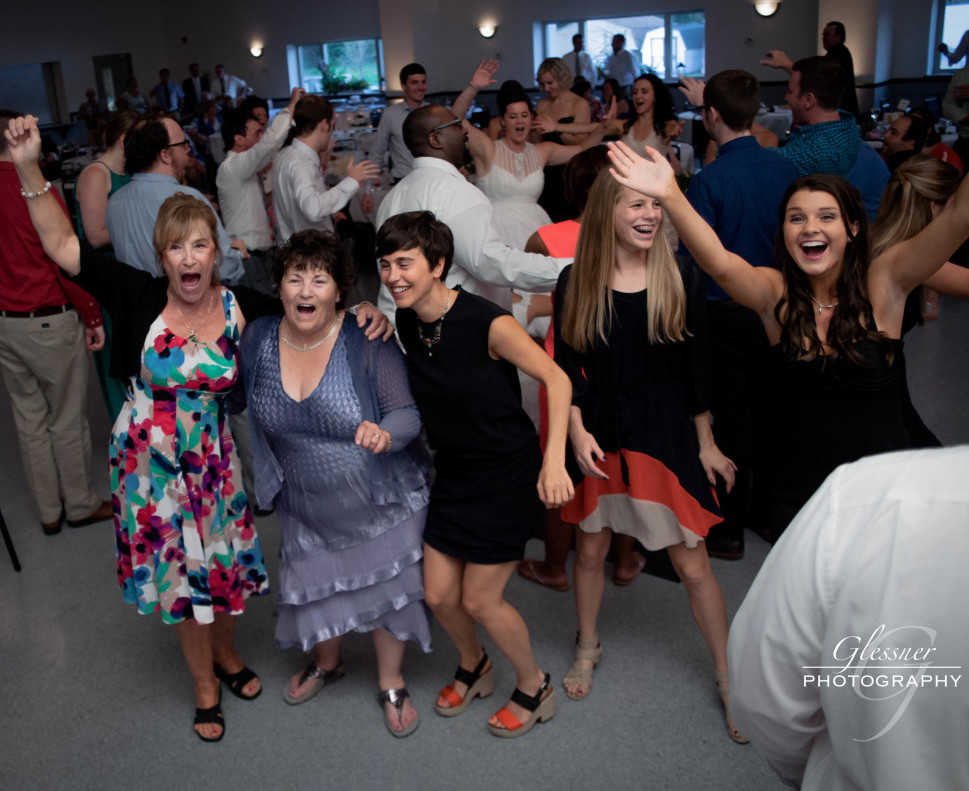 We wish Claire and Michael many years of happiness! A huge thank you to their photographer- Glessner Photography, for sharing their photos with us. We hope you will take a moment to view his work and check out the other vendors the couple had at their wedding. Modern Times Band was so honored to be a part of their day. Everyone had so much fun and were so impressed with their professionalism and class. Modern Times Band is the perfect match for any wedding reception or event, contact them today for more information. We would love to hear about your fabulous party!
~Vendor List:~
Ceremony: St. Peter's Catholic Church
Reception: Bakersville Banquet Hall
Photographer: Glessner Photography
Florist: Putman Flowers
Cake: My Daughter's Wedding Cakes
Entertainment: Modern Times Band