A happy bride and groom, surrounded by their family and friends on a full dance floor– these are the components of a great wedding reception! And that is just what Dana and David saw when City Heat performed at their wedding!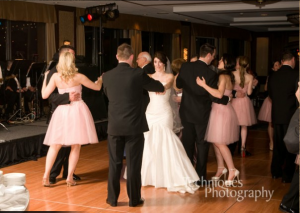 Brian with Techniques Photography captured this great image of the wedding at the Sheraton Station Square.
Of top Pittsburgh wedding band, City Heat, the Father of the Bride commented, "It was a wonderful event overall, but the band made such an incredible difference. Extraordinarily professional, amazingly hard working and talented from beginning to end, they maintained non-stop energy and participation.  The dance floor was filled the entire night."
And of John Parker Bands, he says, "the entire experience with John Parker Bands, from planning the event to the final number, exceeded all expectations.  You are truly a class act."
We are thrilled and honored when families chose one of our bands to be a part of their special day, and are excited to provide that level of entertainment for you! For your special day,  make sure you have all of the assistance that you need during the planning stages, and a great wedding band like City Heat to delight in the pleasure of an excellent time, resulting in endless compliments on the day of your wedding!
Contact us now to learn more!