Suzanne and Chris were married on a beautiful sunny day. The ceremony took place at Shakespeare's Terrace, a separate space on the grounds of Shakespeare's Restaurant. The bride and groom said "I do" under a charming altar wrapped in crisp white tulle. After exchanging vows, the newlyweds walked down the cobblestone path, which was decorated with pink sash ribbons and a cascade of rose petals.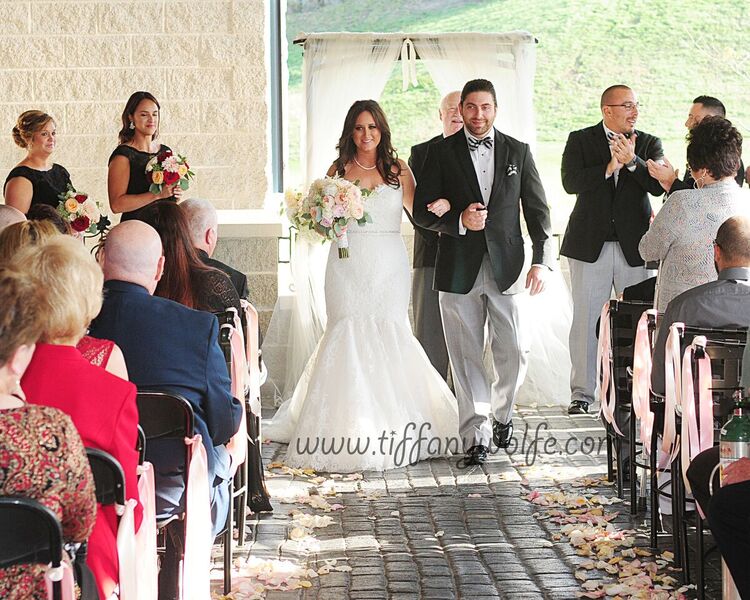 Suzanne chose a mix of light and dark colors for her fall wedding- red, black, peach, and white. The bridesmaid dresses were formal and elegant, with a pretty lace overlay and ribbon sashes tied at the waist. We loved the deep crimson roses in their bouquets, which really made a statement and stood out against their dark dresses. The girls all looked so beautiful with their side swept hairstyles and long, sparkly chandelier earrings. We must also draw attention to Suzanne and her gorgeous, intricate wedding gown. Her dress was covered in lace, flared out at the bottom, and with simple jewelry and a sweetheart top, she was flawless. Spectacular job ladies!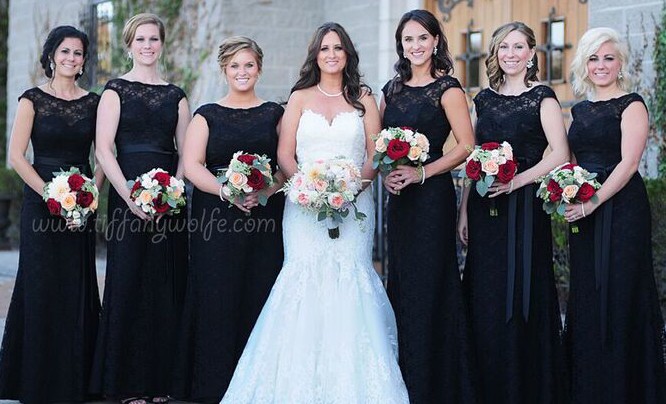 Of course, we have to give the gentlemen some love. The groom and his groomsmen looked like a million bucks in their gray pinstriped pants and dark suit jackets. The matching bow tie and handkerchief were a sweet touch, each handkerchief tucked just so in every pocket. Take a look at the groom, front and center, with that huge smile on his face. That says it all.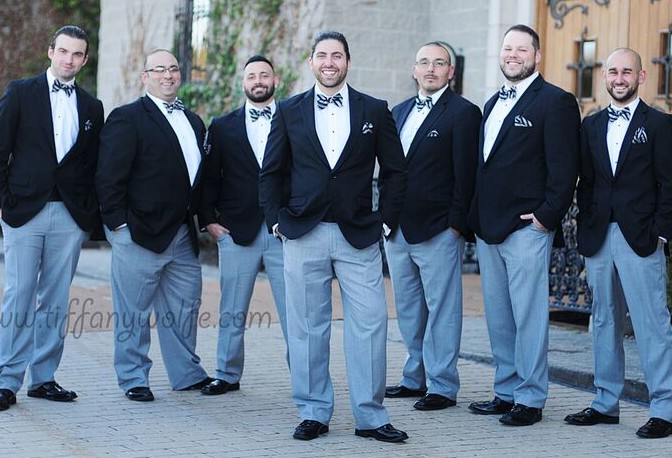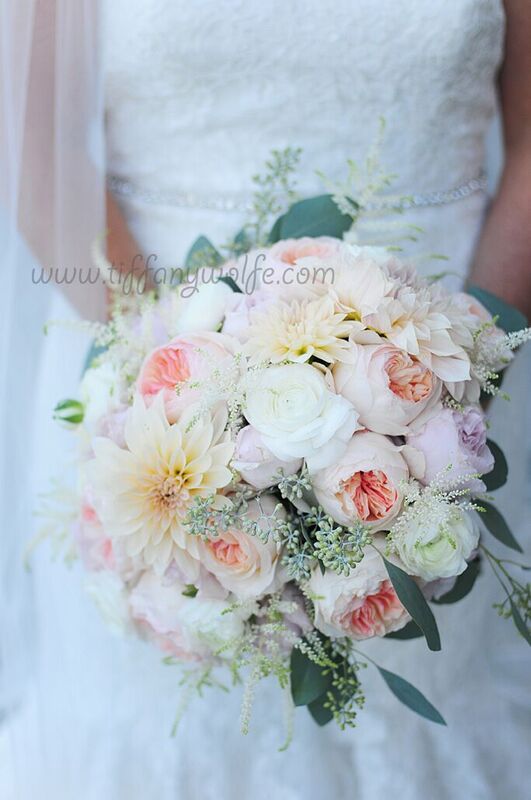 Suzanne's bouquet was a beauty, a true work of art. This stunning image captured by Tiffany Wolfe, their wedding photographer, shows every flower in bloom. The bouquet was a combination of pink peonies, peach dahlias, and white and lavender roses. The stems were wrapped in a lace fabric with small, tiny pearls, to match Suzanne's dress. All of her flowers were arranged by the talented Posies by Patti florist.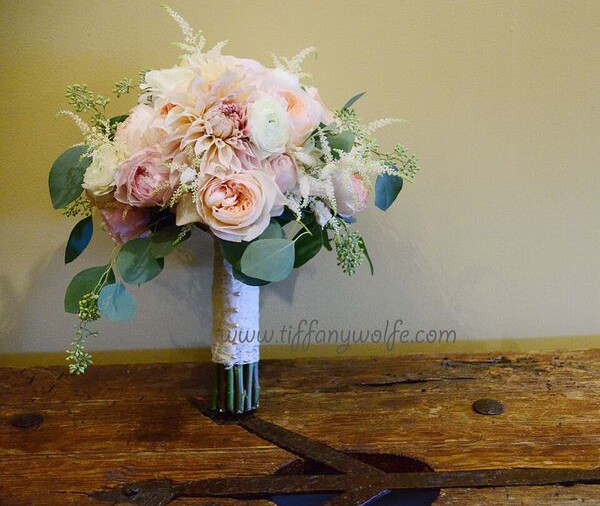 The entertainment for the wedding was provided by none other than the amazing John Parker Band. Suzanne and Chris chose the song "More Than Words" for their first dance as husband and wife. Many of their song choices were classics, such as "Somewhere Over the Rainbow", which was their pick for the bride and father dance, as well as the groom and mother dance.
"The band exceeded our expectations! Guests were so impressed and many wished John performed publicly so that they could see the band again!!" – Bride & Groom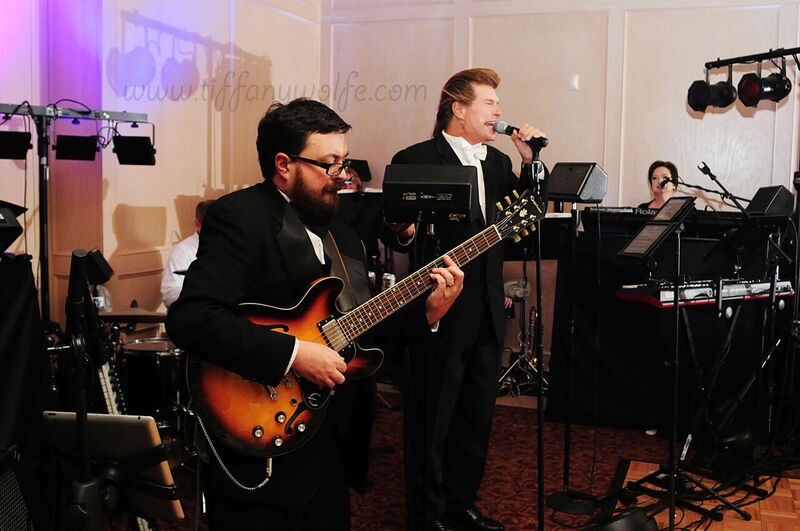 The reception was held inside the grand ballroom of Shakespeare's Restaurant. From the outside, the building is reminiscent of an ancient castle. Inside, the grand ballroom is incredibly romantic, with dimly lit candelabra chandeliers, white backed chairs, and lacy draped tables. Vases of flowers were clustered together on every table with small votive candles. The dance floor is in the center of the room with plenty of space for family and friends to dance, jump, and jive.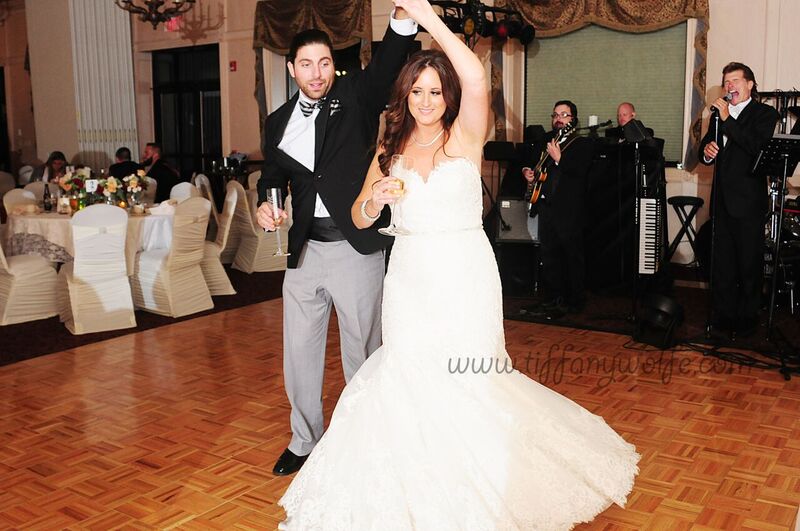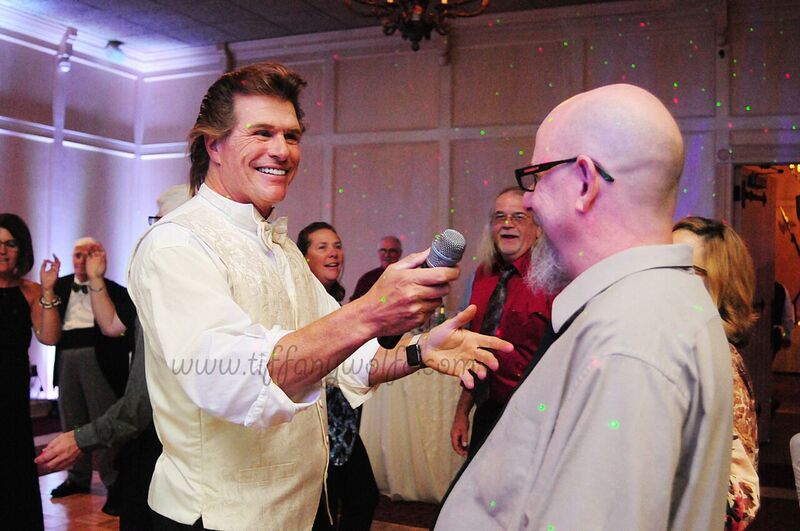 John Parker Band played the night away, offering the mic to guests and joining in with the crowd. We bet everyone got a kick out of listening to others sing along to their favorite songs!  This is a great shot below taken by Tiffany Wolfe, of friends and family throwing their hands up in the air. It sure looked like quite the party!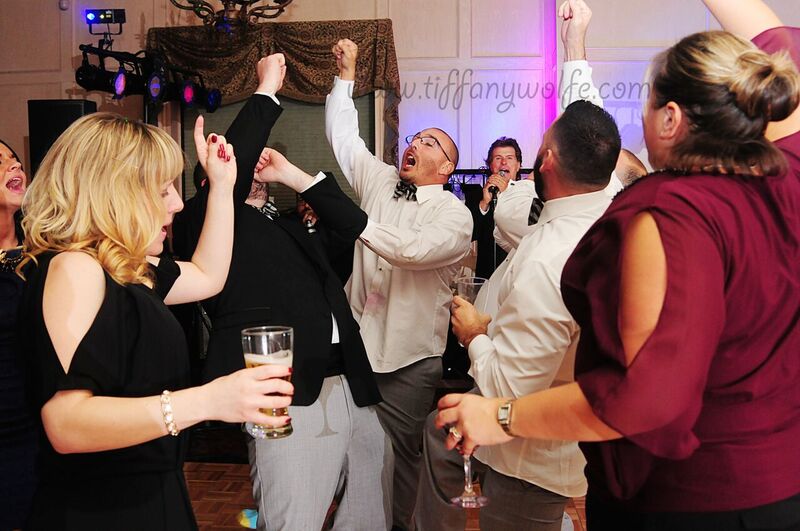 We would like to thank Suzanne and Chris for having John Parker Band at their wedding. If you are looking for a fun, energetic live band for your wedding or event, please contact them today! We're so grateful to Tiffany Wolfe for sharing her beautiful photos with us! Please take a look at her website for more samples of her work.
~Reception Music:~
First Dance: More Than Words, Extreme
Bride/Father & Groom/Mother Dance: Somewhere Over the Rainbow, Israel "IZ" Kamakawiwo'ole
Last Dance Song:  Take Me Home Tonight, Eddie Money
~Vendor List:~
Ceremony & Reception Venue: Shakespeare's Restaurant
Photography: Tiffany Wolfe
Florist: Posies by Patti
Entertainment: John Parker Band