Patricia and Josh were married at The Fairmont Pittsburgh and on 2 Segway Scooters rode into the fun of their reception!  At Pittsburgh's premier luxury Pittsburgh hotel, the bride & groom entered in what was a truly unique way.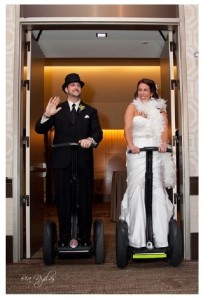 With The John Parker Band performing, their family and friends all around, and unique personal touches throughout, Patricia and Josh's wedding was a huge success – including Patricia's crowd-surfing!
Huge thanks to BeaPhotos for sharing their talent and pics!
And, they lived happily ever after…Let's talk about YOUR wedding! Contact ustoday!