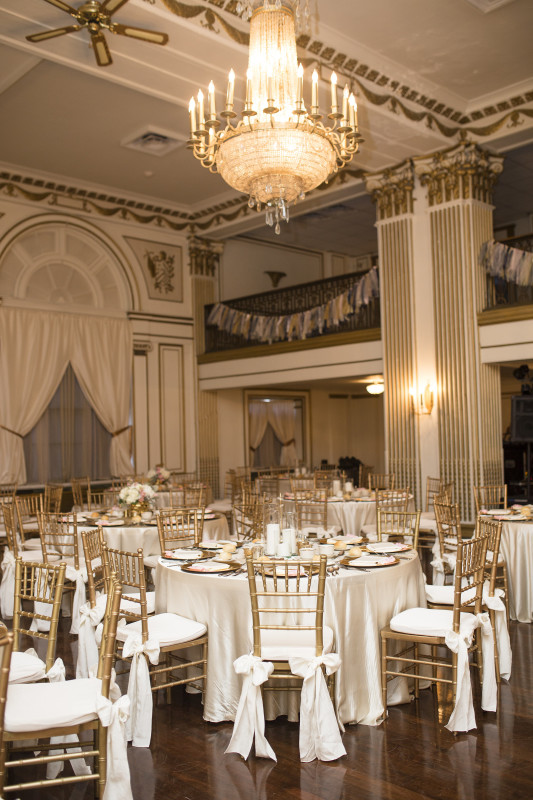 November 21st was a crisp, bright and clear day – perfectly mild and sunshine-y for a happy couple in love getting married! Pittsburgh pair Allison and Jared chose a gorgeous – and historic!- venue for their November wedding reception. The George Washington Hotel was built in 1922 (and opened on our nation's first president's birthday) and boasts an impressive list of celebrity guests from the past that includes Bob Hope, JFK, Marilyn Monroe, the Monkees and even the Beatles!
The pair picked the Grand Ballroom from the list of six event spaces at the boutique hotel; it's a majorly dramatic room with gilded paneling, soaring ceilings and sparkling chandeliers. Photographer Megan Ruffing Wylie expertly captured Allison and Jared's vision that transformed  the ornate room into a warm, inviting and totally glamorous space.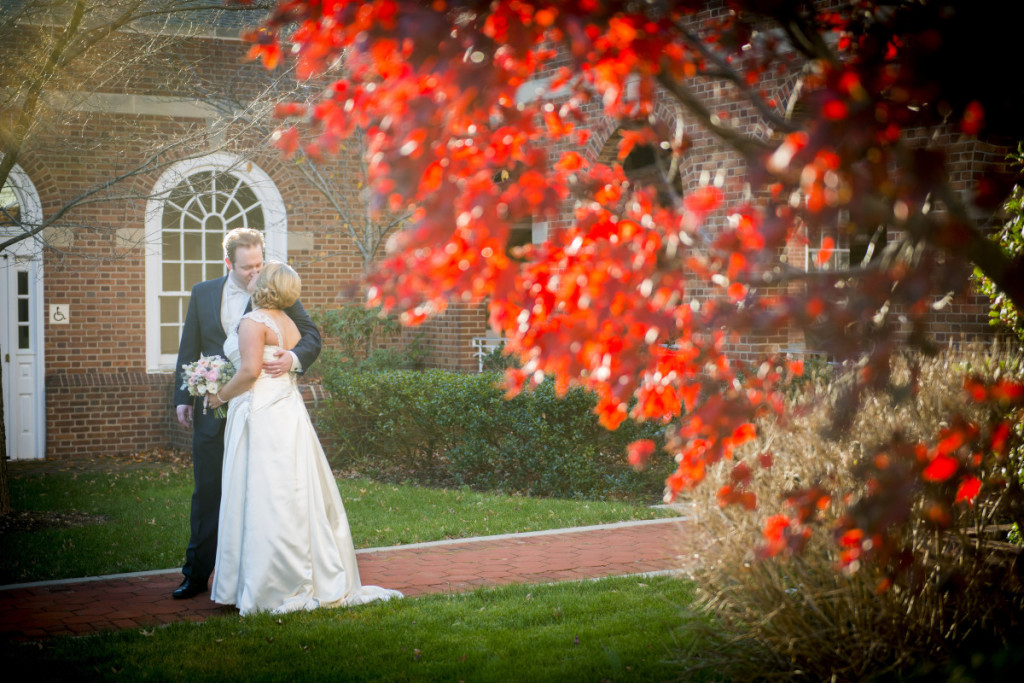 Wylie was able to use the incredibly vibrant fall foliage on the hotel grounds to snap some seriously stunning shots of the new couple; this sweet moment offset by the bold red leaves is a total framer!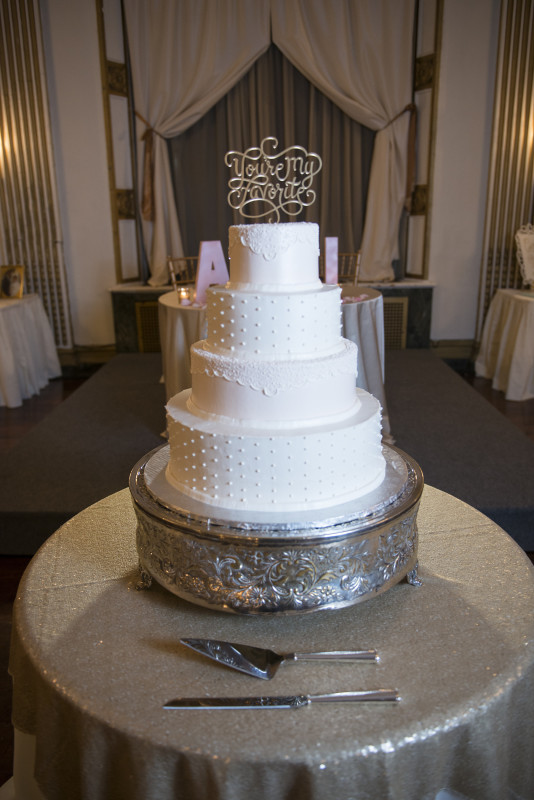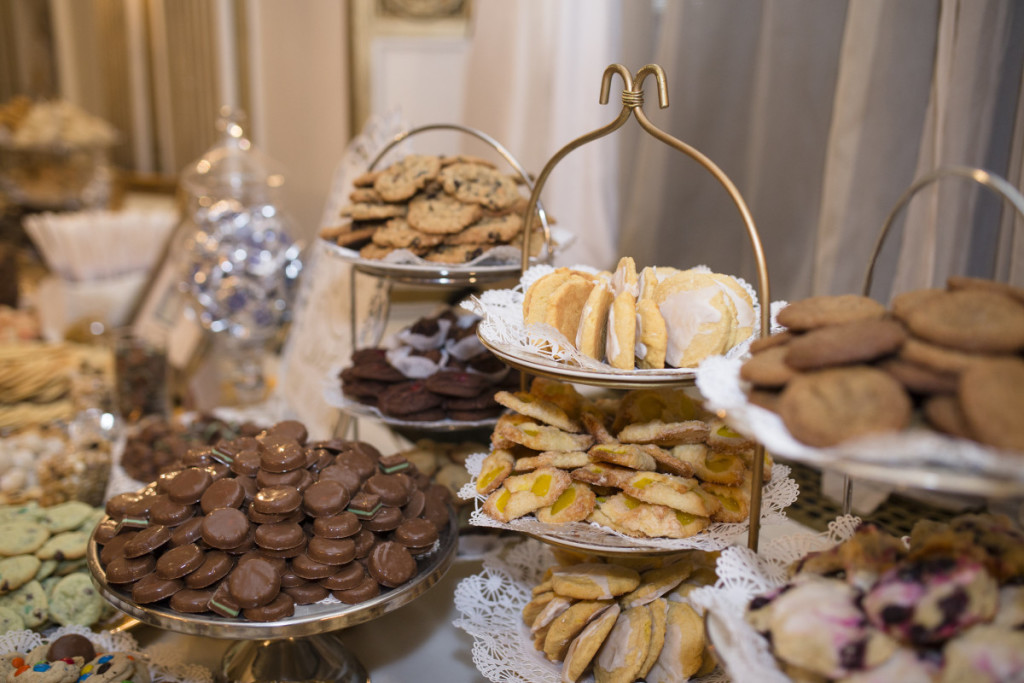 When it came time for the cake cutting, Allison and Jared not only had a super cute polka dot cake made by Bethel Bakery, they also served up an entire dessert table of sweet selections. Pretty pastries, chewy cookies and decadent chocolates overflowed on pedestals and trays- the perfect avenue to keep guests properly sugar fueled to continue dancing all night long!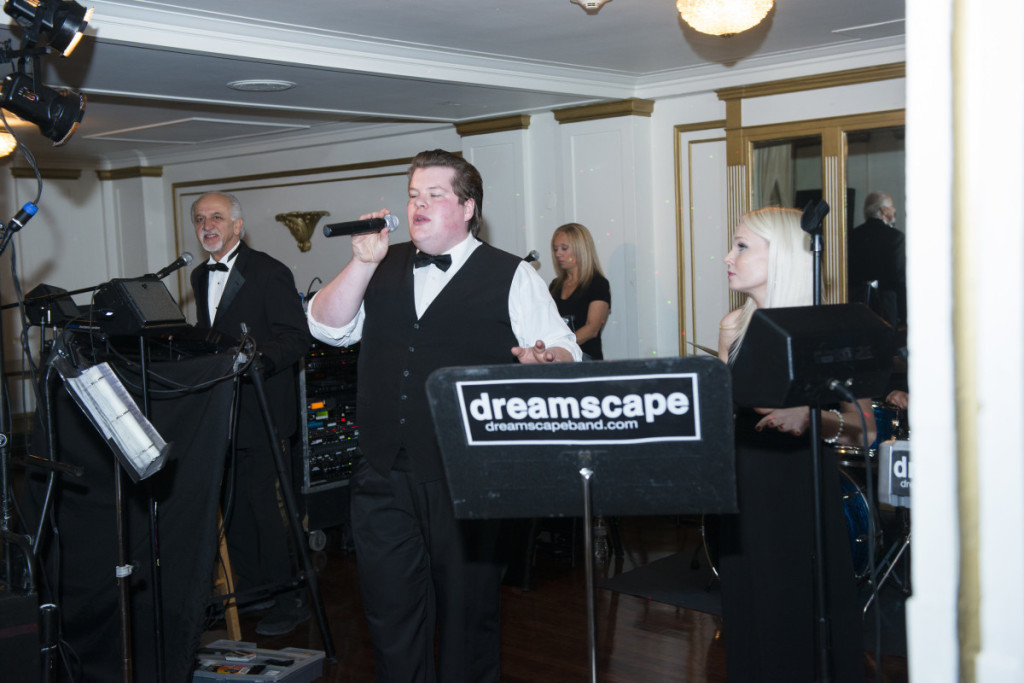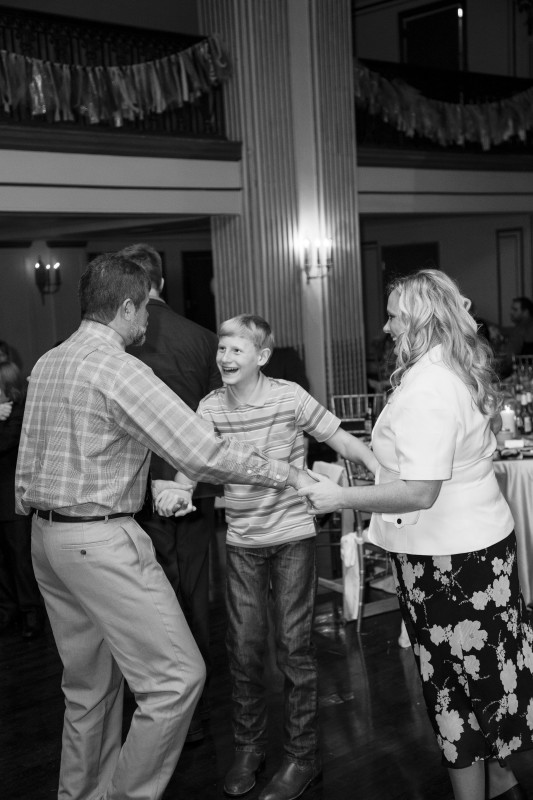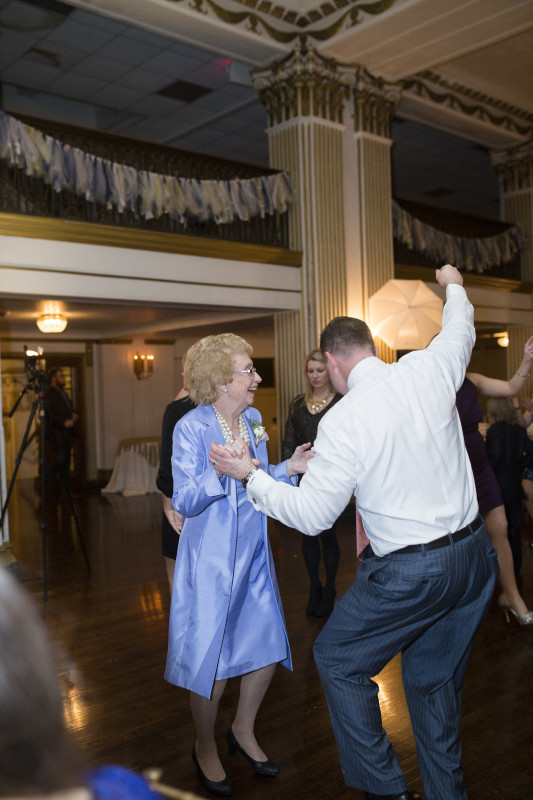 And speaking of dancing, the Dreamscape band totally delivered on the tunes.Playing an eclectic mix of classic rock, old standards, country and new favorites, the energetic band kept the crowd engaged and the fun levels through (very high) roof all night. As you can see, good music knows no age limit and revelers young and old took to the dance floor to help Megan and Jared celebrate!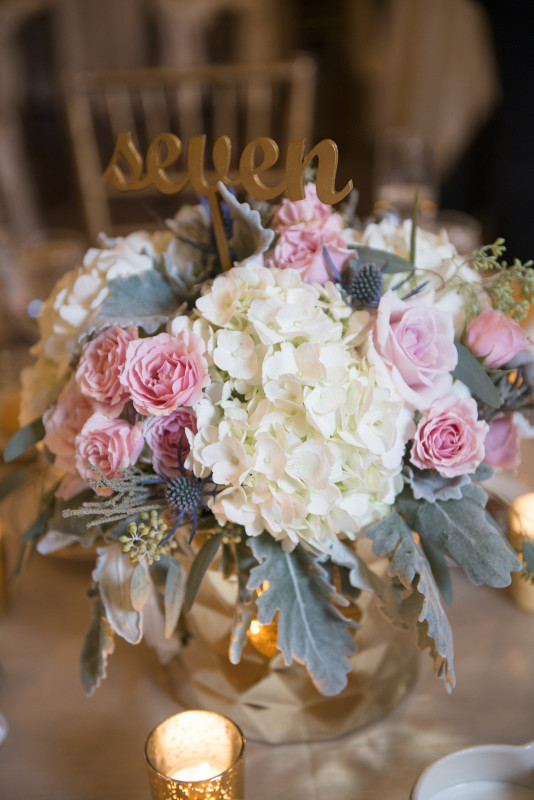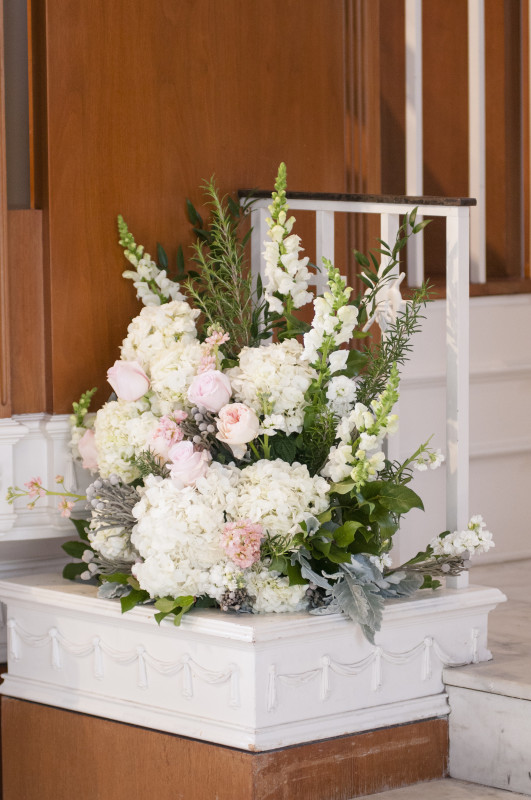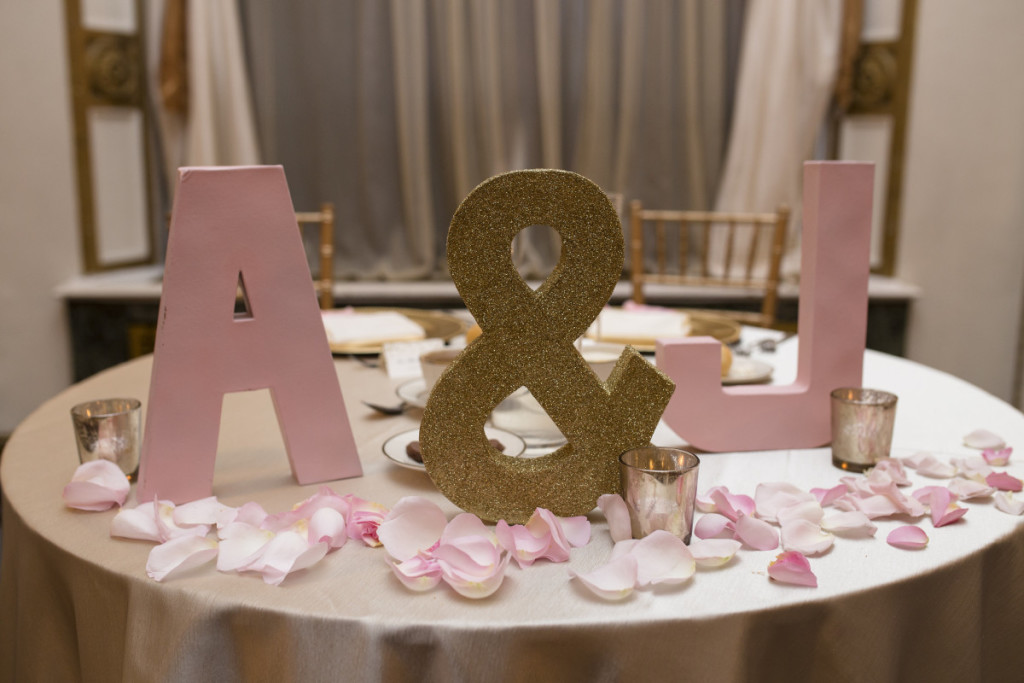 Both the reception table centerpieces and the ceremony arrangements, created by local favorite florist The Farmer's Daughter, were a sublime mix of unfussy and elegant with pastel pink roses and white hydrangea offset by the gray-green lambs ear plant. Megan and Jared put their DIY skills to use as well; the painted, glittery wooden monogram added a personal, whimsical touch to the reception decor.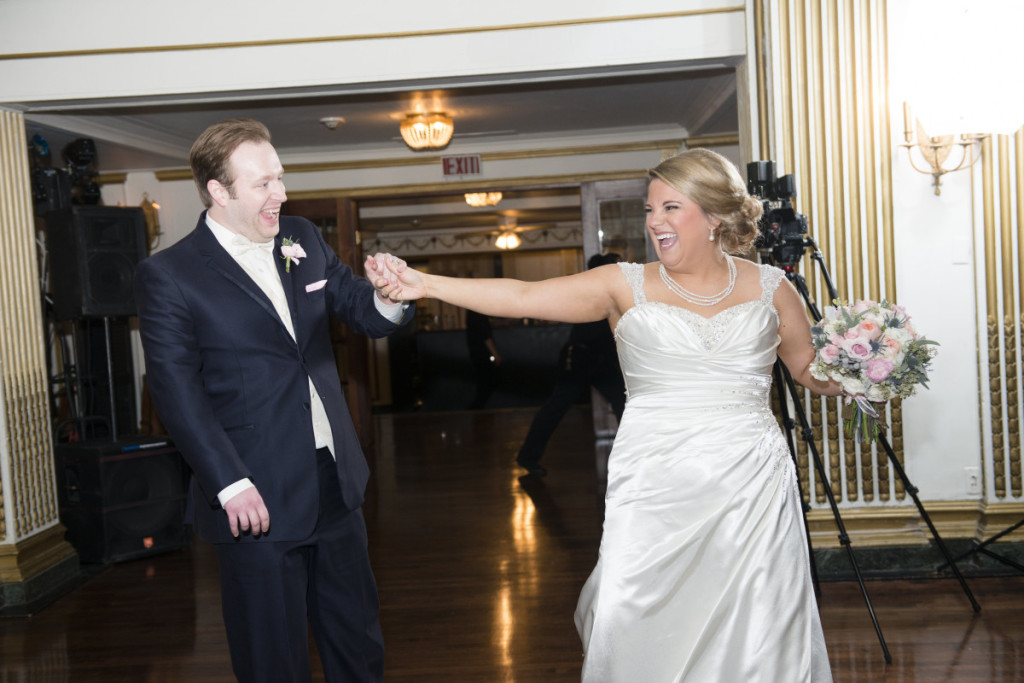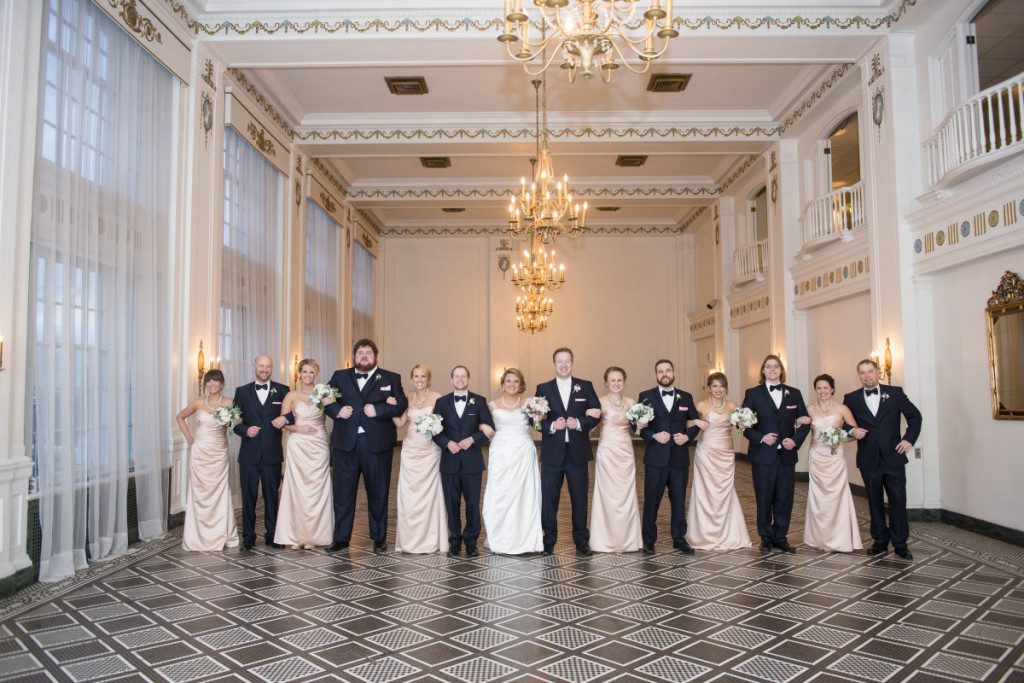 Allison chose a super flattering ruched wedding dress with straps delicately encrusted with jewels. The guys wore classic blue suits and the classy champagne colored bridesmaids dresses perfectly accented the venue's own charm.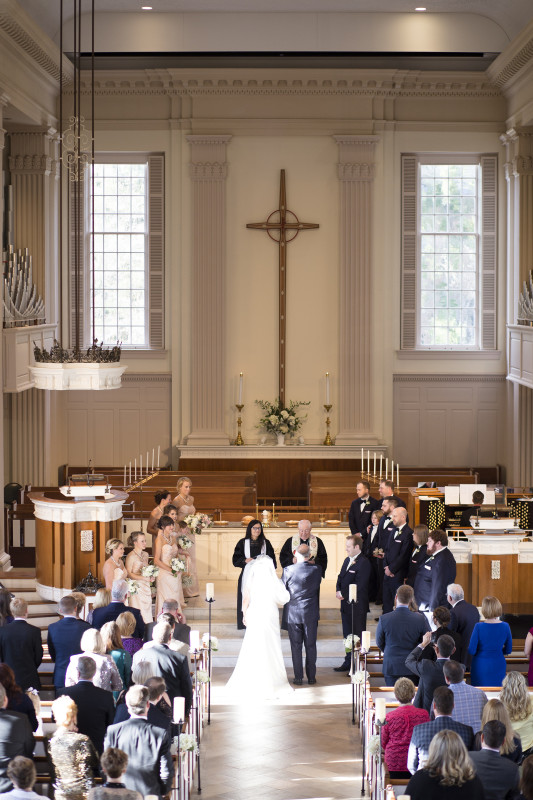 And obviously, it's not a wedding without a ceremony and Allison and Jared's nuptial location was as grand and regal as the reception. Held in the early evening at the Westminster Presbyterian Church, it was a sweet and personal ceremony.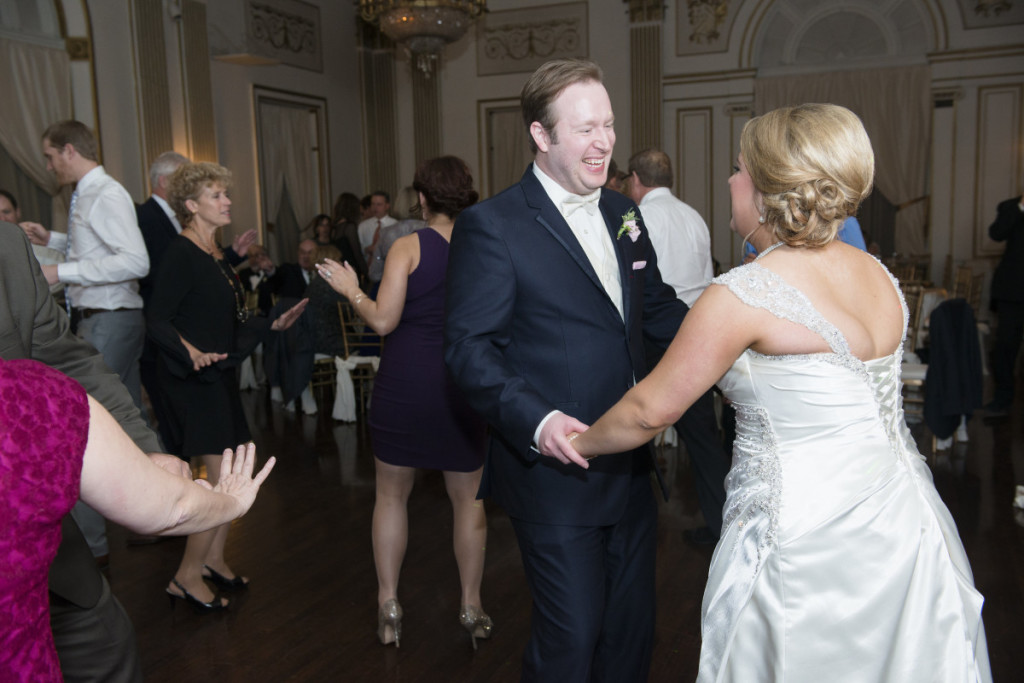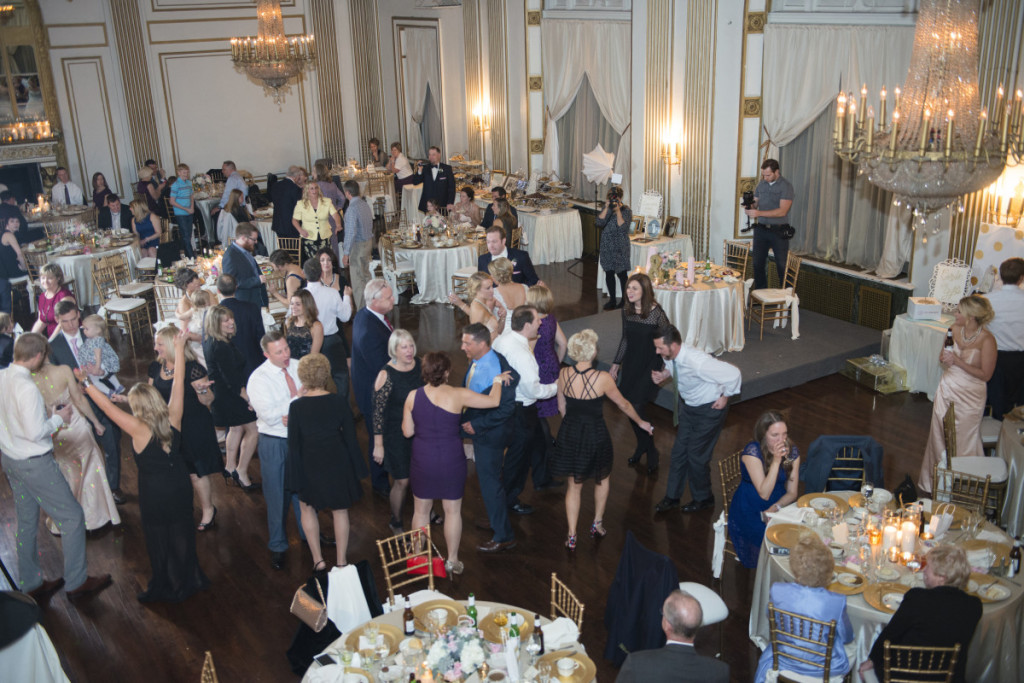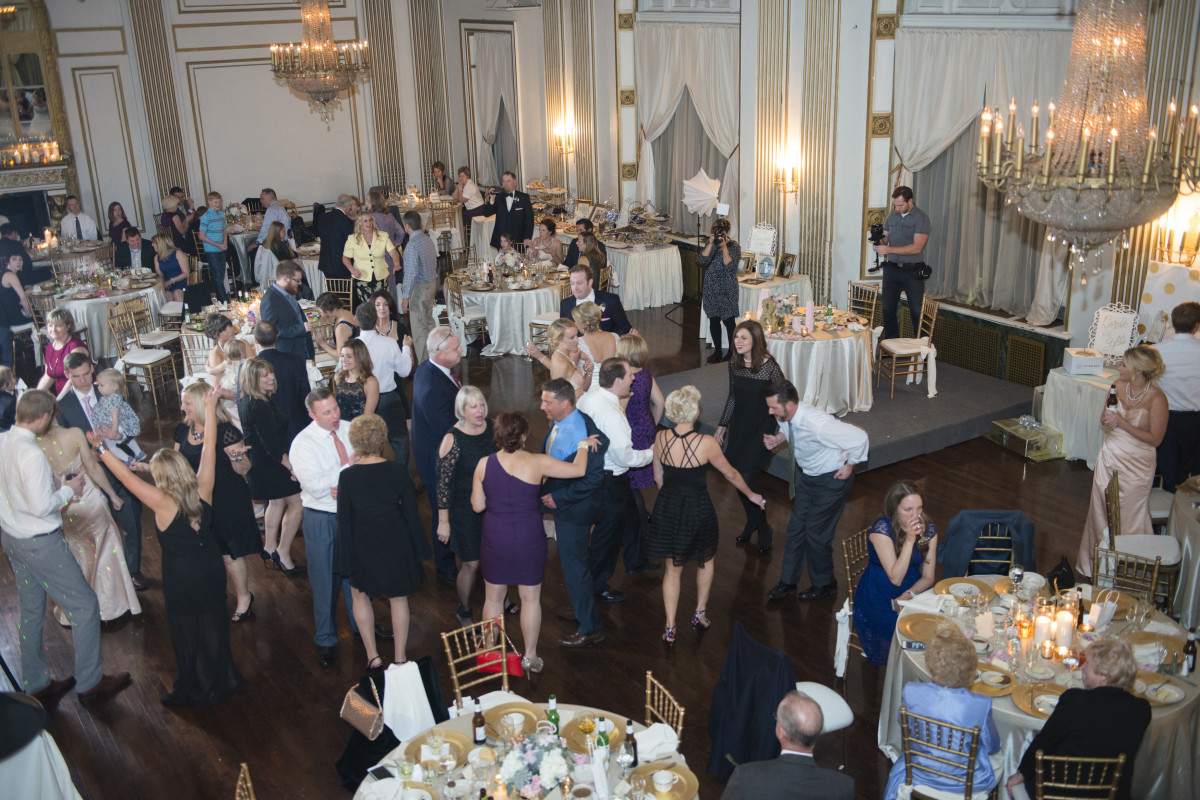 Allison and Jared's wedding was personal, classic and festive. If that sounds like your idea of a dream wedding, be sure to check out all the vendors the couple used! And if the Dreamscape band's fun vibe and incredible energy is what you're looking for in a wedding band, don't hesitate to contact John Parker Bands for more information! We're always happy to hear from you and are committed to providing all our couples with a customized, unforgettable night of music!
We also want to thank Megan Ruffing Wylie again for allowing us to use her gorgeous photos of Allison and Jared's wedding; be sure to visit her website to see her other amazing work and feel free to contact her if you're looking for a photographer yourself!