Ryan and Jorjetta are a beautiful couple. The couple held their wedding at the Nemacolin Woodlands Resort with an outdoor ceremony, grand ballroom reception, and live music. John Parker Band, a top Pittsburgh wedding band, was a part of their special day. The newlyweds incorporated their Greek and Bulgarian customs into the celebration, with the help of John Parker to play all the right music.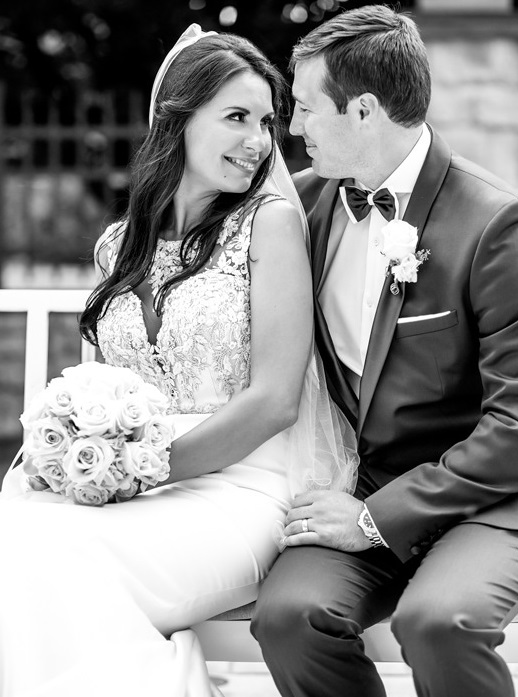 Their photographer from Fineline Weddings was able to capture their love and devotion for one another flawlessly. We love this photo of the couple, that's definitely one to cherish forever!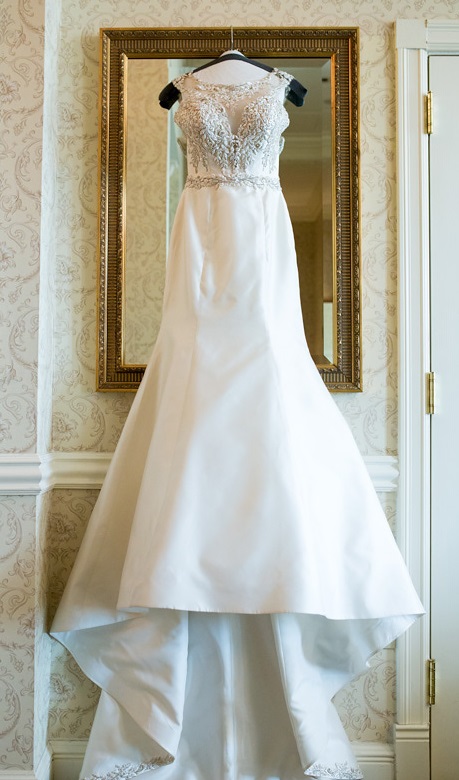 The bride got ready for the day at the Chateau Lafayette, part of their expansive & opulent venue. Her mermaid gown was ivory, with a delicate pattern woven on the bodice, and fit the bride perfectly. She looked gorgeous! We love her no fuss hair and long veil.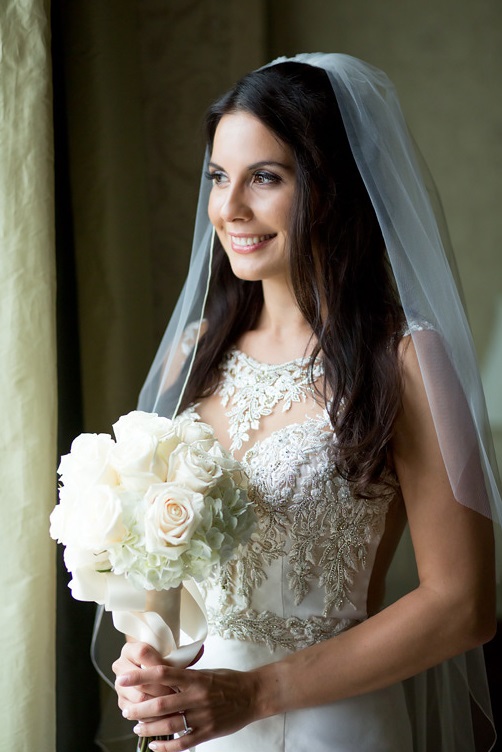 The groom looked great in his blue tux. He wore a white shirt and dark blue bow tie. We bet everyone was excited for the reception, filled with dinner, dancing, and music!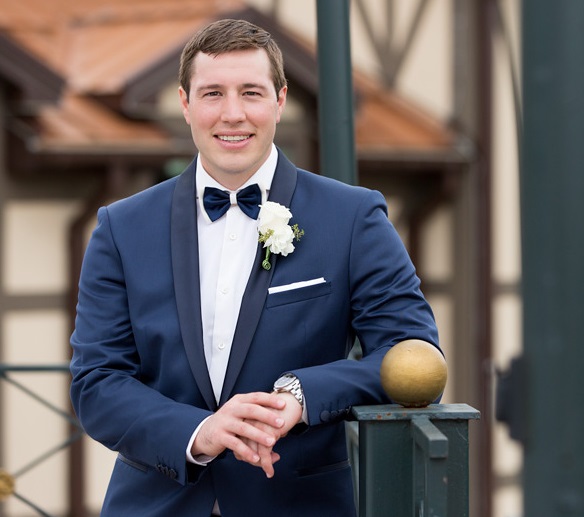 John Parker provided a string trio to perform during their ceremony. The Strings played several pieces, including "Hornpipe", "Claire de Lune", and  "Jesu Joy of Man's Desiring". The ceremony took place outdoors under a satin altar, with roses hanging down. Très romantic!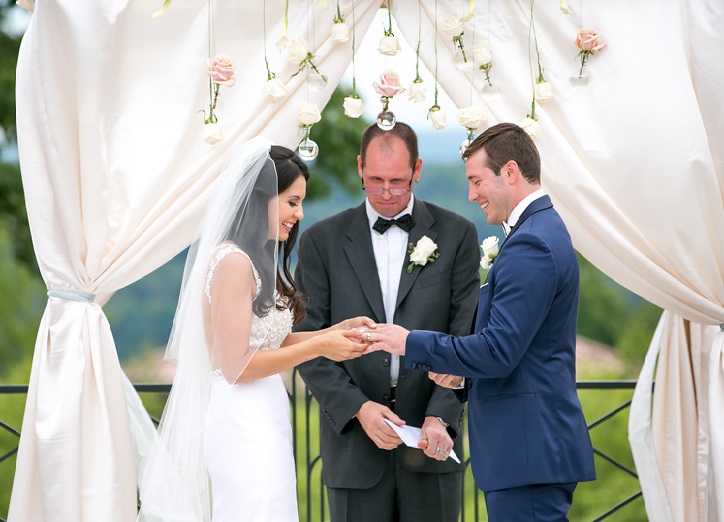 ~Ceremony Music~
Hornpipe, Jesu Joy of Man's Desiring, Claire de Lune: Prelude
Winter– Largo, Four Seasons- Vivaldi, Here Comes The Bride– Wagner: Processional
Wedding March – Mendelssohn: Recessional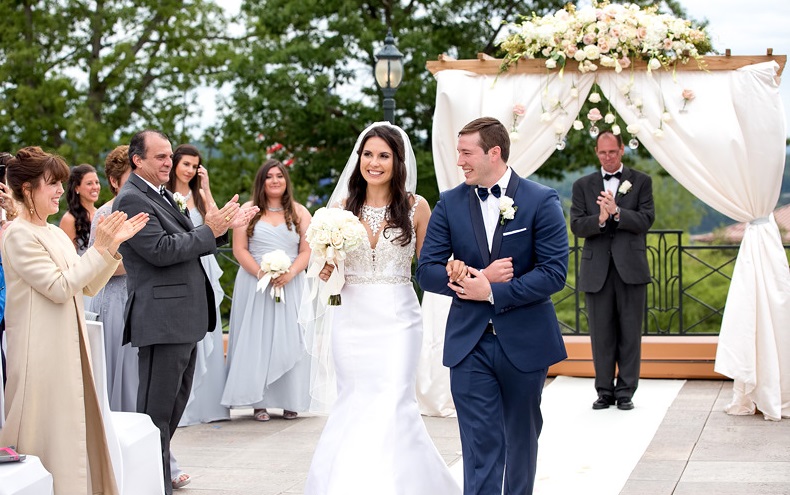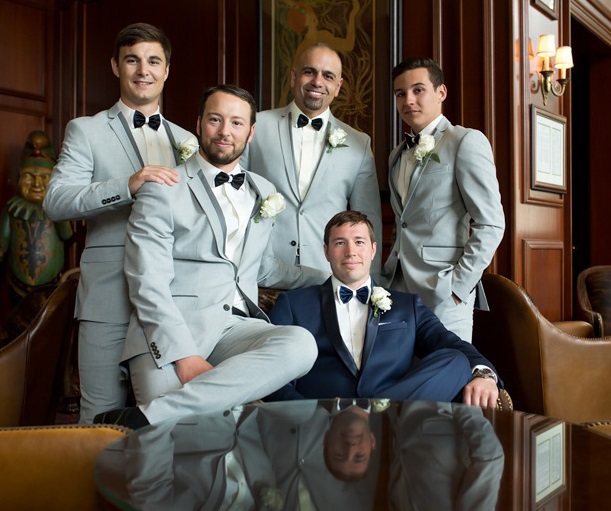 The bride and groom chose gray, pink, and white for their color scheme. The groomsmen certainly looked the part in their sharp gray tuxedos. We love how the groom stands out among them in his dark blue suit! The crew was ready for a fun evening ahead.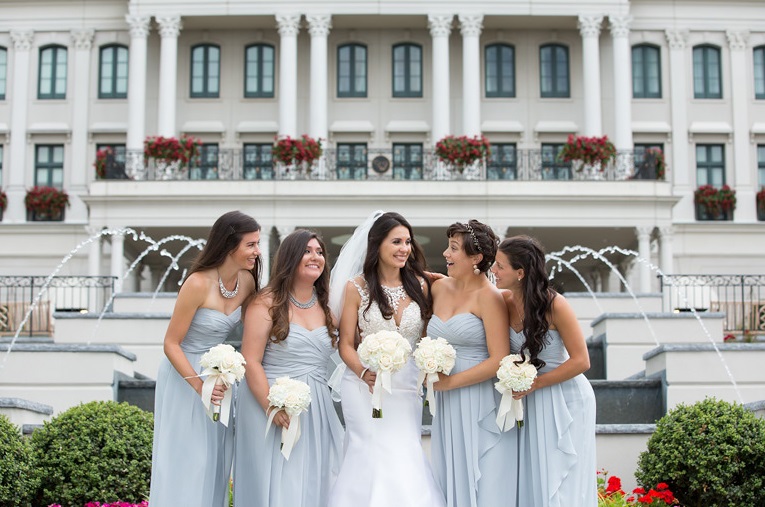 The bridesmaids wore gray dresses that were strapless, light, and airy. Absolutely perfect for some dancing later in the night with The Band! We love the sashes tied to all their bouquets.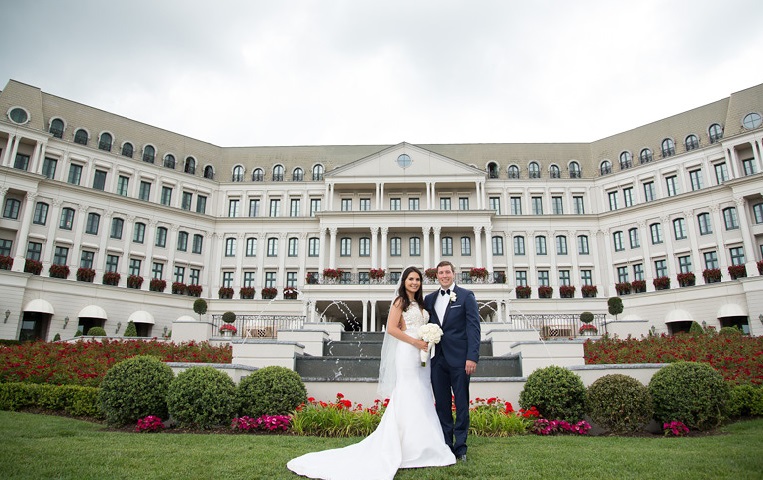 Take a look at this amazing photo of the Nemacolin Woodlands Resort. Fineline Weddings captured this shot of the couple right before heading off to cocktails. The strings trio played light music to entertain their guests as they nibbled on tasty treats.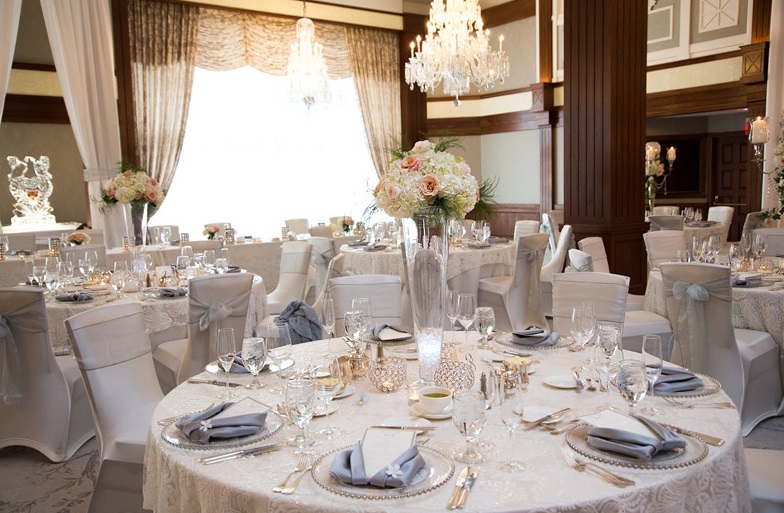 Oh, what a set up! The tables were draped in lace overlays, gold china, and cute tuxedo wrapped menus. Votive candles sparkled and tall floral centerpieces decorated every table. Their florist, Neubauer's Florist, did an excellent job!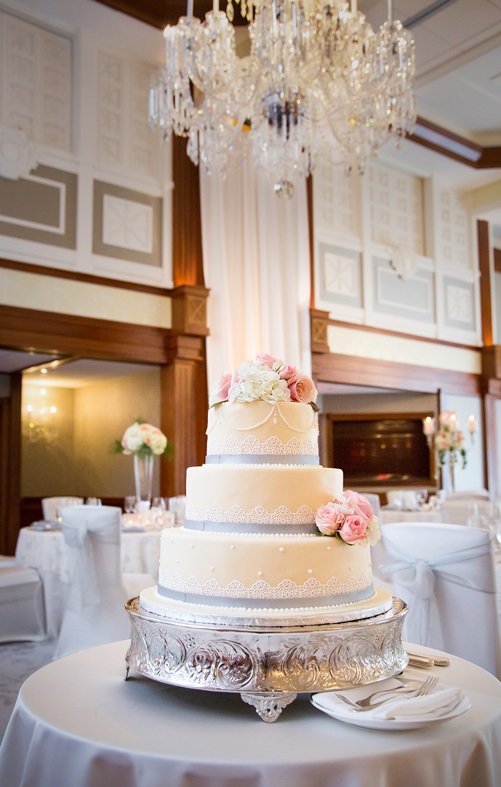 The ballroom was spacious, plenty of room to have a good party! The bride and groom danced to "All of Me" for their first dance. Next, the groom chose a song for his bride- "Gorchivo Vino". Right after the song ended John Parker Band announced that it was time to join in on a traditional Greek dance!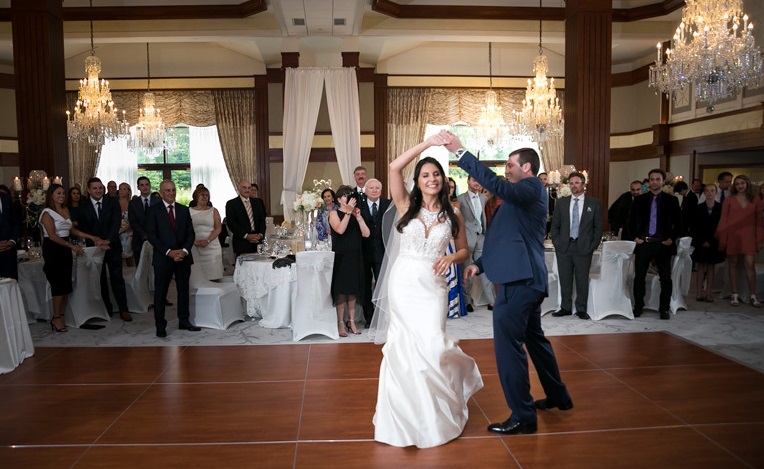 ~Reception Highlights~
Bride & Groom Dance: All of Me– John Legend
Father & Daughter Dance: Daddy's Angel– Anthony Carter
Mother & Groom Dance: The First Lady In My Life– Paul Todd
Special Requests: Bridal Party Entrance- Bust A Move, Greek Music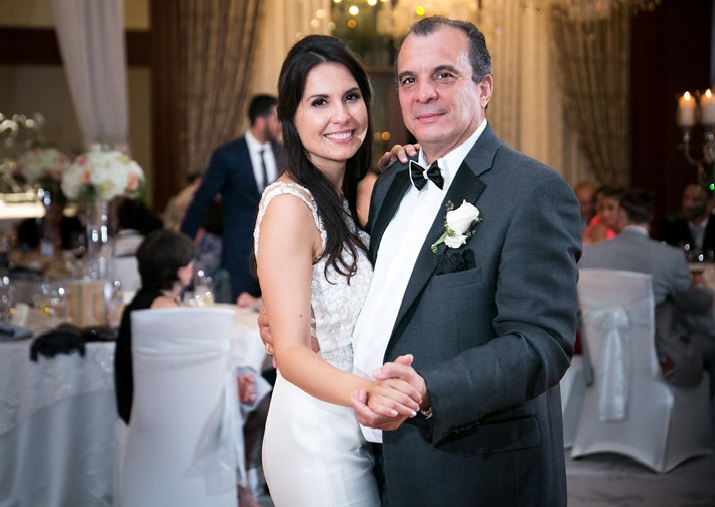 John Parker Band first explained, and then led, the breaking of the bread tradition as guests were seated. The mother of the groom and bride took part in holding and feeding the bride and groom a piece of the bread. Then, the best man had to break the bread in half over their heads, symbolizing who would be the bread winner and big spender of the family! John Parker Band was happy to be a part of the fun tradition. Guests were treated to a sit down dinner as toasts began from various family members. Soon the bride would dance with her father to "Daddy's Angel" and the groom with his mother to "The First Lady In My Life".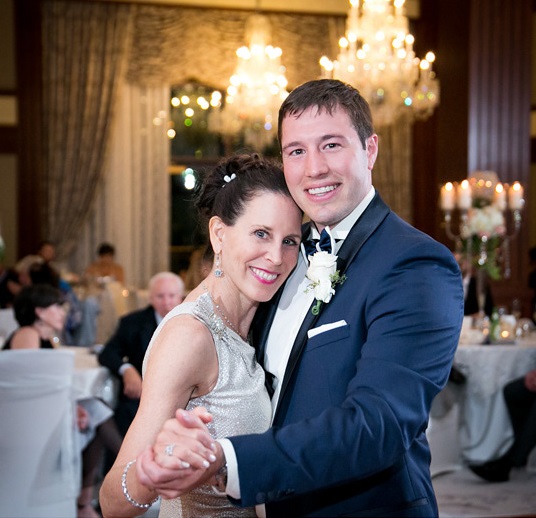 The party really got rocking with some Bulgarian music. The bride and groom knew how important it was to their family to play familiar music. The band was able to play many of the songs they requested & DeeJay all the rest. Another Greek tradition is the money dance, which everyone danced and cheered, tossing money around. Doesn't that look like a blast? That's a great shot below of everyone having a good time!
"The band did a wonderful job! The night was a big hit. Everyone was very impressed with the professionalism of the band and the quality of the entertainment John and his group provided." -Groom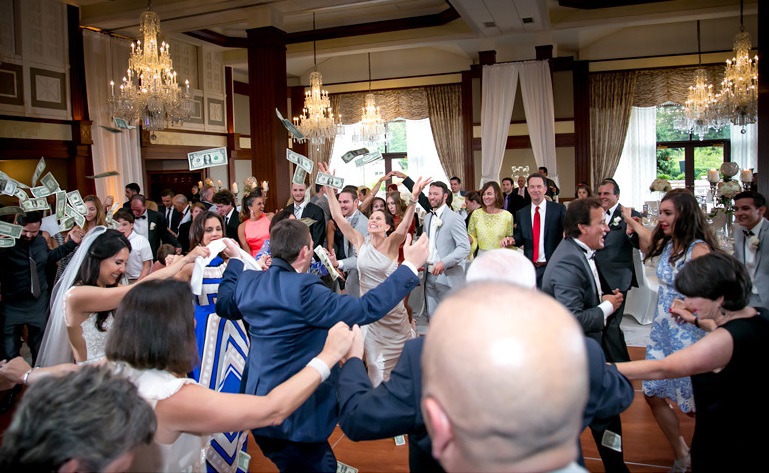 The newlyweds had a huge list of songs for John Parker Band to play. Many of their choices were top party hits from today with a mixture of classics, such as "Twist and Shout" and "Summer of 69". There was never a dull moment at this wedding and there was something for everyone to enjoy, including a complete fireworks display and an after party with John Parker playing DJ music!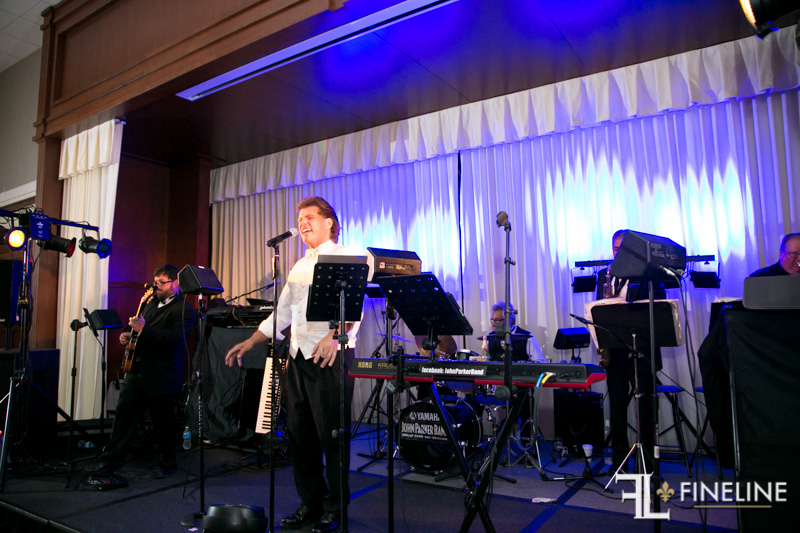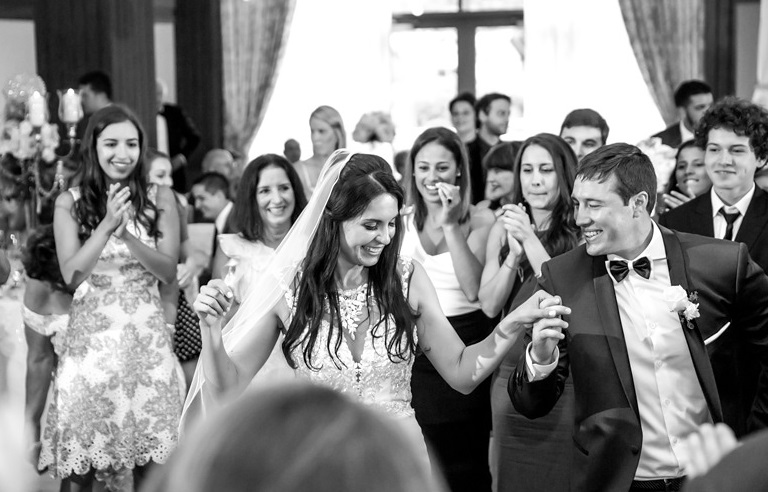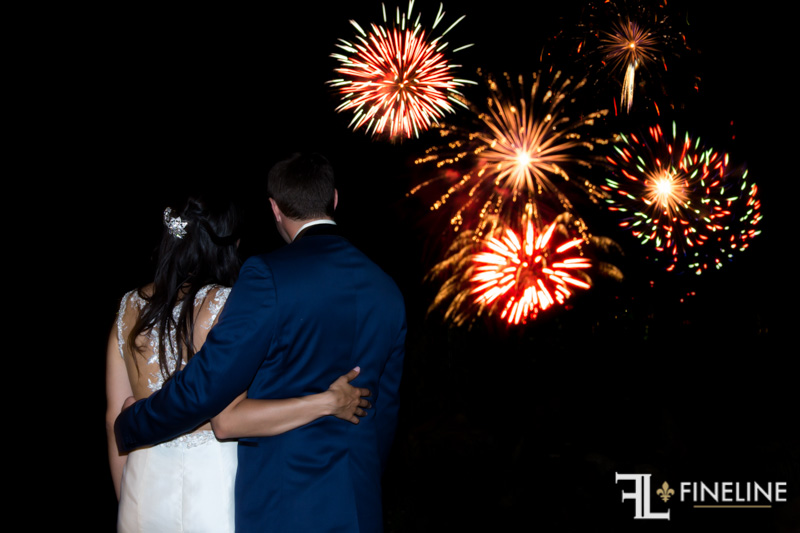 Ryan and Jorjetta had a fabulous wedding with all their friends and family. The Nemacolin Woodlands Resort was the perfect venue for their nuptials and celebration. Fineline Weddings took beautiful photos of their day that the couple will cherish for many years to come. We hope you enjoyed viewing them as much as we did!
We'd like to thank Ryan and Jorjetta for having the John Parker Band at their wedding. The band was able to provide strings at the ceremony, live music at the reception, and even acted as a DJ at the after party! What more can you ask for? This premier band truly has everything to offer. We'd love to chat with you about your upcoming wedding or event! Be sure to contact us today to book Pittsburgh's Best Wedding Band.
~Vendor List:~
Ceremony & Reception: Nemacolin Woodlands Resort
Photographer: Fineline Weddings
Florist: Neubauer's Florist (Ceremony)
Nemacolin Woodlands Resort (Reception)
Entertainment: John Parker Band