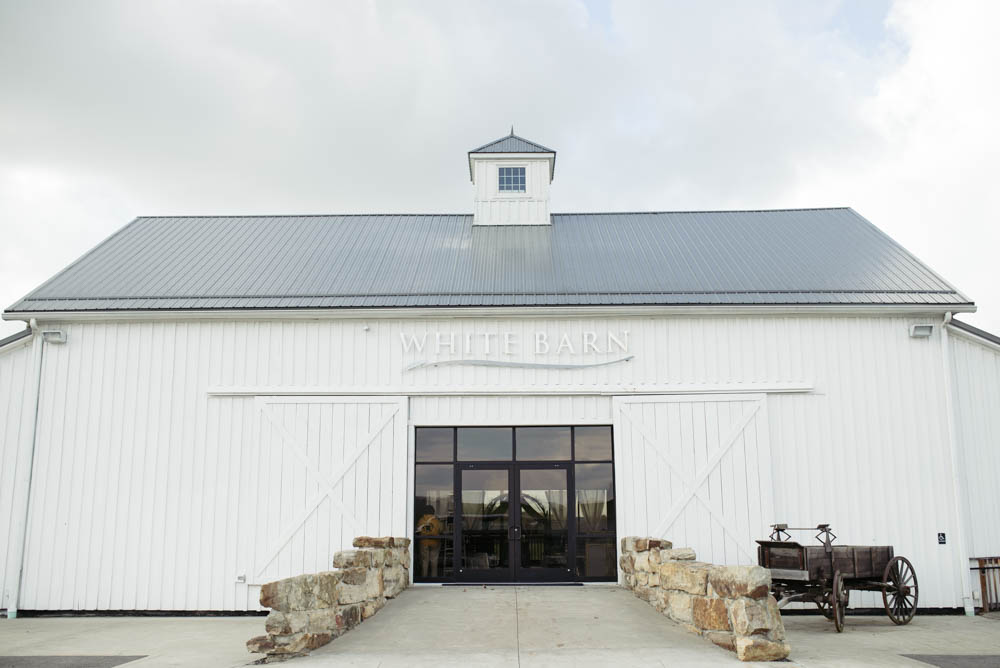 Oh, this is a good one. We fell in love with Jessica Vogelsang's photos of Lindsay and Chris' wedding at the White Barn in Prospect the minute we laid eyes on them– and we have a feeling you will too! The White Barn is one of those perfectly balanced spaces of being cozy and chic; you immediately feel comfortable but in incredibly beautiful surroundings. A perfect mix.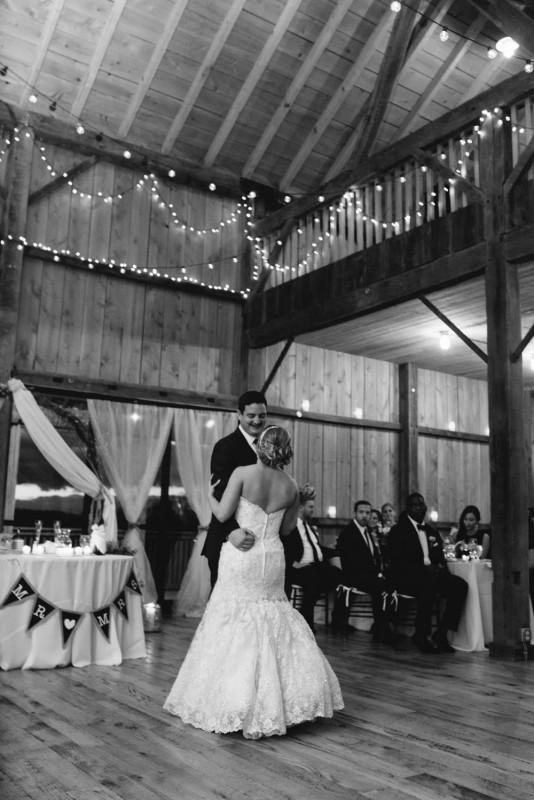 This is Lindsay and Chris during their first dance; not only is it an adorable snapshot of the newlyweds in love, it also shows off the beauty of the space. From the gorgeous wood floors to the sweet twinkle lights in the rafters, the White Barn is romantic, down-to-earth and just plain pretty. We also love the Mr. and Mrs. pennant banner on the table behind the couple. It's small, personal touches like it that make weddings so special.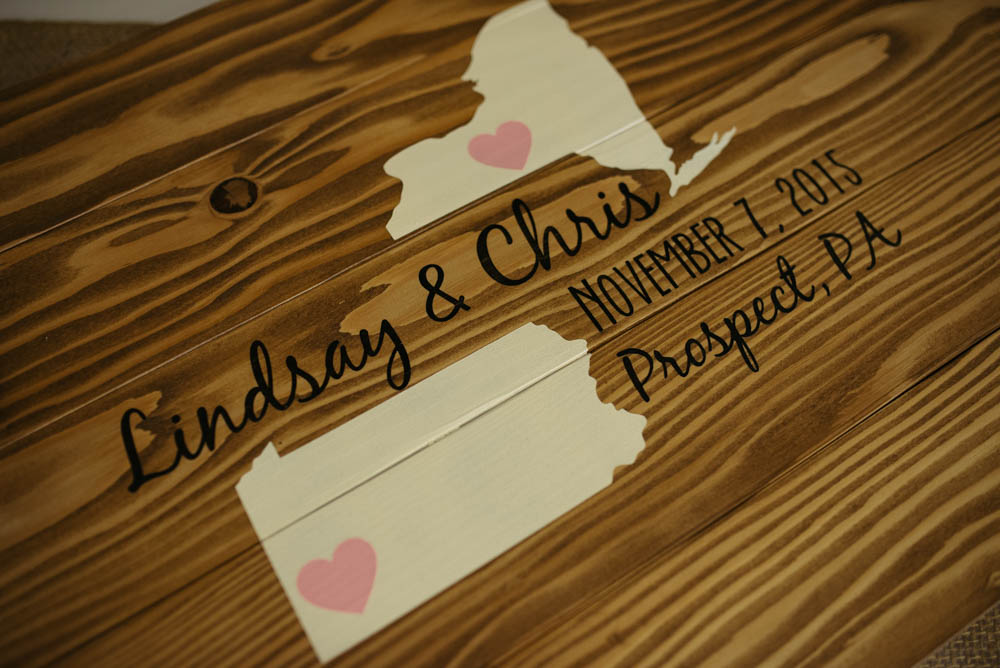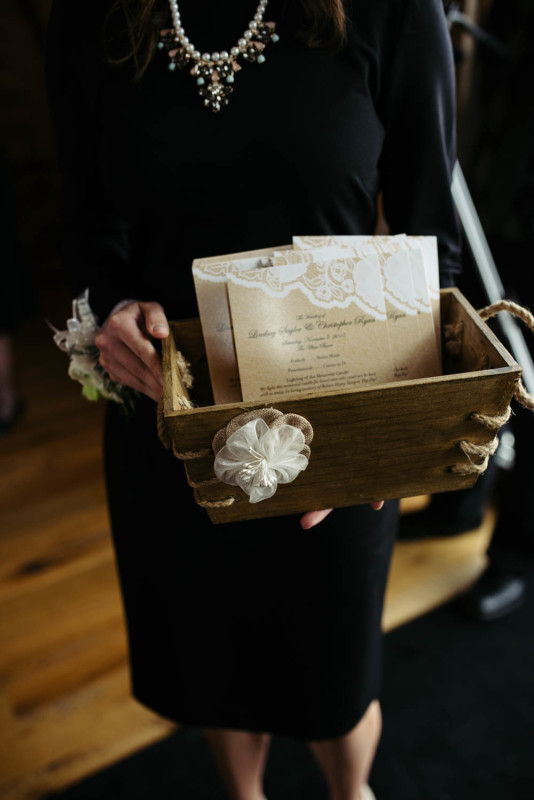 Two more personal touches from Lindsay and Chris' wedding that we think is extra sweet is this painted board with the couple's hometown's "hearted" inside their respective states. Additionally, the lace-printed programs add a touch of whimsy to the ceremony.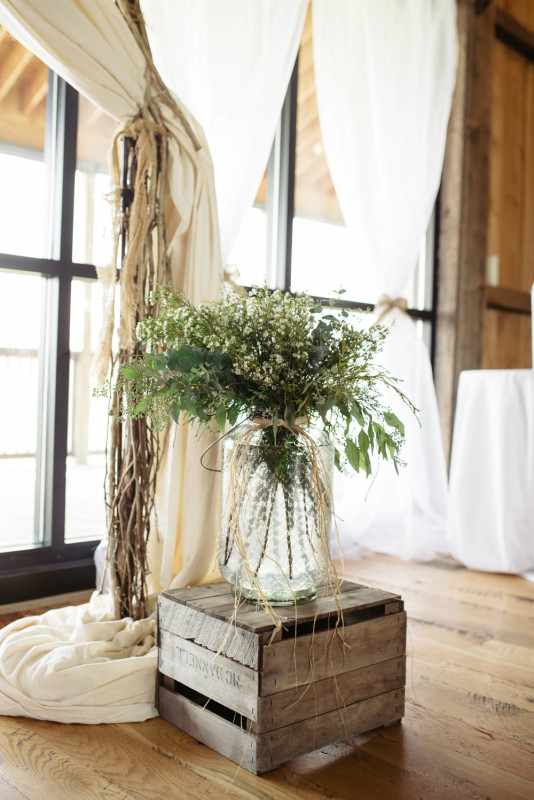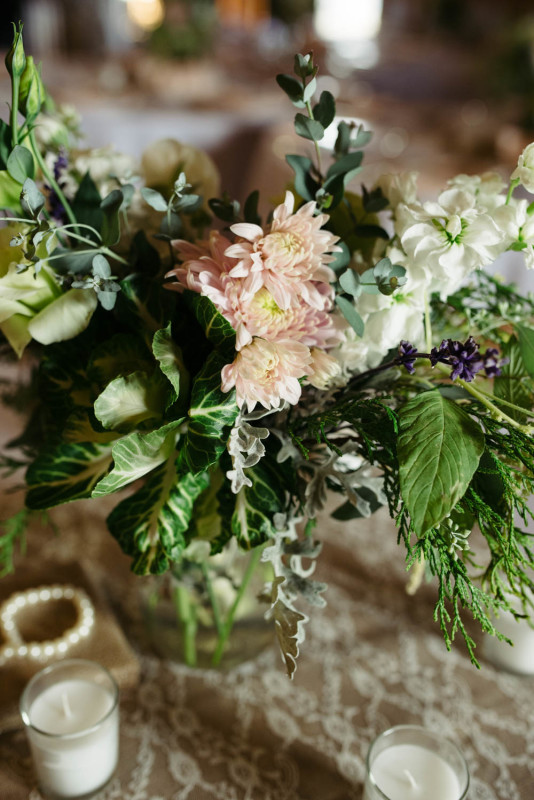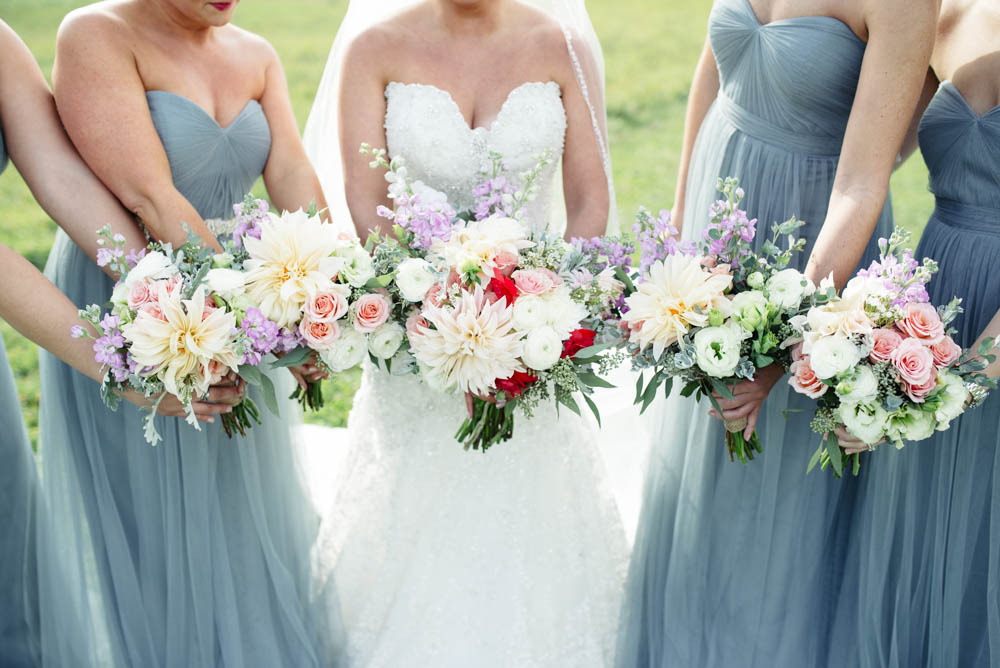 Speaking of whimsy, the floral arrangements from Pisarcik Greenhouses and Flower Farm for Lindsay and Chris' wedding are the most romantic, fun, whimsical and sweet things, ever. Who knew a simple bunch of baby's breath in a clear glass vase and twine could look so chic? The reception table arrangements and bridal party bouquets are just as lovely. There's an easy elegance to them that we know takes a keen eye and a lot of style. Pisarcik really delivered! Plus, the whole look of the flowers goes perfectly with the rustic glam feel of the wedding as a whole.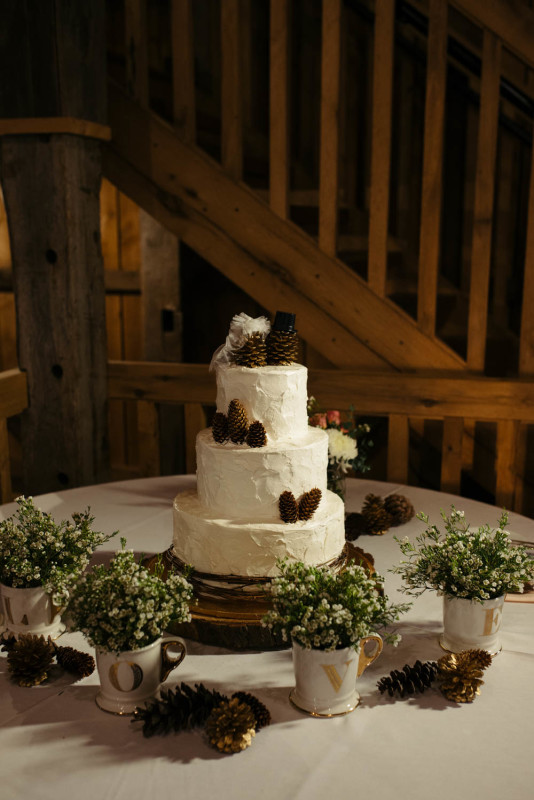 And then there's the cake. How cute are those bride and groom pine cone toppers? What a clever idea! Again, the simple addition of pine cones and greenery to the classic white cake is the perfect complement to the wedding's vibe. It's classic, cute and understated in a totally original way. Bethel Bakery was spot on in their execution of this sweet piece of art!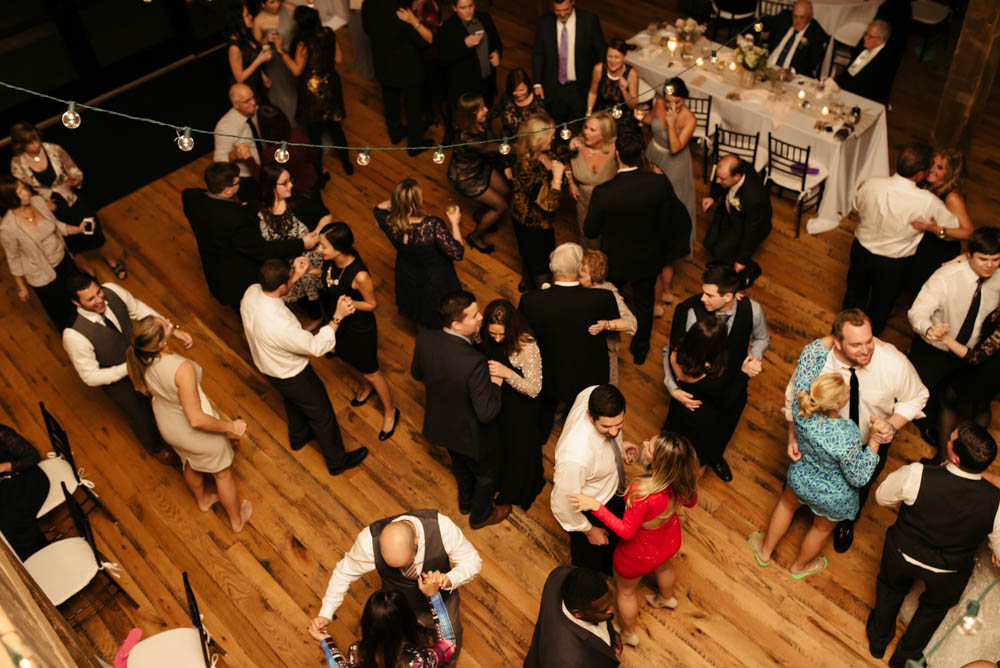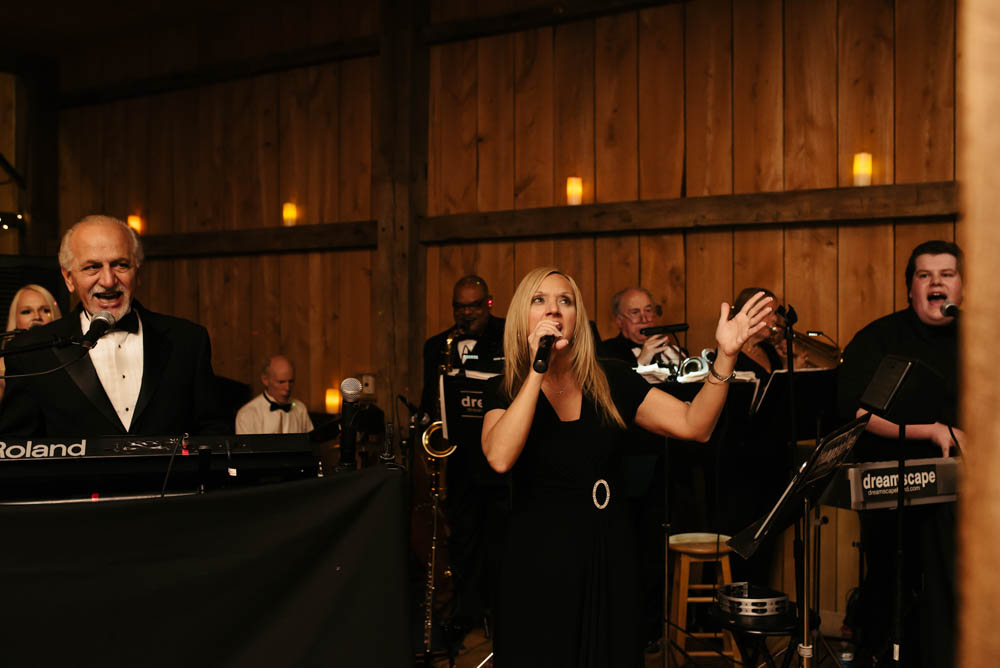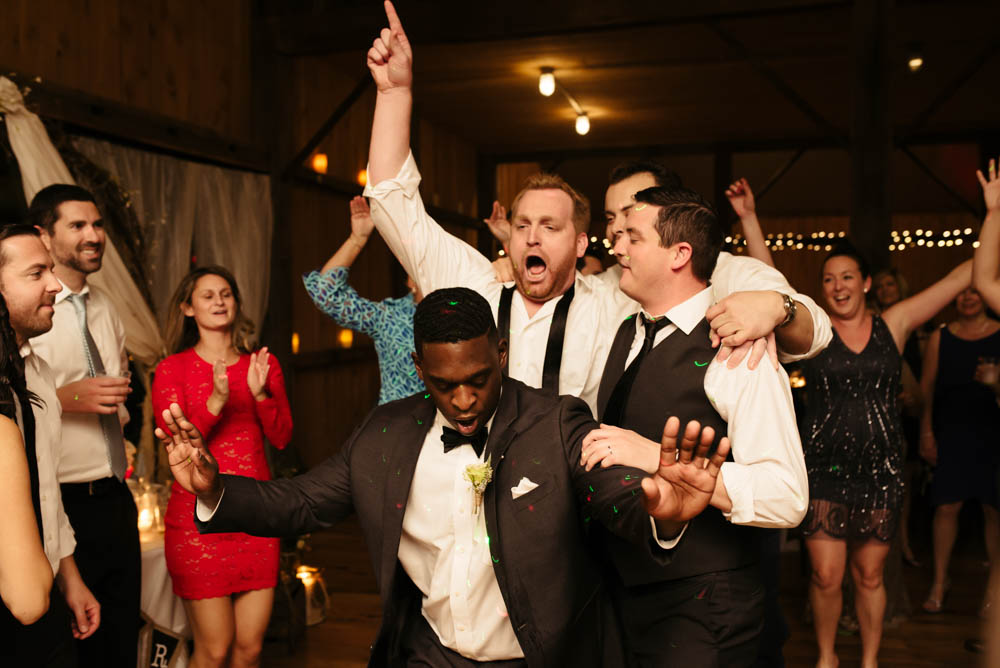 As usual, the Dreamscape band absolutely killed it on the dance floor. And from the looks of things, so did all the guests!  And check out these kind compliments that Dreamscape got from Lindsay and Chris' wedding:
"The band was AMAZING!!!! Best fun ever? All the band members were so gracious and we are so excited that they shared in Lindsay and Chris' special day." – Mother of the Bride
Additionally, the couple's out-of-this-world fantastic wedding planner, Shayne Souleret, said:
"Tammi and the Dreamscape band are fabulous!!! She is so professional and attentive, in addition to being a very talented singer and musician. The dance floor was packed all night long! The couple will have so many wonderful memories to cherish."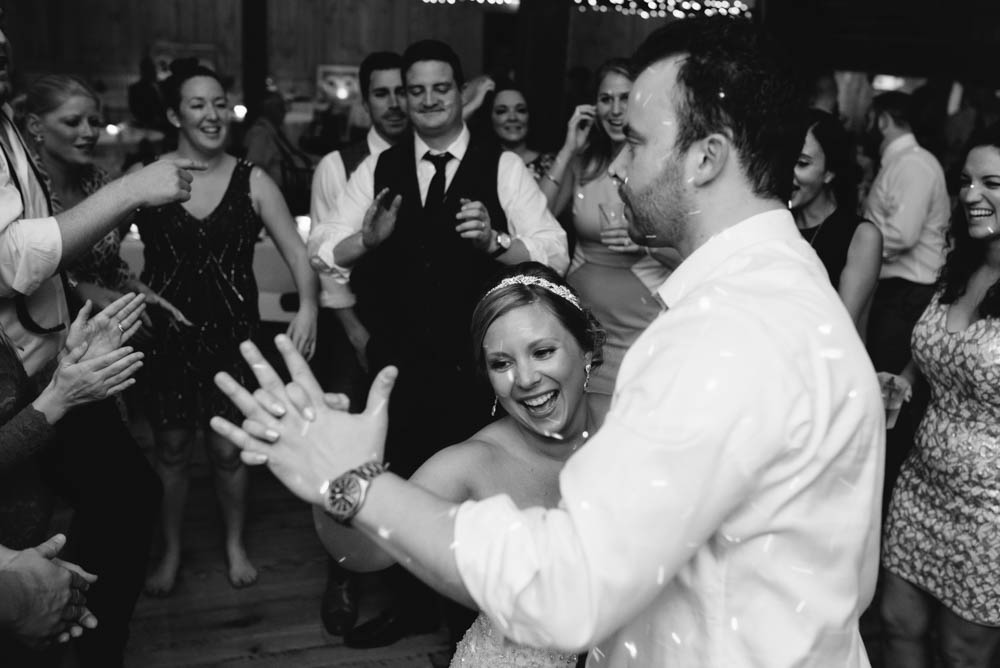 If having lots of awesome memories to cherish and a packed dance floor are important to you for your wedding reception band, please feel free to contact the Dreamscape Band to talk about how they can make your wedding magical!
We'd like to thank Jessica Vogelsang for allowing us to use her gorgeous photos of Lindsay and Chris' magical day on our blog! Be sure to visit her website; her photographs are endlessly inspiring (plus she includes cool new music to discover on her blog!).
~Reception Soundtrack~
First Dance: Lucky, Jason Mraz and Colby Caillat
Father and Bride Dance: Somewhere Over the Rainbow, Isreal Kamakawiwo'ole
Mother and Groom Dance: My Wish, Rascal Flatts
Bridal Party Introduction: Shut Up and Dance, Walk the Moon
~Wedding Wonders~
Venue: White Barn, Prospect, PA
Photographer: Jessica Vogelsang
Wedding Planner: Shayne Souleret
Cake: Bethel Bakery
Florist: Pisarcik Greenhouses and Flower Farm