Molly and Andy had a classy wedding celebration. The Hotel Monaco in Pittsburgh was the perfect fit for their ceremony, outdoor cocktail hour, and reception. Having every part of your wedding at the same location is so convenient, and easy, for friends and family! Especially when the venue is as beautiful as the Hotel Monaco. With high ceilings, retro carpeting, and a large dance floor, there was nothing more the couple could have asked for. Except- an awesome live band!
The couple knew they wanted to have a great party and chose a the best Pittsburgh Wedding band to perform at their reception; John Parker Band. The band played top hits and made their reception one memorable night!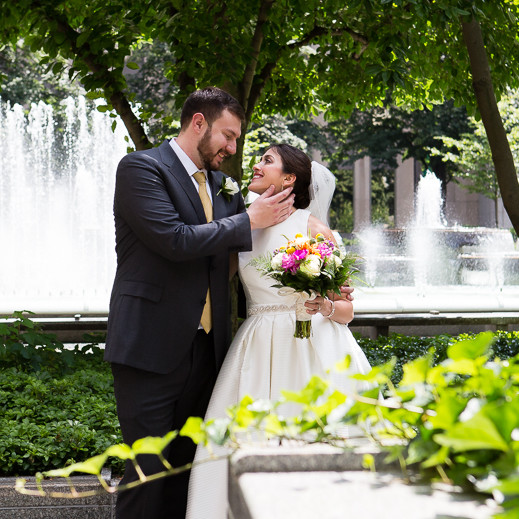 Their photographer, Christina Montemurro, took advantage of the many photo opportunities the venue had to offer. There were plenty of spots for beautiful photos indoors and outdoors. The bride and groom opted to do a first look before their ceremony. What a special moment, seeing each other in their finest- the bride in her white dress and the groom in his suit. We adore how lovingly looked at one another in the photo above.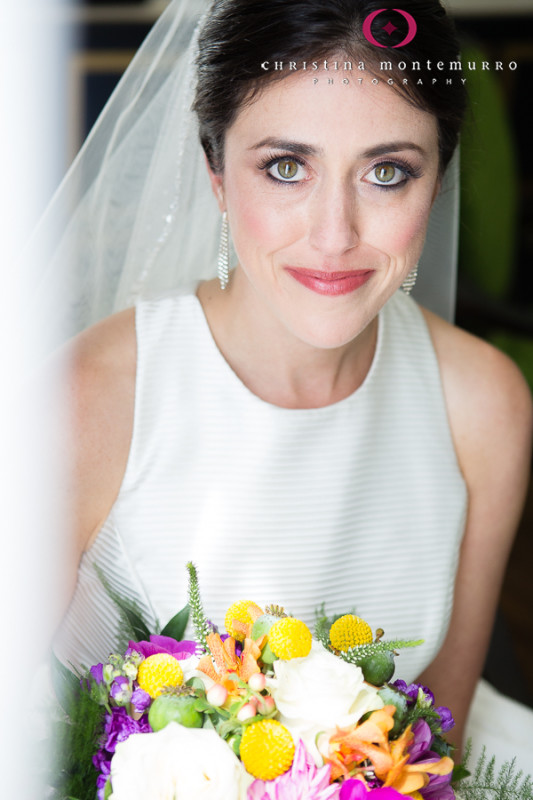 The bride's gown was sleek and elegant. Her dress had a high neckline, a beaded belt, and pleated skirt. Her makeup made her eyes pop and her smooth up-do held her veil in place. What a great dress to dance in too, later in the night!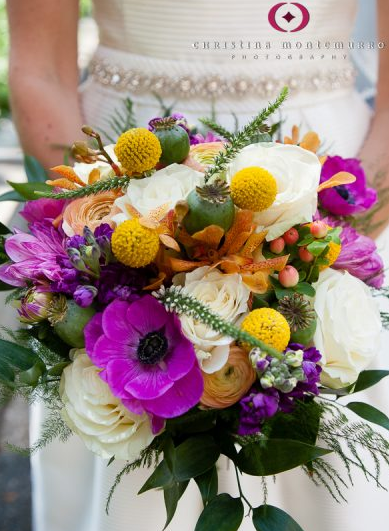 The bride's bouquet had purple, gold, and white flowers. It was absolutely stunning and was put together by florist, My Garden Floral. If you look closely, you can even see some fruit in the mix! How unique.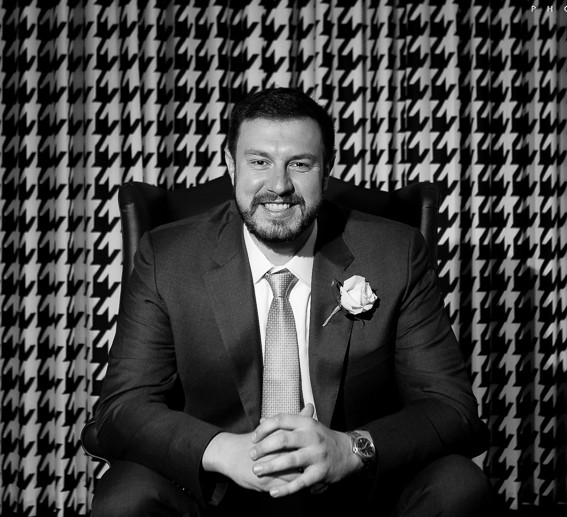 We love this photo of the groom as he waited to see his bride. The black and white curtains were a cool backdrop for this photo. Christina Montemurro and her team sure knew how use backdrops and lighting to their advantage! Just wait till you see the photos taken of John Parker Band at the reception.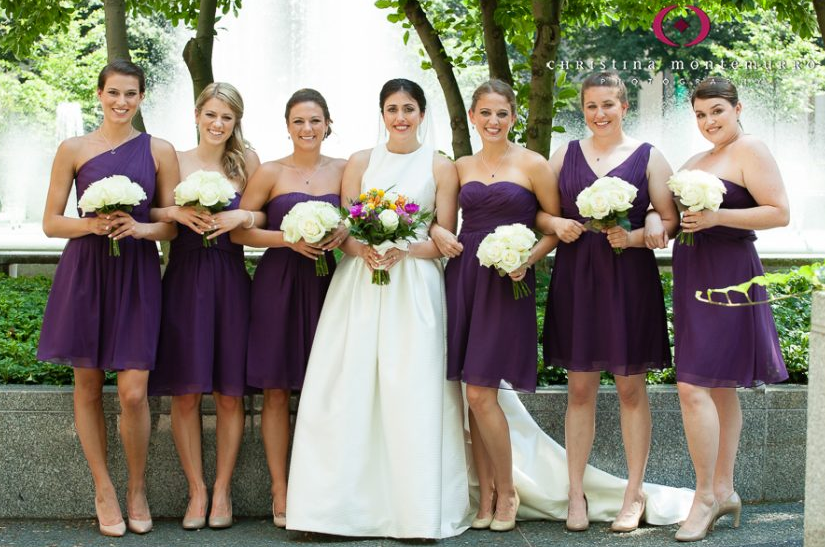 We love when a bride allows her bridesmaids the freedom to chose their style of dress. Wearing the same shade of purple, the girls looked lovely, some wearing strapless, one shoulder, and or a V-neck. They all carried bunches of white roses and were so pretty! There's no doubt that these ladies would have a blast at the reception- short dresses are so fun to dance in!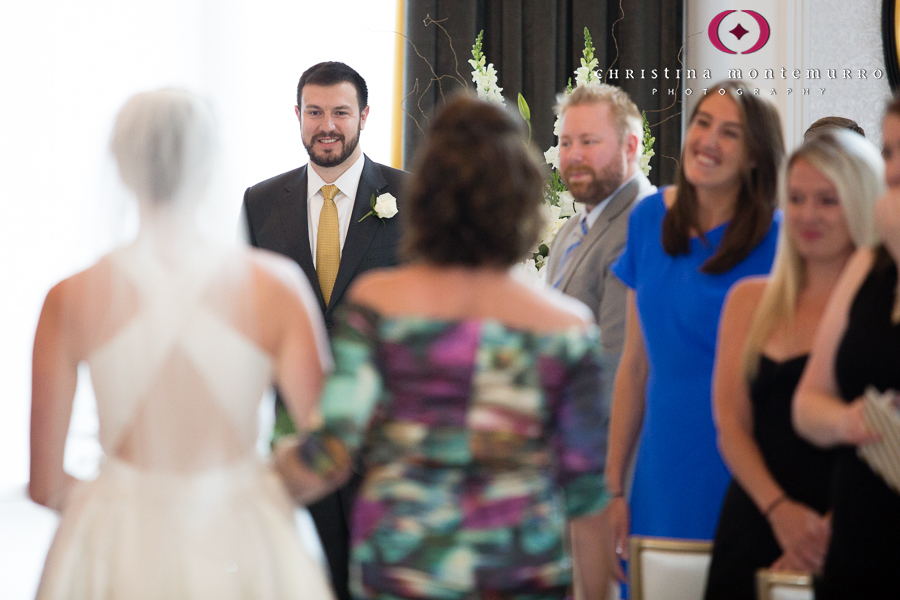 Even though the groom saw his bride before the ceremony, he looked just as happy and amazed her as he watched his bride walk down the aisle.
~Ceremony Music:~
Processional: Ray LaMontagne- You Are the Best
Bride: Adele- Make You Feel My Love
Recessional: Amos Lee- Windows Are Rolled Down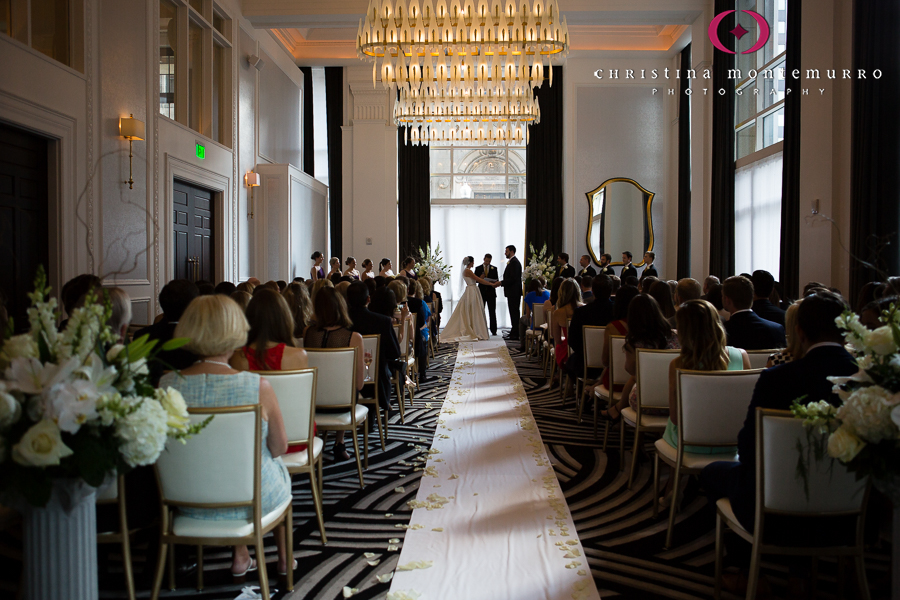 During the ceremony the band played pre-recorded music as requested by the bride and groom. Take a look at this impressive space. There was a long runner scattered with rose petals, white backed chairs, and a funky carpet. Not to mention the silhouette of the couple as they await to be announced husband and wife.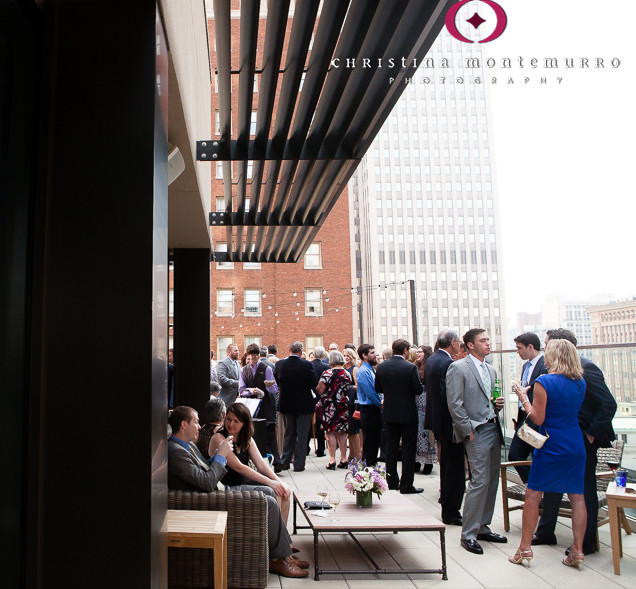 Cocktail hour took place outdoors on the rooftop of the Hotel Monaco. Guests were able to take in the amazing view of the city. Soon the doors to the ballroom would open and John Parker Band would be ready and waiting to introduce the bridal court. A night of fun was about to begin!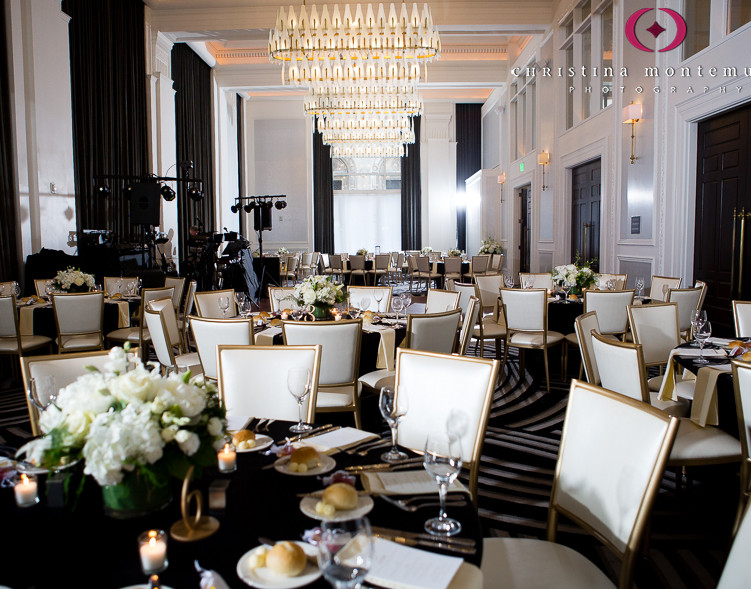 Inside the ballroom the decor was modern and elegant. The black table tops had white and cream floral arrangements. The band was all set in front of the dance floor. So much room to dance! John Parker Band waited for everyone to be seated and announced the bridal court.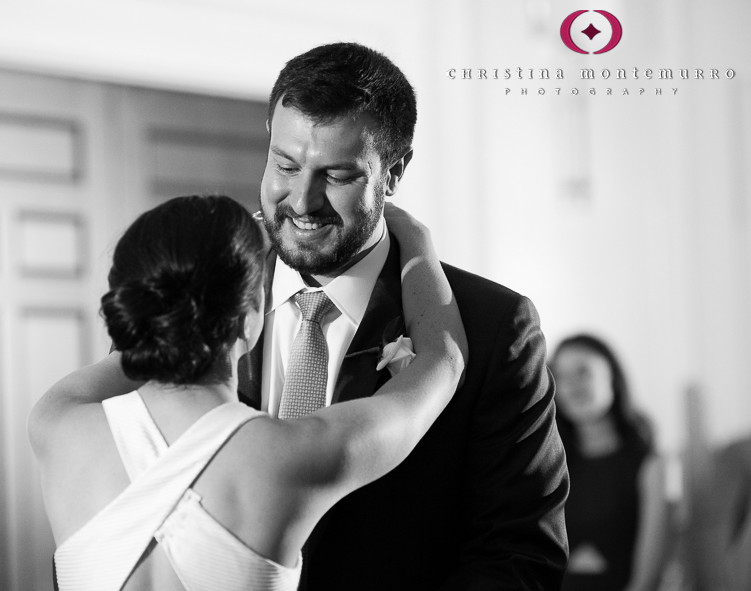 For their first dance the bride and groom chose the song "El Camino". After toasts, the groom shared a dance with his mother to "Standing on the Moon".  The couple requested a few other specialty songs, such as "Wagon Wheel" and "Shake It Off".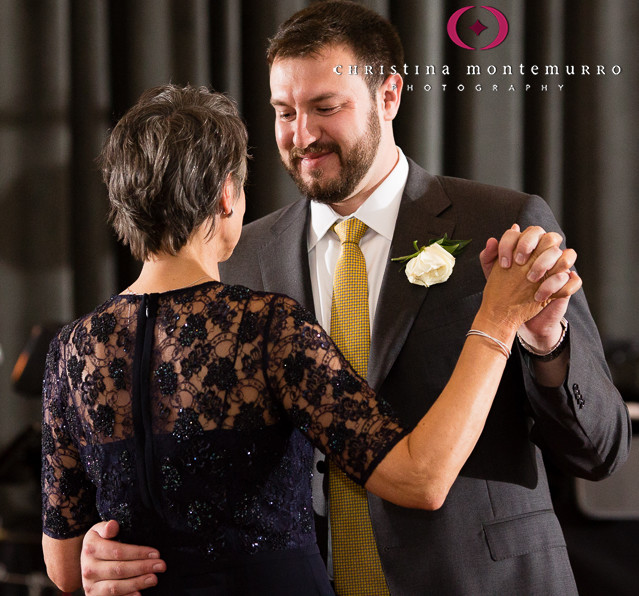 ~Reception Soundtrack:~
First Dance: El Camino– Amos Lee
Groom & Mother Dance: Standing on the Moon– Grateful Dead
Specialty Songs: Wagon Wheel– Old Crow Medicine, Shake it Off– Taylor Swift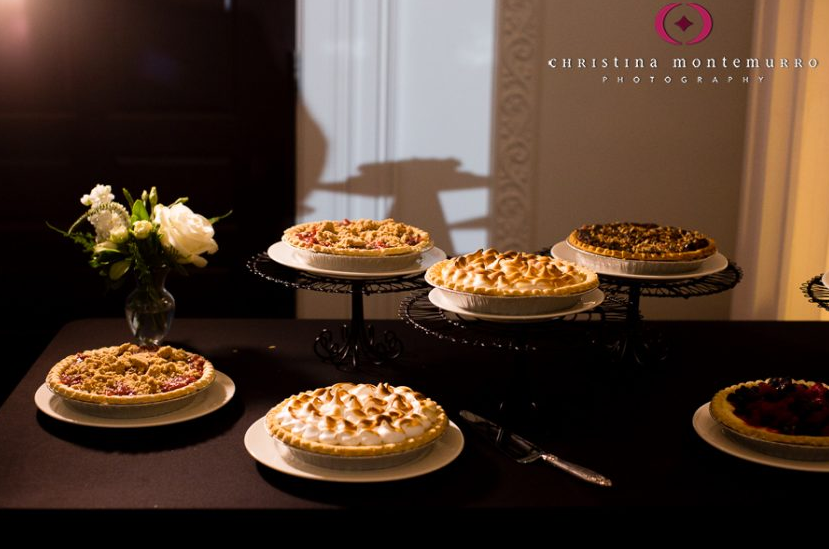 Instead of going the traditional route and having a cake at their wedding, the couple had an array of pies! How amazing do they look? We love this idea. Lemon meringue, berry, and cherry cobbler! They must have been delicious.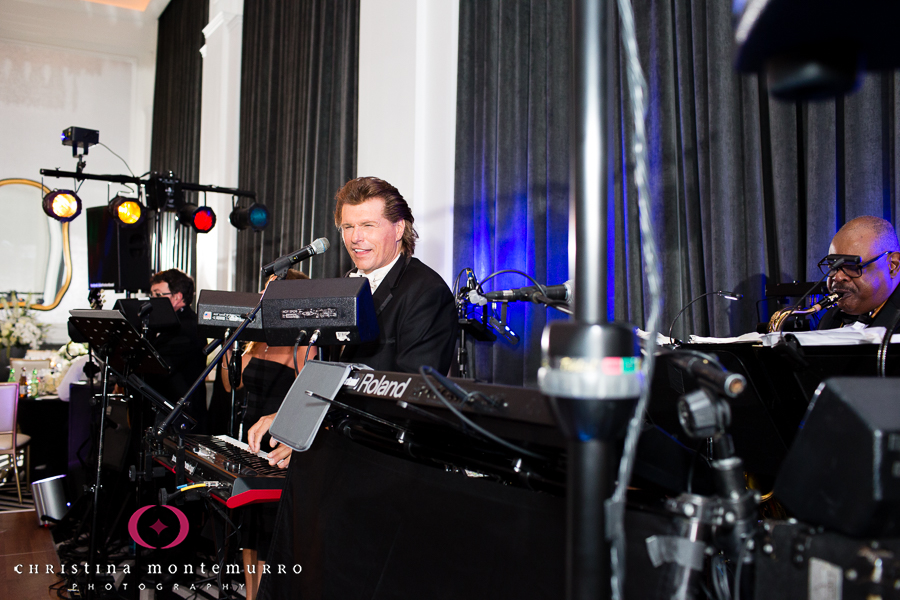 The evening really got going after dessert was served. John Parker Band made it their mission to read the crowd and play hits to keep everyone on the dance floor. With a list of over a hundred songs to chose from, there was never a moment the band did not know what to play. The bride and groom enjoyed themselves and so did their guests.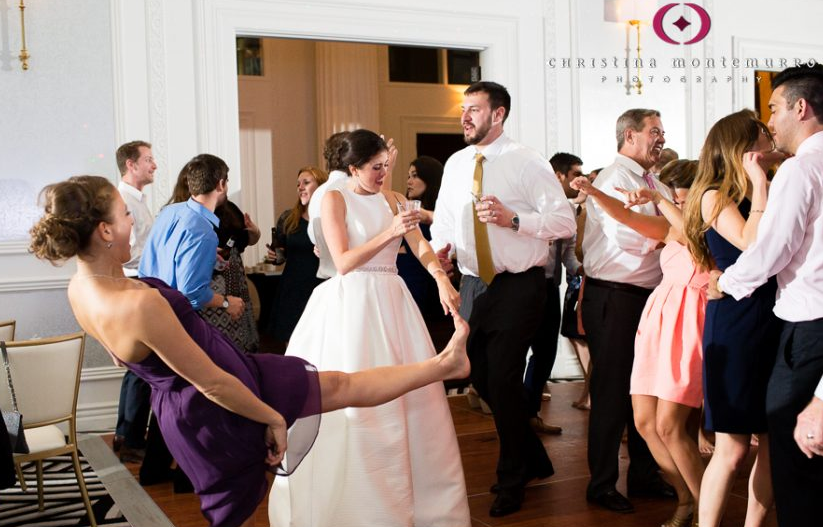 "Thank you for making our wedding so memorable. The band was truly amazing! Our guests had such a fantastic time. We feel lucky to have had you at our wedding!" –Bride and Groom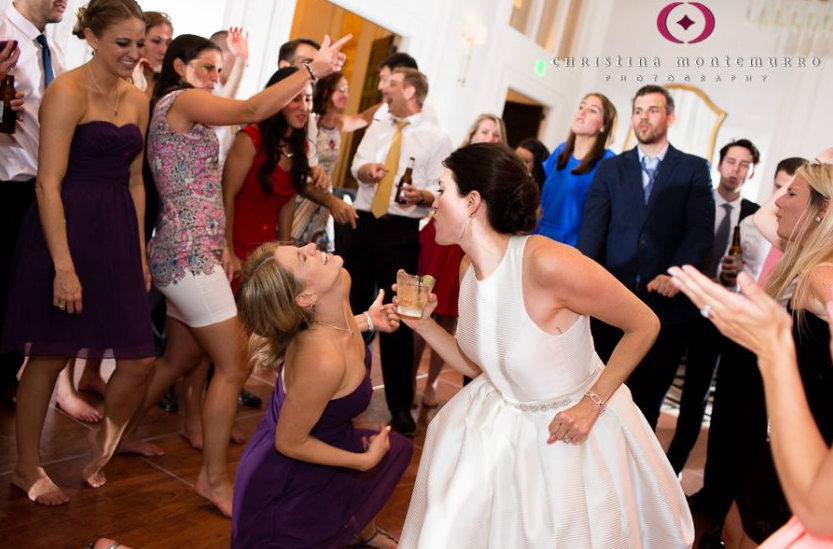 The band was really rocking it that night! The dance floor was packed. The band loves to get the crowd involved by offering the microphone to guests. Care to sing along?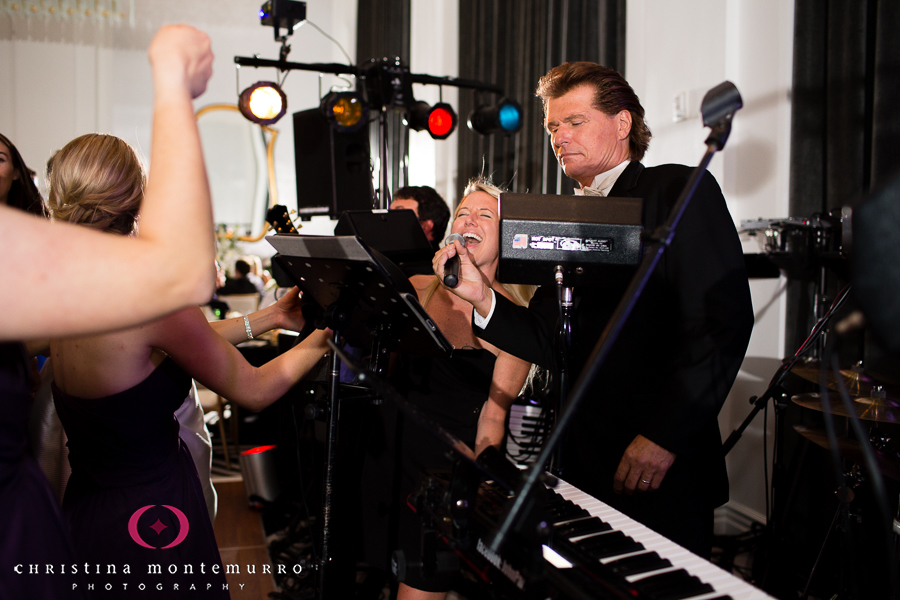 These photos are the best, showing how much fun every guest had at the wedding. What a night to remember!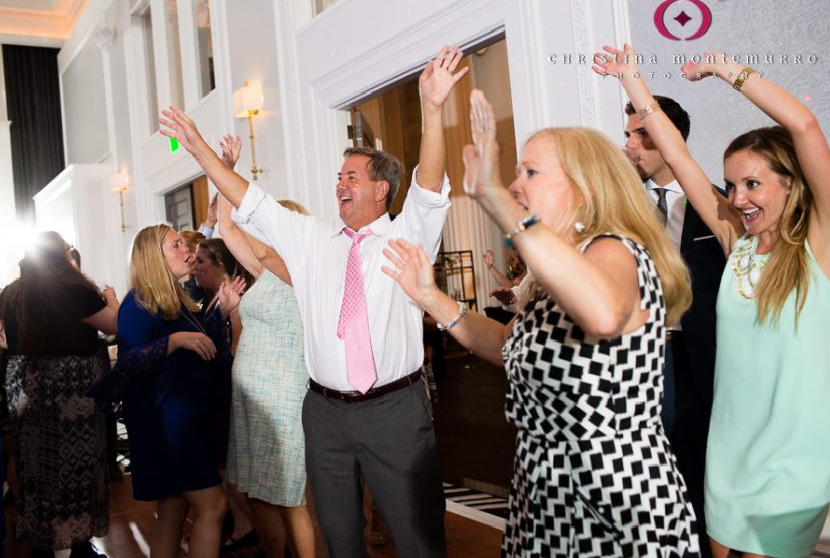 Molly and Andy's wedding was truly a memorable event. The John Parker Band was honored to be a part of their special day and had a wonderful time performing for their friends and family. We are so grateful to their photographer, Christina Montemurro, for sharing so many photos with us. You can view more from Molly and Andy's wedding on her blog. She is truly a gifted photographer! We hope you've enjoyed the photos as much as we did.
If you are looking for amazing live entertainment for your wedding or event, look no further than John Parker Band. For all questions and inquires, don't hesitate to contact them today! We would love to hear about your special day and make it spectacular.
~Vendor List:~
Ceremony: Hotel Monaco
Reception: Hotel Monaco
Photography: Christina Montemurro
Florist: My Garden Floral
Dessert: Hotel Monaco
Entertainment: John Parker Band