One look at this couple, Jenna and Jason, and there's no doubt these two are a perfect match. They share infectious smiles and joyful faces as they unite as husband and wife. Their intimate first dance captures the hearts of all their friends and family. Every photo, taken by the talented Alison Mish, emits happiness and love. We love everything about this wedding, down to Jenna's vintage inspired wedding dress, with intricate lace detailing, her flowers, cake, candy buffet, and taste in music!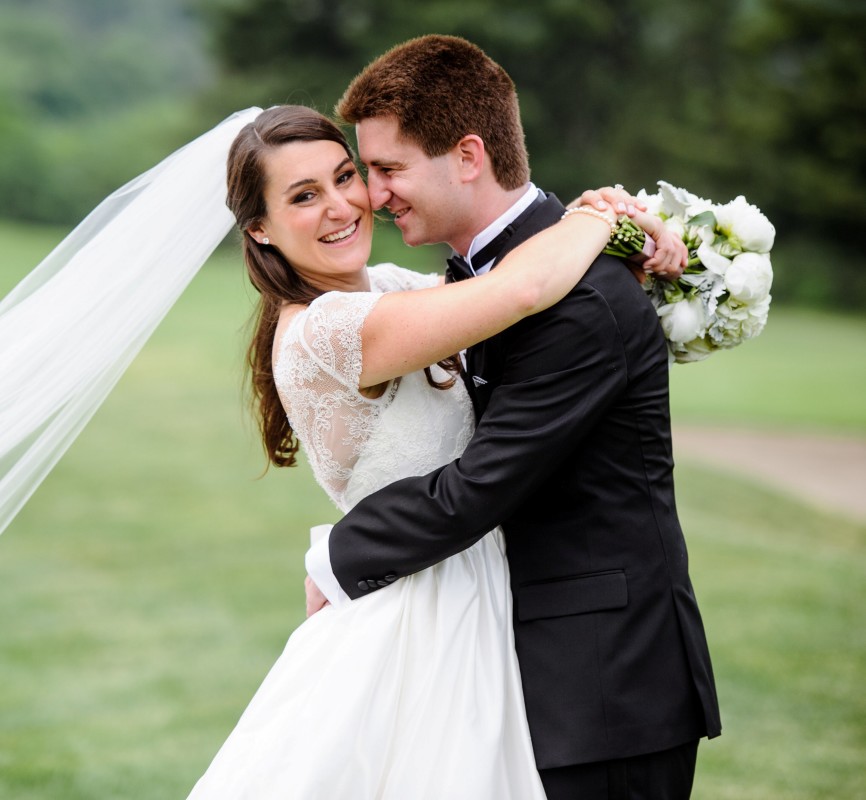 Jenna and Jason's ceremony and reception took place at the St. Clair Country Club. The bride and groom were blessed with beautiful weather the day of their wedding and they were able to have their ceremony outside under a large tent. Gorgeous chandeliers dangled from above and sunlight poured in, providing the perfect amount of natural light. A string quartet played while the couple exchanged vows.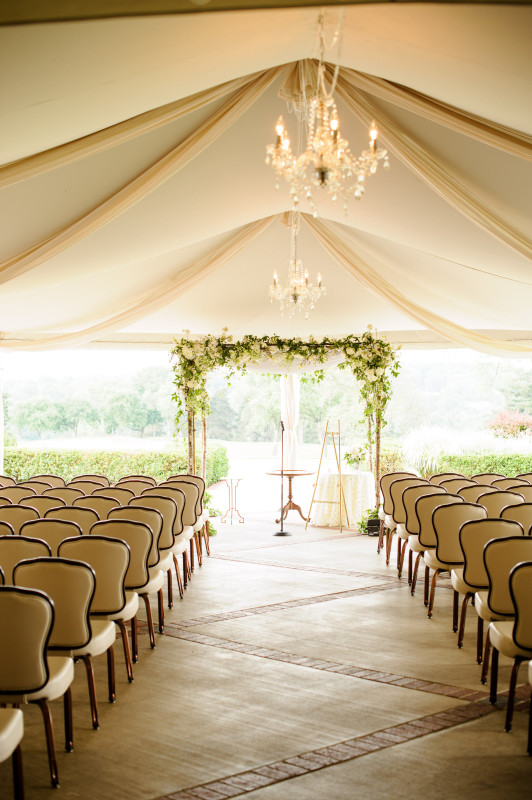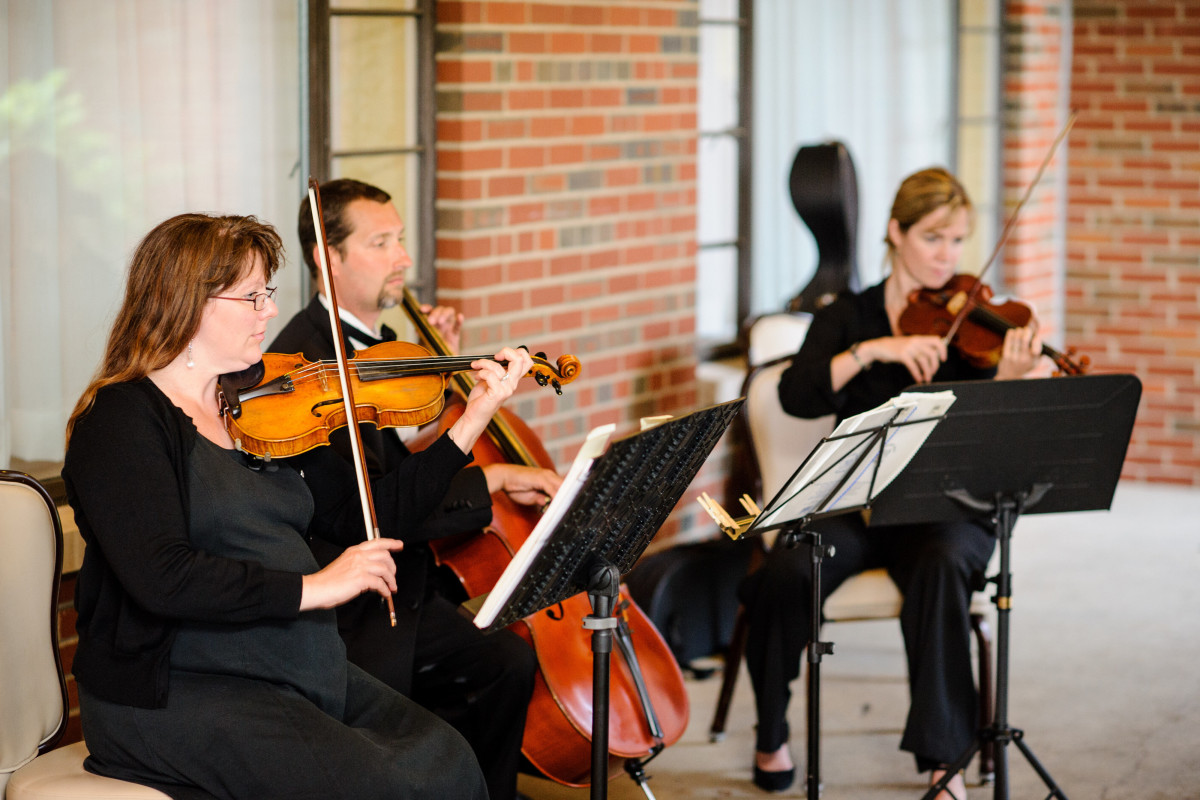 The ballroom inside the St. Clair Country Club was adorned with beautiful floral arrangements and votive candles. There was also a timeless white pearl studded cake, tall candles on pillars, and a fun blue candy buffet. The bouquets carried by the bride and bridesmaids matched seamlessly with large blooming pink peonies, white roses, and hydrangeas. Every last detail tied in with the bride's color scheme of gray, white, and pink. The decor is simple, yet sophisticated and so classy.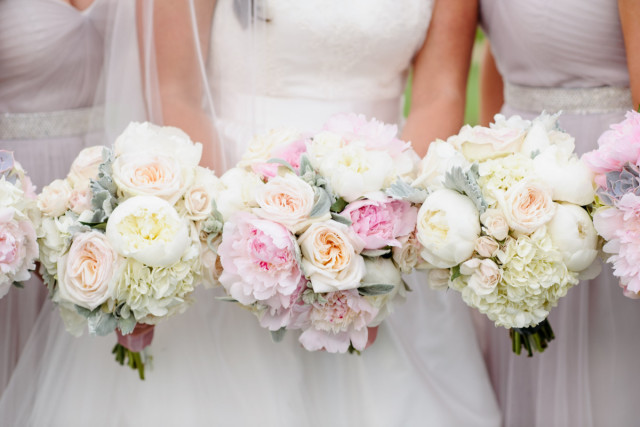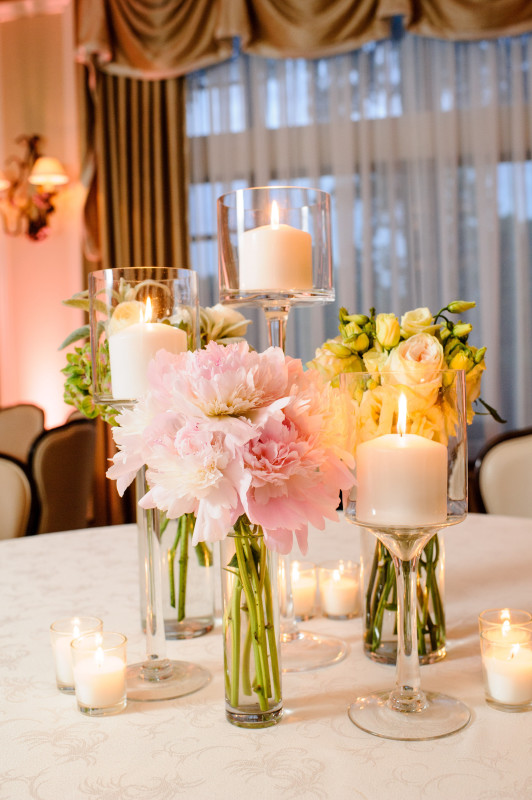 We also dig the mix of high and low centerpieces the bride and groom chose for their reception. Hens and Chicks, their florist, did an amazing job with the table arrangements. Their tables were draped in soft white cloths with flowers arranged in clear glass vases. Votive candles added to the ambiance of the space, their dim light romantically flickering across the ballroom. We also love how Jenna and Jason chose gray candle pillars to draw the eye up high and to tie in with the color of the bridesmaid dresses.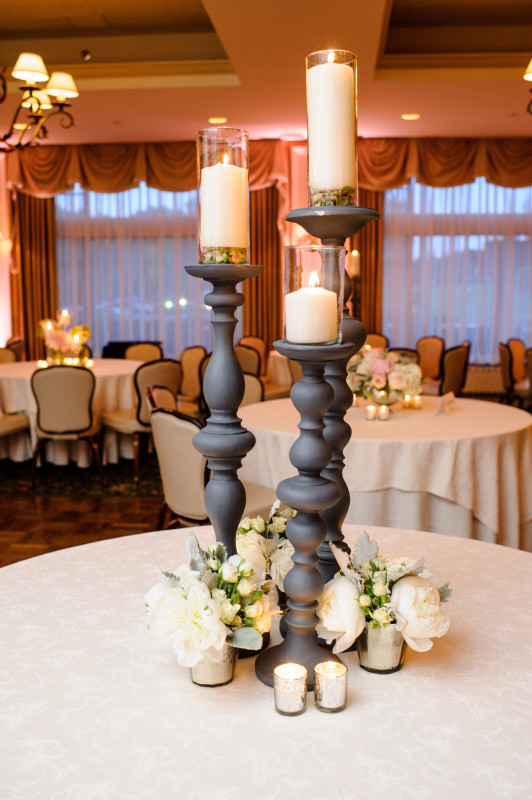 The cake, provided by the St. Clair Country Club, featured a vintage bride and groom topper. We love the simple white cream piping and decorative white pearls. So charming and classy! And, of course, we also love the quaint, silver cake stand, and cake servers to tie it all in.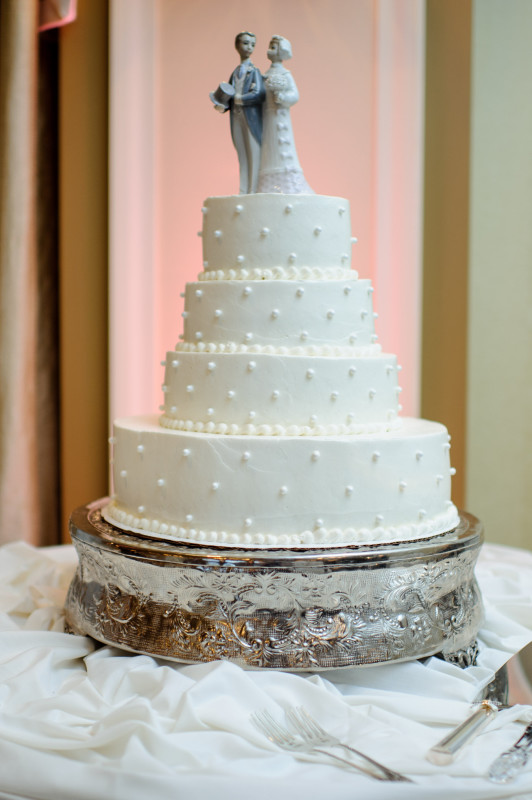 The bride and groom requested the band, City Heat, to play "Just the Way You Are" for their first dance. With their friends and family surrounding them, Jenna and Jason held each other close and swayed to the music, so happy and so in love.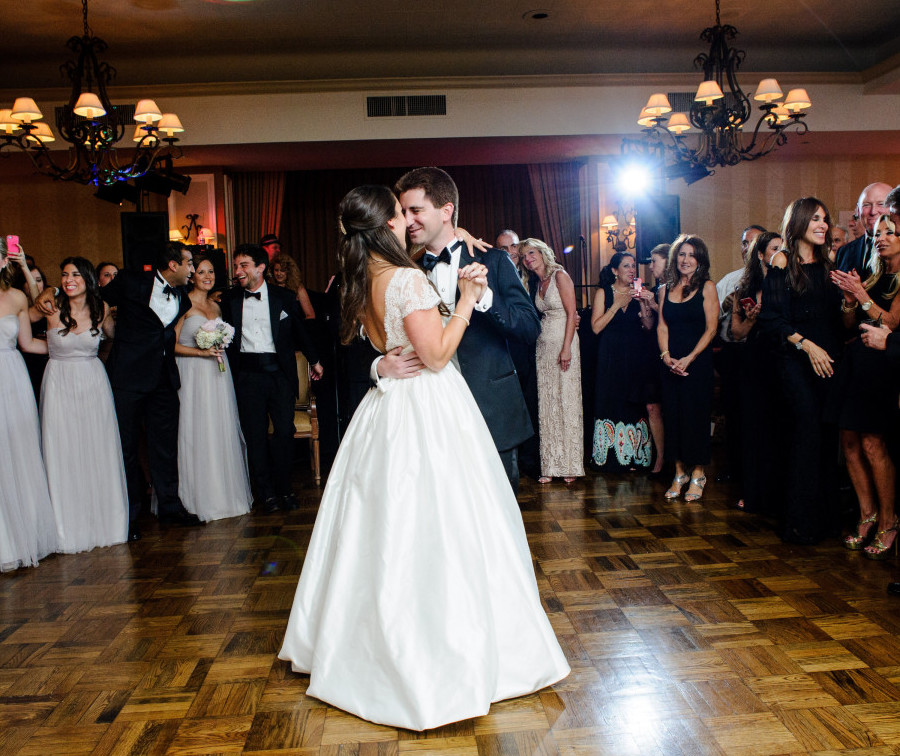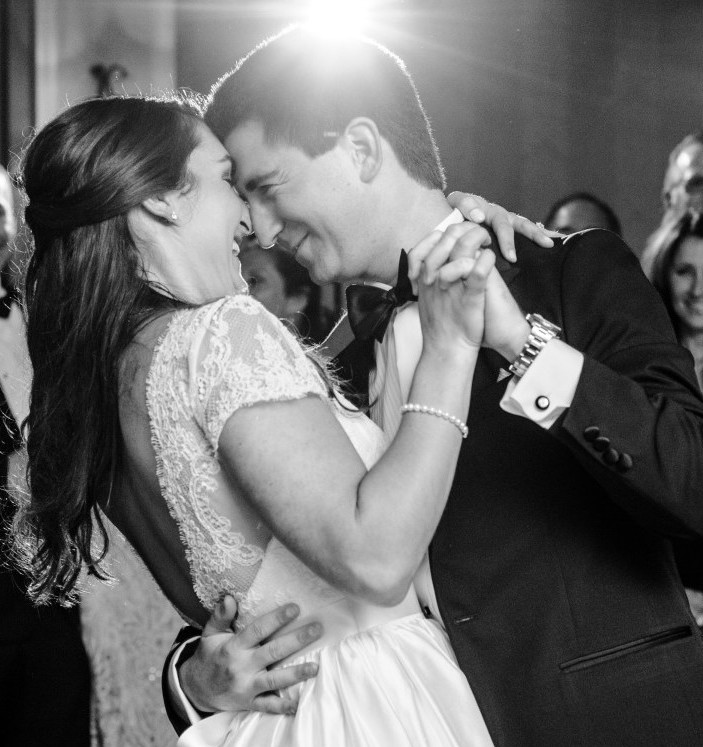 Jenna and Jason sure know how to have a good time. Take a look at those fun, specialty drinks! And those perfect manicures, ladies! We adore the sweet candy bar- guests had their pick from chocolate to pretzels to sticky, chewy taffy. See the rock candy resting on those silver platters? What a nice touch! The shades of blue and silver provide just the right pop of color amid the calm color scheme.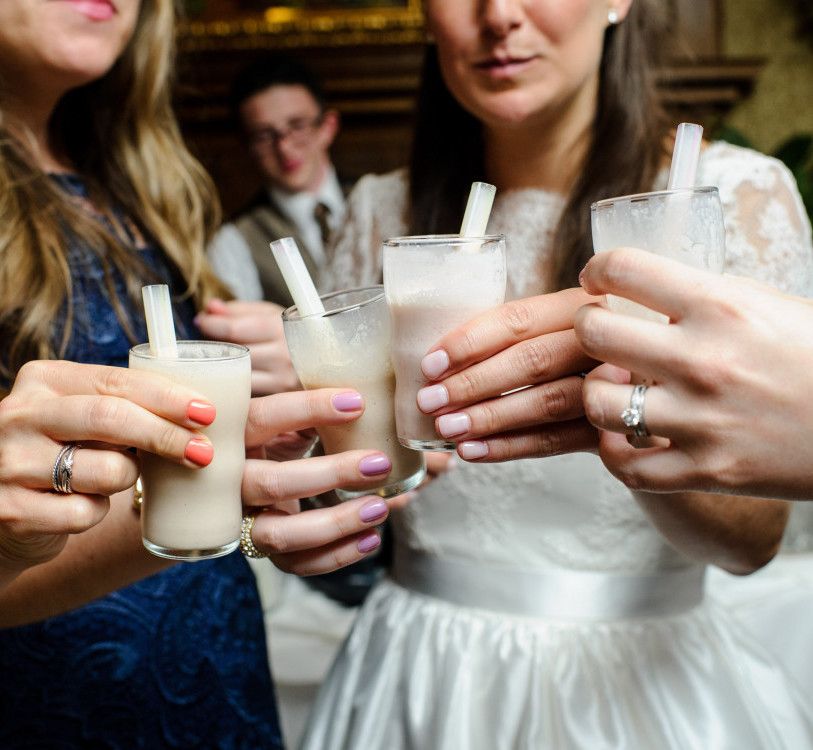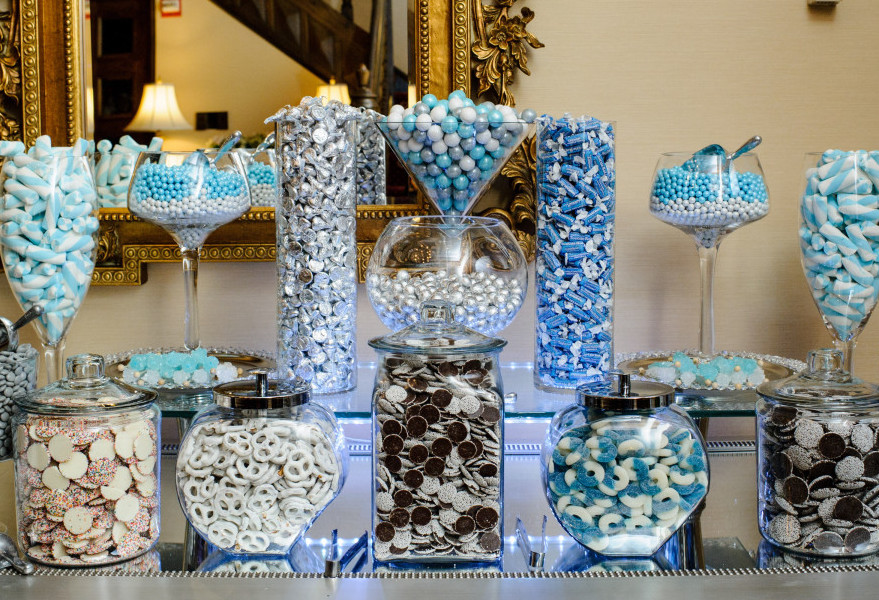 Friends and family had a great time dancing the night away to the City Heat Band. The band performed a mix of new and old hits, such as "Uptown Funk", "Shut Up and Dance", and "Summer of 69". The couple asked the band to start playing as soon as the dinner buffet opened and guests flocked from their tables to eat, mingle, and dance.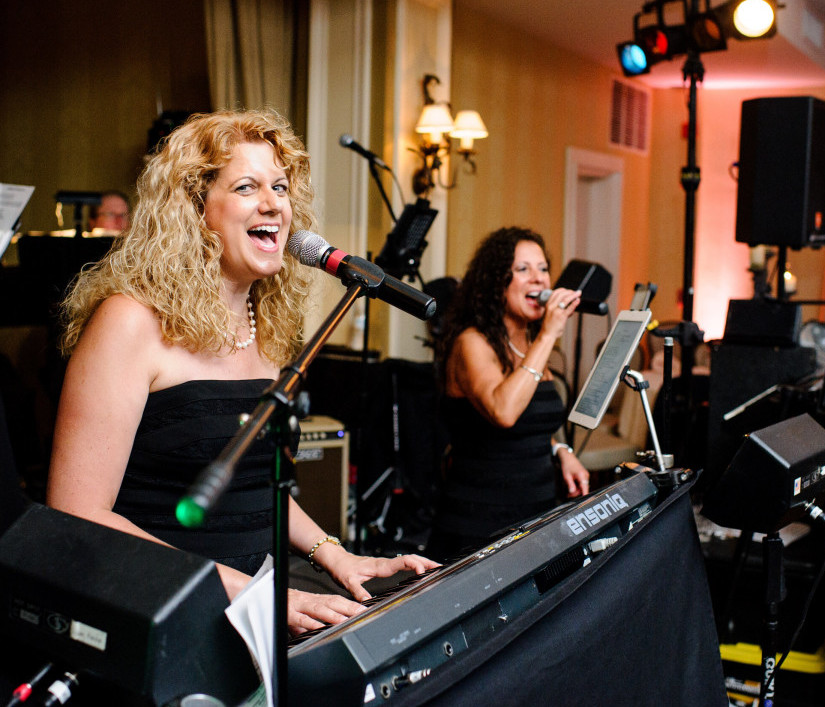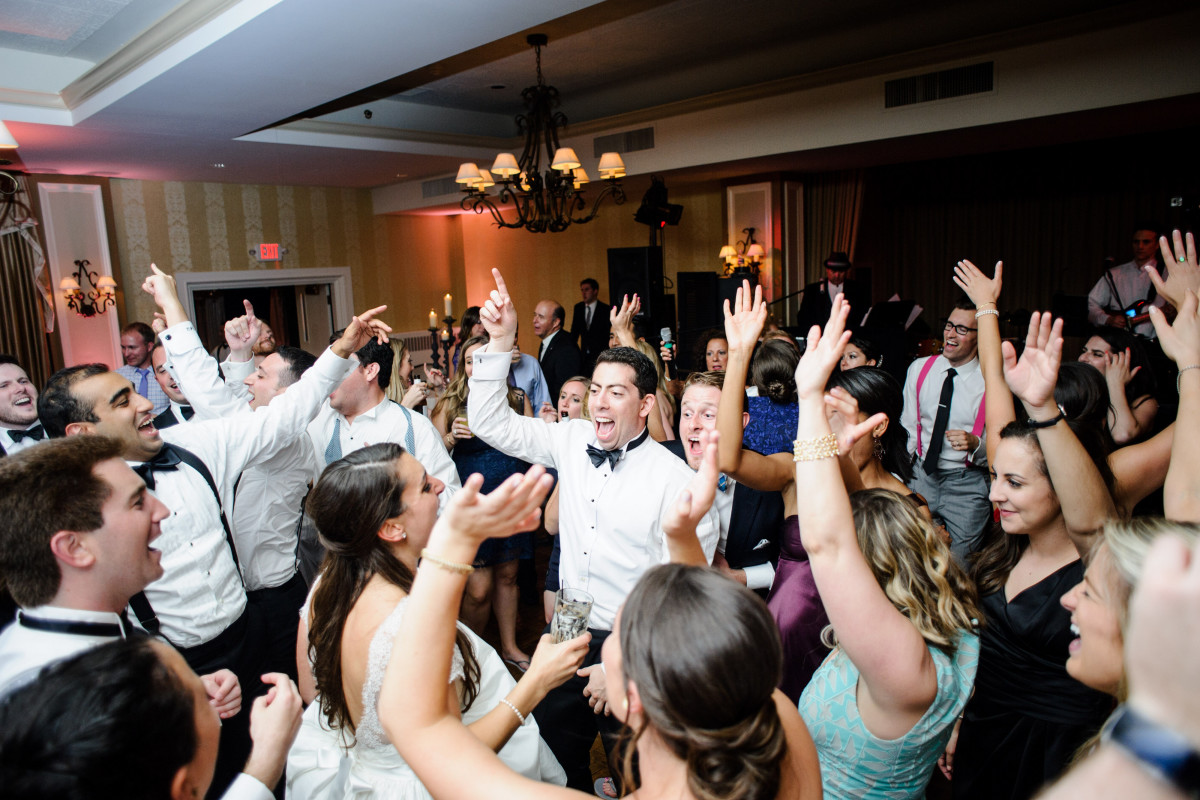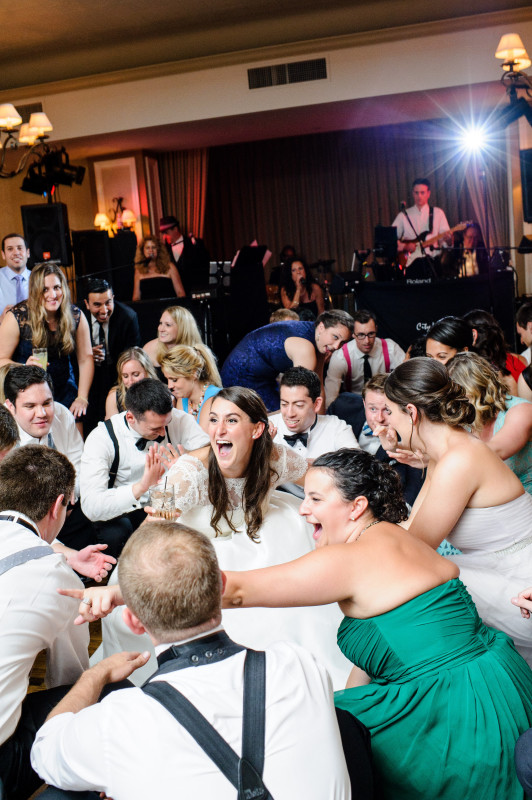 We hope you've enjoyed taking a peek at Jenna and Jason's fabulous wedding at the St. Clair Country Club. We'd like to thank Alison Mish Photography for allowing us to use their photos, please take a look at her website for more examples of her talent. The City Heat Band had a blast playing at their wedding and if you are looking for an amazing band to perform at your event, don't hesitate to contact them!
~Reception Soundtrack:~
First Dance: Just The Way You Are, Billy Joel
Bride/Father Dance: Sunrise, Sunset, Perry Como
Groom/Mother Dance: I Hope You Dance, Lee Ann Womack
~Vendor List:~
Ceremony: St. Clair Country Club
Reception Venue: St. Clair Country Club
Photographer: Alison Mish Photography
Florist: Hens and Chicks
Entertainment: City Heat Band