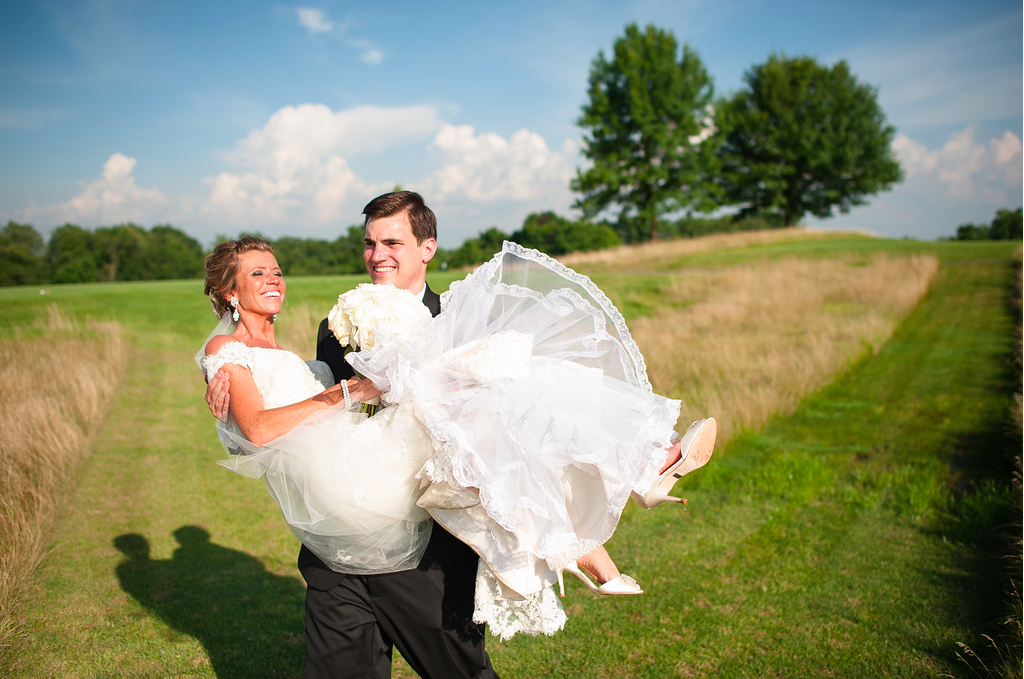 July 18th was one of those storybook summer days – the kind that make you expect to see bluebirds singing in the treetops and butterflies flitting between daffodils. Beautiful couple Meghan and Andy couldn't have asked for more beautiful weather for their wedding day.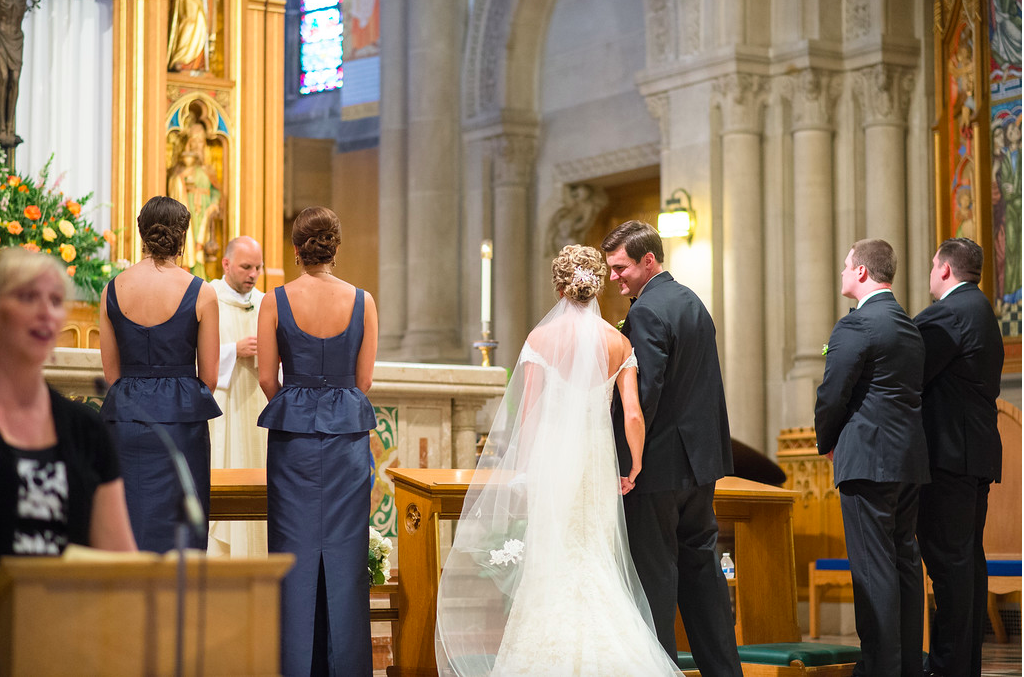 The pair were married in St. Bernard's, one of Pittsburgh's most majestic cathedrals.
Meghan wore a radiant fitted, off-the-shoulder lace dress – and even more radiant smile. Andy was dapper in classic black and the bridesmaid's blue peplum dresses were stylish and modern.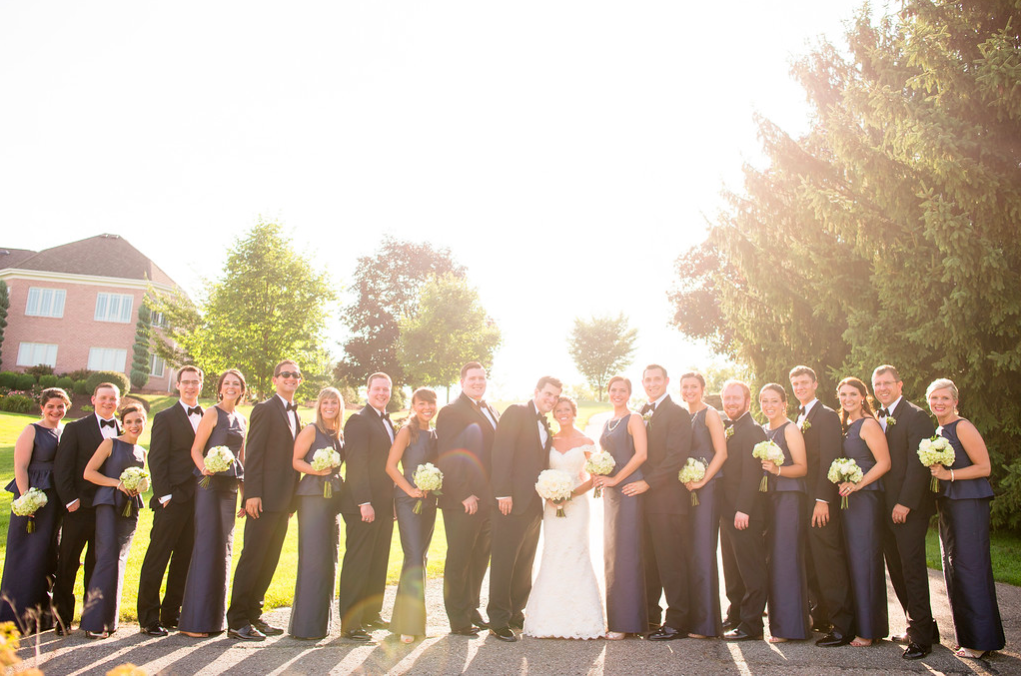 After the ceremony, photographer Michael Will spent time with the bridal party and newlyweds to capture some seriously stunning moments that will definitely become cherished photographs for a lifetime. Will really captured the essence of this couple's relationship and wedding in his photographs, which is to say – full of love and laughter.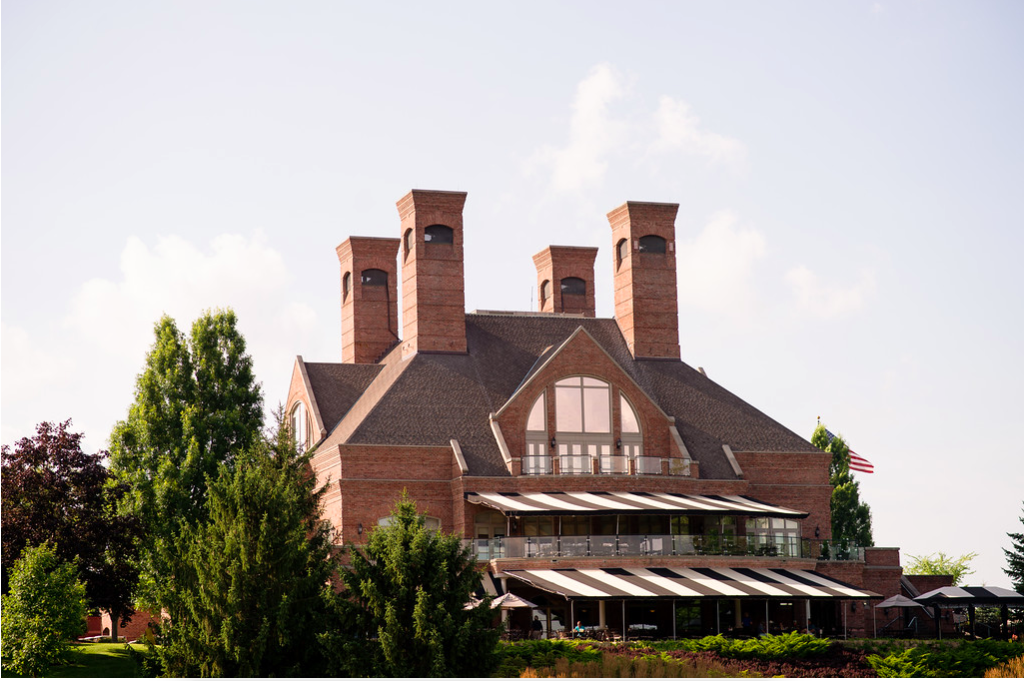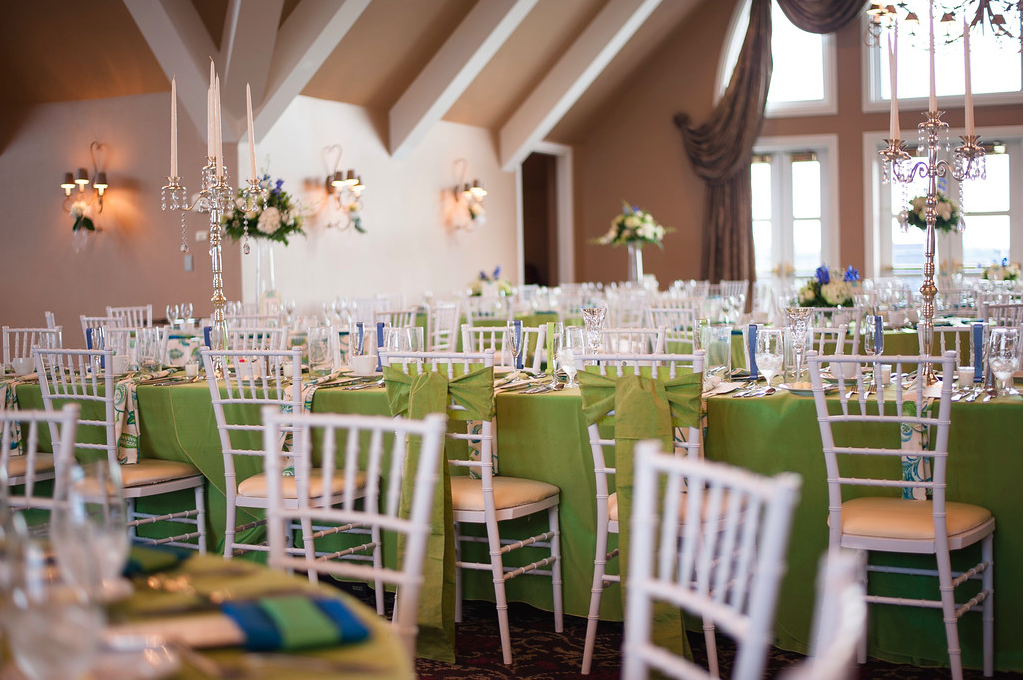 Meghan and Andy hosted their reception at The Club at Nevillewood, only a few miles away from the church. The reception space was outfitted by local vendors Lendable Linens and Elegant Chairs in a fresh white, blue and green color scheme and the tall, bejeweled candelabras added a glam element to the tabletops.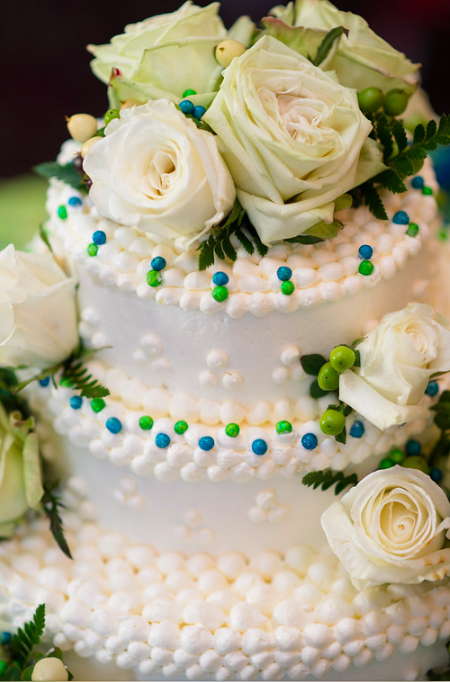 Jim Carlucci at Della Robbia provided the elegantly simple floral arrangements and the confectionary talents at Food Glorious Food and Pastries ala Carte made the beautiful (and delish!) cake and sweets.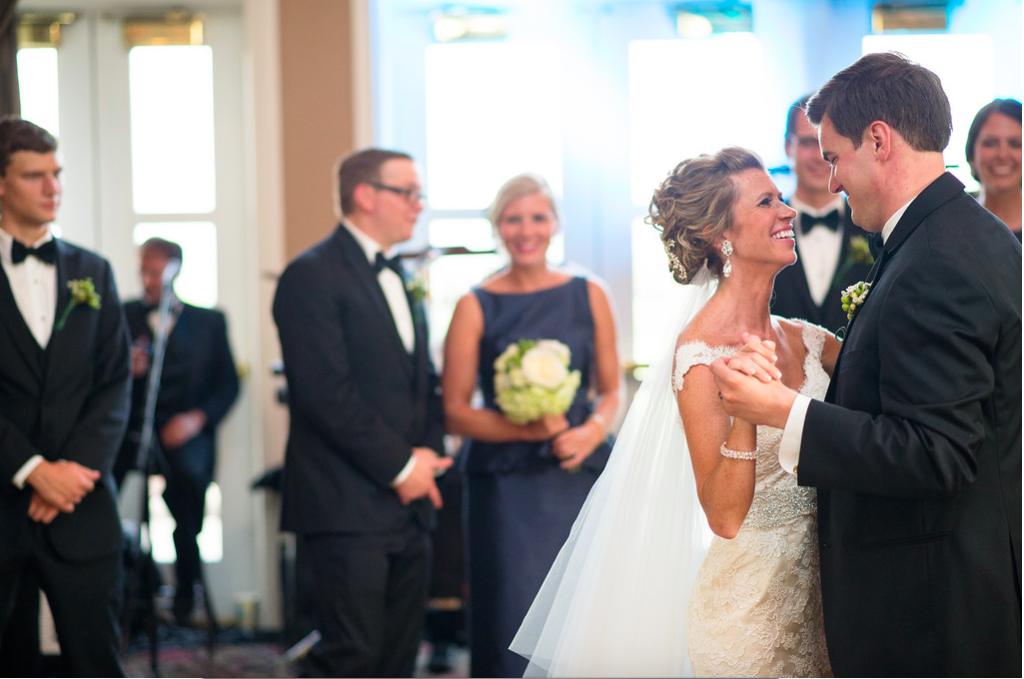 The Bride and Groom chose Michael Buble's "Everything" for their first dance song – a modern classic that's equal parts sweet and romantic. We kicked off the reception with "Shut Up and Dance" by Walk the Moon to ensure everyone got out on the dance floor – and boy, did it ever work.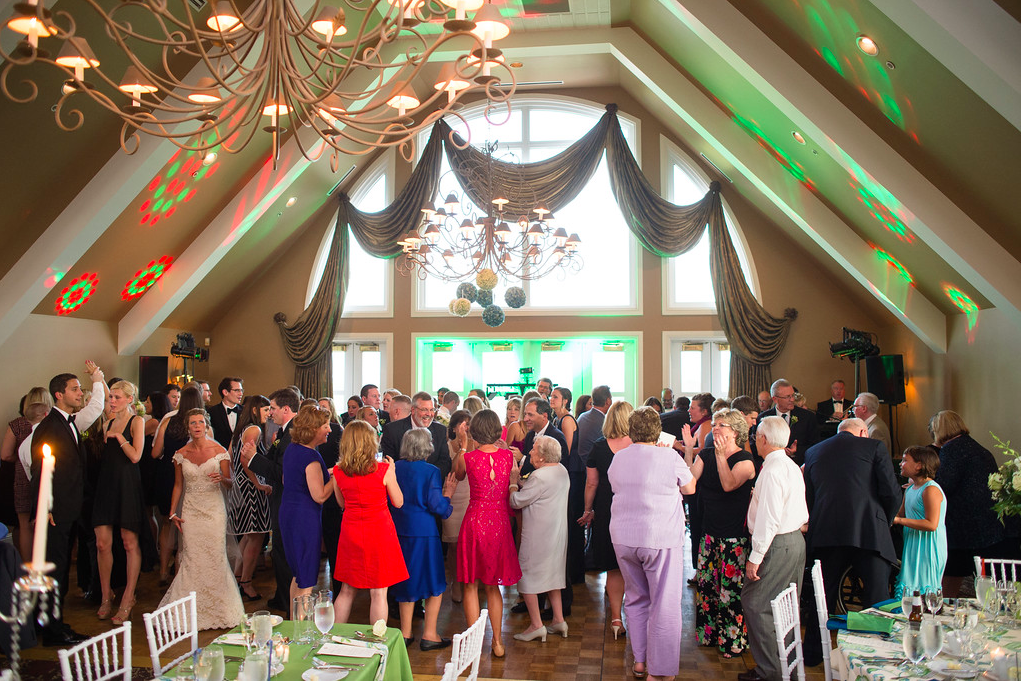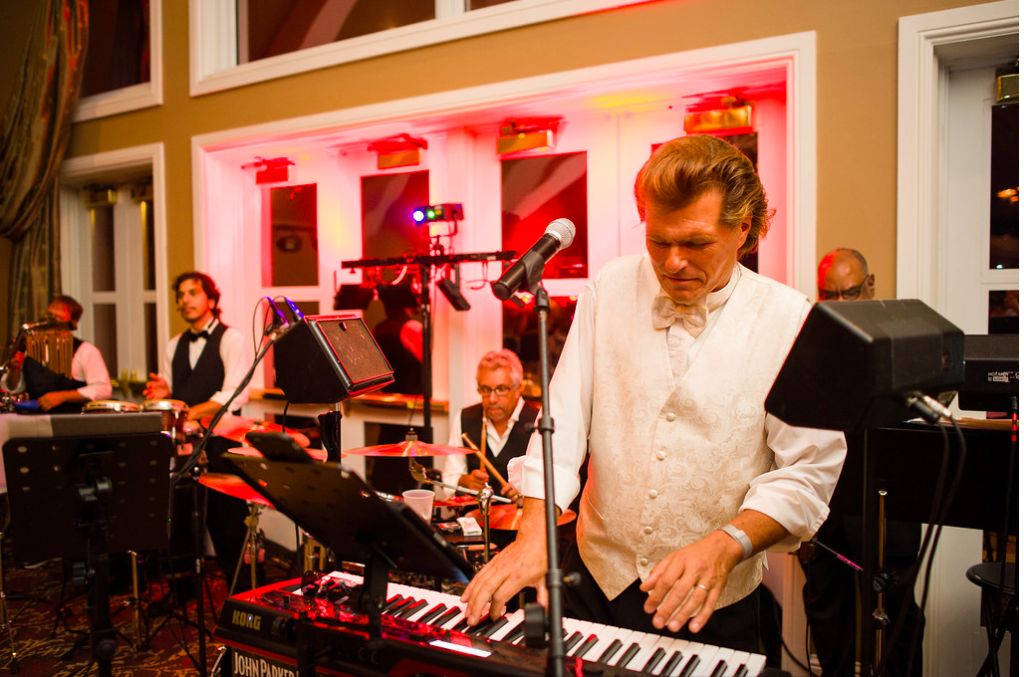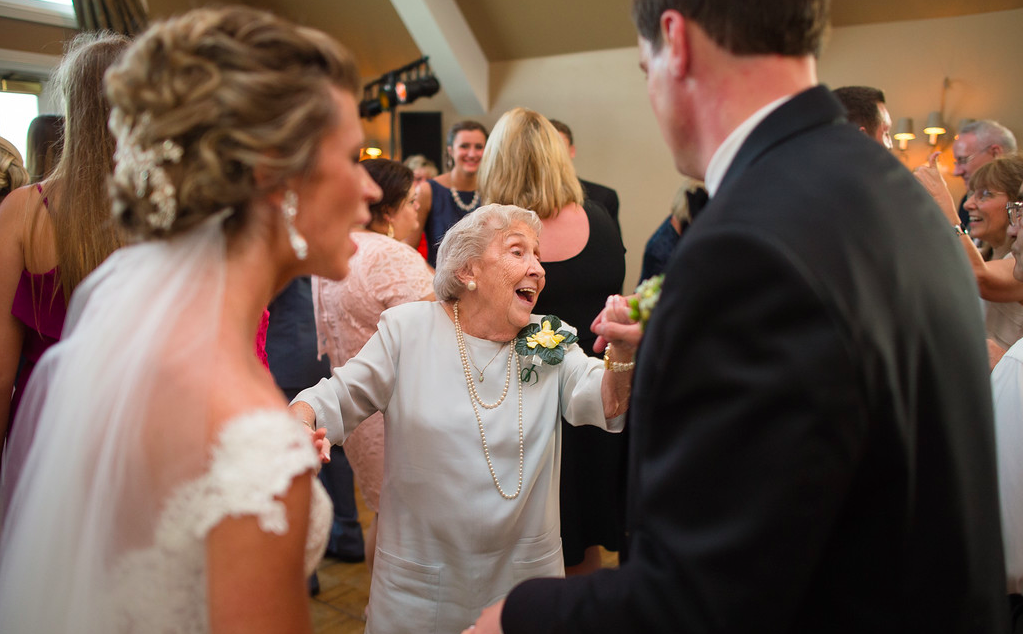 One of the best measures of an awesomely fun reception is when the ladies' heels come off during the reception. When you see sparkly stilettos littering the outskirts of the dance floor, it's a sure sign your wedding is rocking! Your guests are so inspired to dance, their feet start to ache!
If this looks like your idea of your perfect wedding, be sure to contact The John Parker Band about being a part of your special day.
A HUGE thank you to Michael Will for allowing us to use some of his stunning photographs to talk about the wedding on our blog! To see more of his incredible work, check out his website here.