Recently featured in Whirl Magazine, Ashley and David's wedding was exquisite to say the least.
Falling in love and getting engaged after just a short 7 months of dating, Ashley and David knew they wanted to spend their lives together. And not even the groom's deployment to Afghanistan ruined their plans (thanks to lots of help from the mother of the bride!).
Married at St. Boniface Catholic Church in Downtown Pittsburgh, Ashley and David, along with their guests, then continued their celebration at the ever-romantic Omni William Penn Hotel.
The music of The John Parker Band, colorful arrangements, a 'something old' in the form of touches of Alençon lace mixed with new on Ashley's Vera Wang gown, and a towering cake by Bella Christie Sweet Boutique, made this wedding truly their own.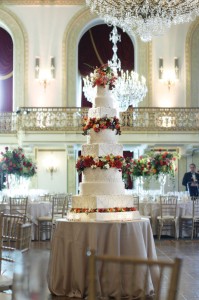 After a heavenly honeymoon in Fiji, Ashley and David's unpredictable story continued, with David heading to Japan to help with the tsunami relief effort. And soon after, they celebrated the birth of a son!
We can only imagine, and wish for, the best for this great couple!