Traditional yet modern, grand yet intimate, The Westin Colonnade, Coral Gables is one of the most beautiful upscale South Florida wedding venues.  Liz and Paul's choice of the historic Colonnade for their wedding ceremony & reception made a spectacular impression on all of their guests!
Another great choice was having top South Florida Wedding band  the John Parker Band, to rock some fun into their elegant affair! The amazing Boca Photographer Carlos Aristizabal was kind enough to share these photos– certainly showing that Liz, Paul, and their guests were enjoying John and his band!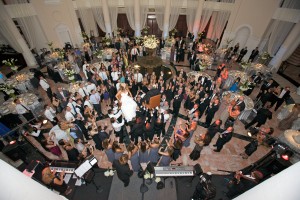 The venue and the wedding decor was so beautiful that John couldn't resist snapping a few of his own photos! (Please excuse the quality; these were shot during John's set up with his phone)
The John Parker Band is the perfect way to make your elegant wedding FUN, all while keeping it family appropriate and classy. Contact us so that we can infuse some JP into YOUR wedding!