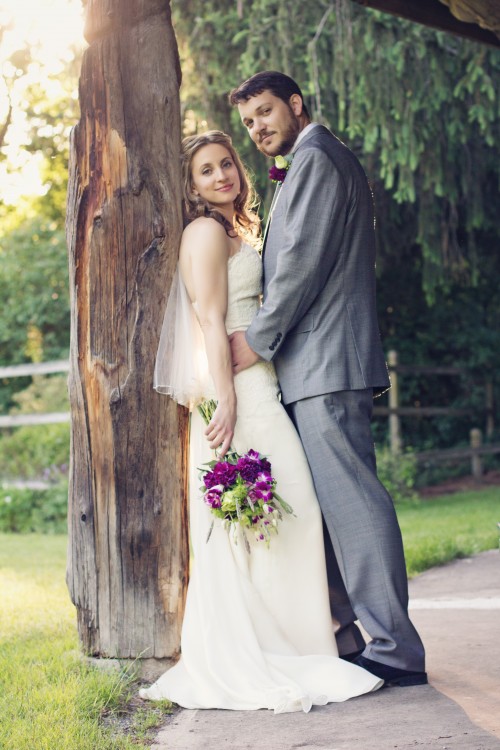 Kelly and Dan's flower-laden outdoor wedding could easily be called a huge success! The newlyweds celebrated their big day with spectacular wedding band Dreamscape, who provided knock-out tunes for this couple's entertaining reception.
We'd like to give a big "Thank You!" to Julie Buck for sharing her photographs of Kelly and Dan's wedding with us.
The ceremony took place on the green lawns of the Green Gables Restaurant. Restaurant owner Teresa Marafino and staff member Sally Mosky assured that the bride and groom got everything they wanted on their big day! Though the towering trees and rich gardens were beautiful by themselves, the ceremony space was further enhanced by tall wooden planters brimming with country flowers and a small lace-covered altar. Guests enjoyed this intimate union on a lovely afternoon in early summer.
Following cocktail hour on the terrace and a pleasant stroll through the gardens, guests were ready to eat and dance for the rest of the evening. All of the action took place in the restaurant's Tuscany room, a large venue with elegant wooden columns and rustic stone walls. The couple's elegant flower and decor selections truly made the reception space come alive with an upscale country feel. The newlyweds even had a cake dedicated to the Pittsburgh Steelers – their favorite football team!
Reception Soundtrack
First Dance: "Till There Was You" by The Beatles
Father/Daughter Dance: "Forever Young" by Rod Stewart
Songs of Note: "The Bridal Polka"
"The band completely made our wedding. Seriously. It was a blast and everyone raved about the band…They are so talented and so easy to work with. My hubby and I could not be more thrilled with our booking."
– Bride Kelly –
Pittburgh's finest wedding entertainers put on the show of a lifetime for the newlyweds and their guests. Even the Father of Bride – who'd attended his other children's weddings – said that "this is the BEST wedding band [he'd] ever heard," and that he "can't wait to hear them again!" 
Does a fun-filled reception with amazing music and a low-maintenance band sound great for your wedding? We thought it might! Send a message to John Parker Bands for more information!
 VENDORS
Entertainment  Dreamscape Band  |  Reception & Ceremony  Green Gables Restaurant
Photos  Julie Buck  |  Flowers  Ridgeview Acres Farm |  Cake  Griff's Goodies