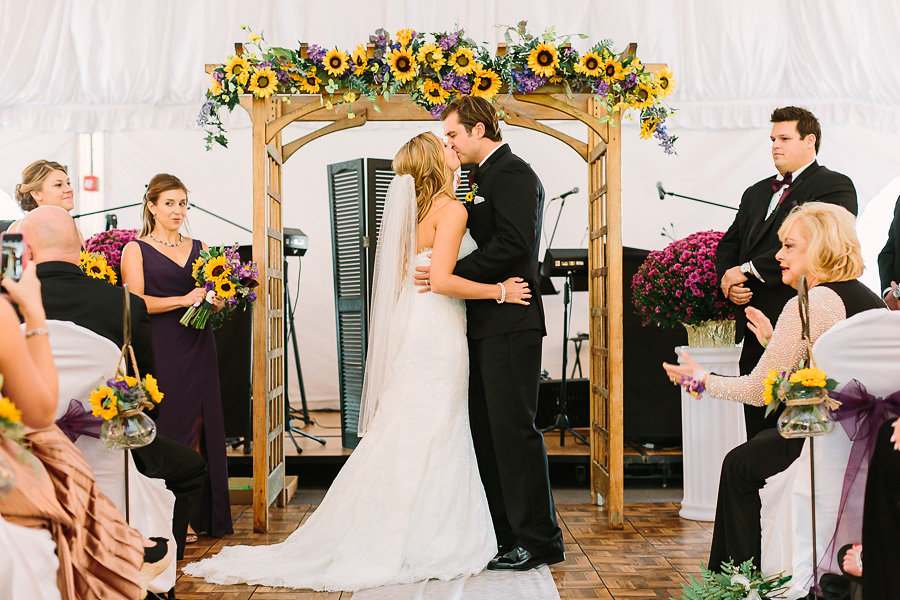 Abby and Rob got married surrounded by loving friends and family– and lots of sunflowers on a gorgeous autumn day at the Wisp Resort in McHenry, Maryland – not far from Deep Creek Lake.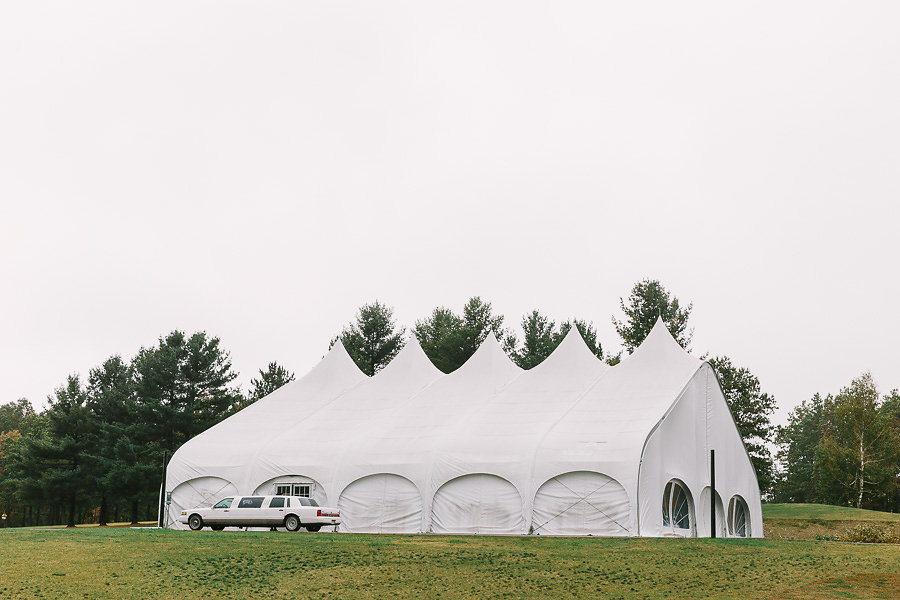 The luxe resort is home to a whole host of year-round activities and events- from skiing, golf, rafting, adventure courses- and, of course- weddings. The wedding tent, named Mountain Mist Tent (how cute is that??) is a gorgeous white, five-peaked tent with a seriously stunning interior.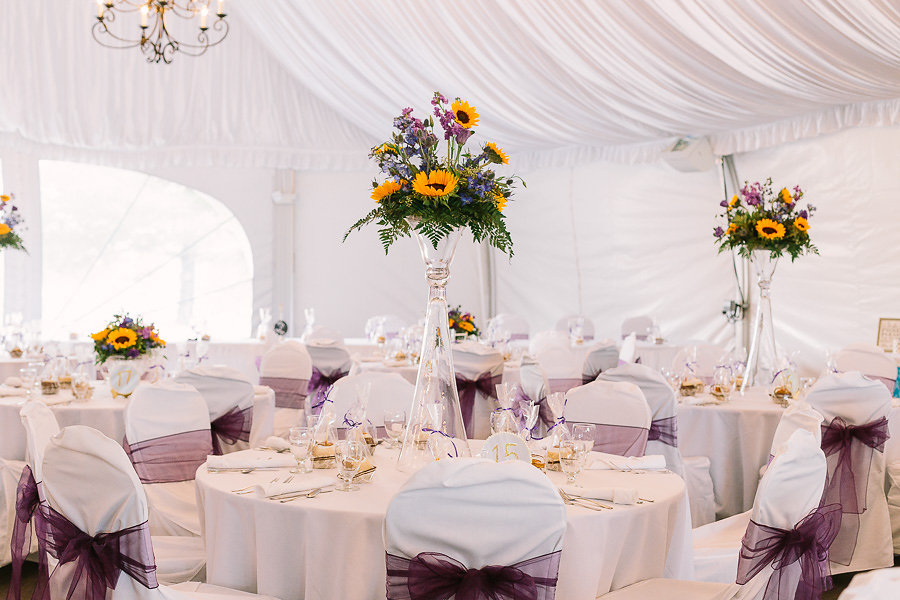 Can you believe this is the inside of a tent? What an amazing space! The high ceilings, bright white on white and large windows make the space feel airy and open- an inviting and welcoming combination. With the vivid pops of yellow sunflowers, purple accents and white linens, Abby and Rob turned the space into an elegant-but-relaxed reception space. Florist Bella Fiore at Morgantown Flowers expertly created depth and drama in the space by mixing both high and low floral arrangements for the tables.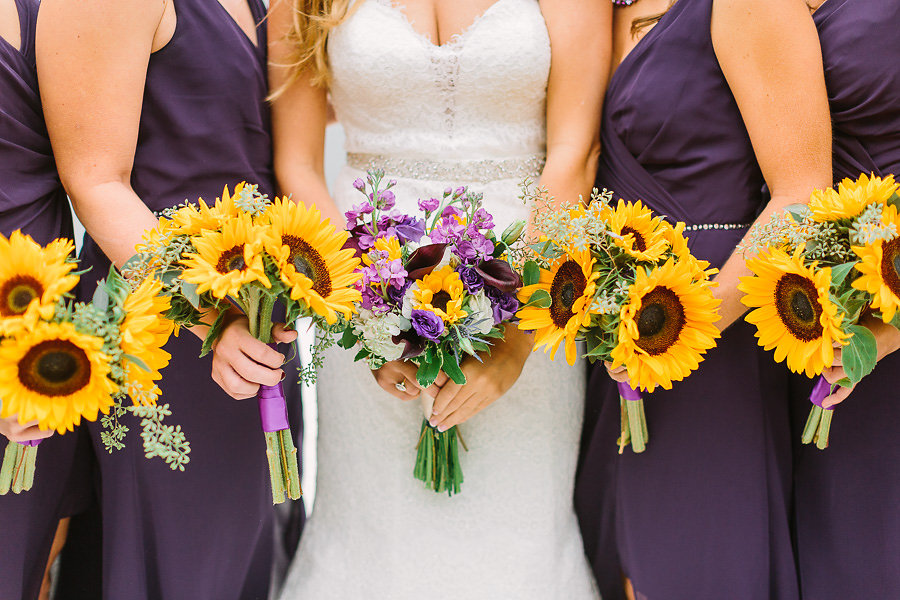 Abby and Rob opted for a charming, rustic chalkboard program to let their guests know about the ceremony; it's cute, playful and adds to the autumnal feel of the wedding. Again, as with the reception floral arrangements, the yellow sunflowers with hints of purple and green with the bouquets add a burst of celebratory cheer to the day.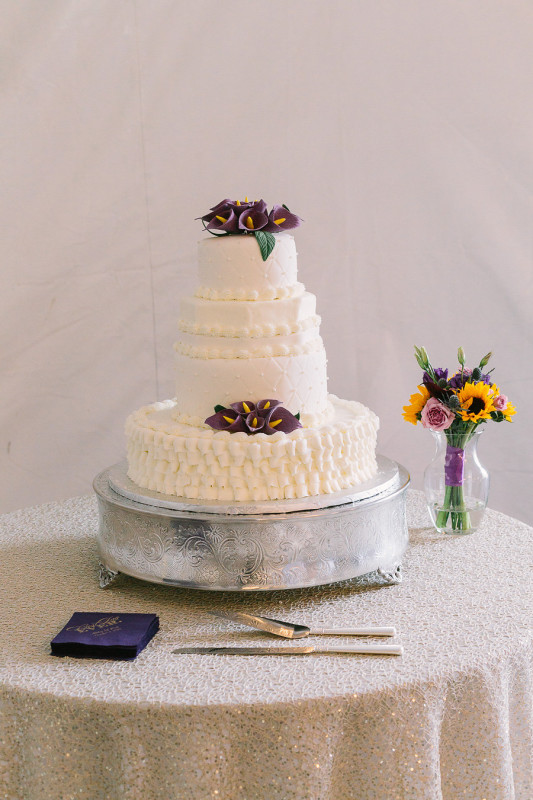 The gorgeously simple and stylish cake, lovingly made by Mountain Flour Bakery, is all about the details. From the textured tiers to sugary purple irises to the glittery gold table cloth and silver plate, it's as wonderful to look at as I'm sure it was to eat!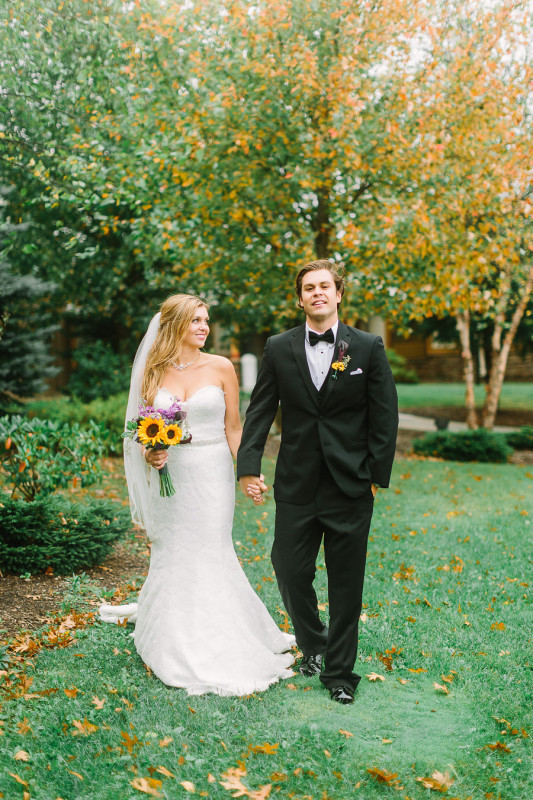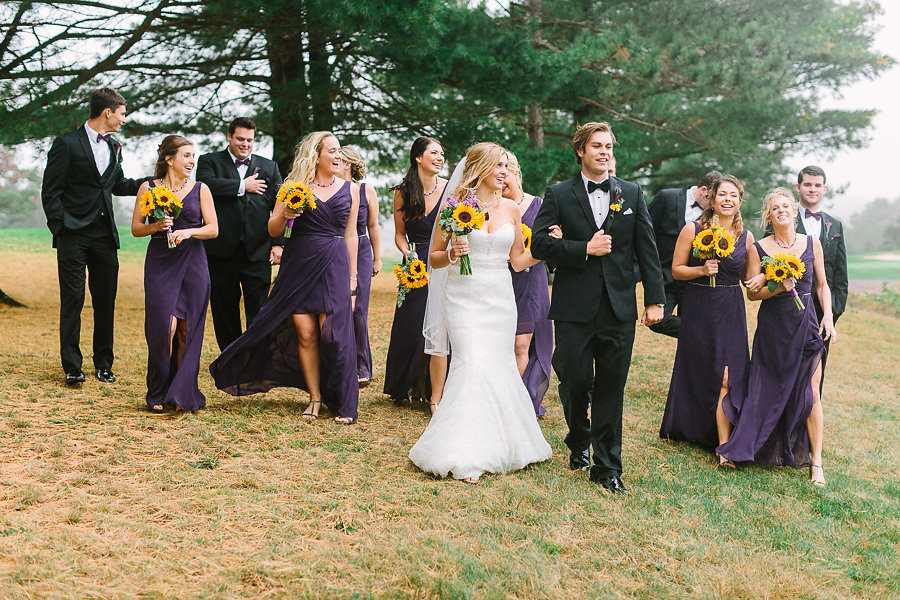 Photographer Cara Hudac captured all the love, fun and happiness of the day; just look at the heart-meltingly sweet way Abby is gazing at Rob in the first photo! And the wedding party couldn't be having more of a good time walking the Wisp Resort's grounds snapping photos.
Abby's dress, like everything else she chose for her wedding, is so stylish and elegant. The sweetheart neckline and mermaid silhouette is romantic and feminine and her gorgeous long blond hair adds to the whimsical look. Her bridesmaids' dresses are so stylish. The long, wrapped overlay with the slit to reveal the shorter hemline underneath is unexpected and totally unique.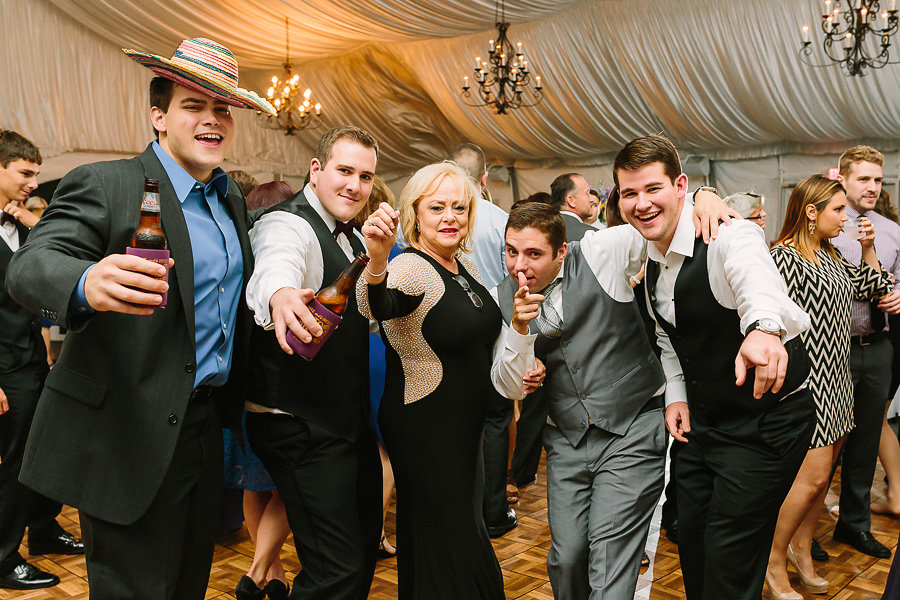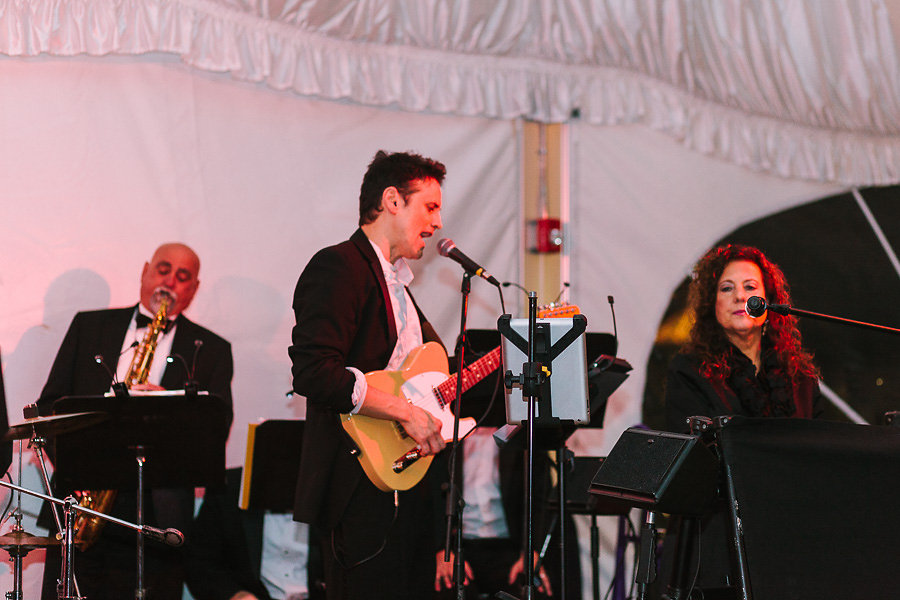 Abby and Rob's guests had a ball dancing to City Heat's mix of classic tunes and modern hits. From Beyonce to start the night off to Dirty Dancing to wind it down (what better way to end a fabulous dance party than "I've Had the Time of My Life"?!), it was a non-stop fun fest.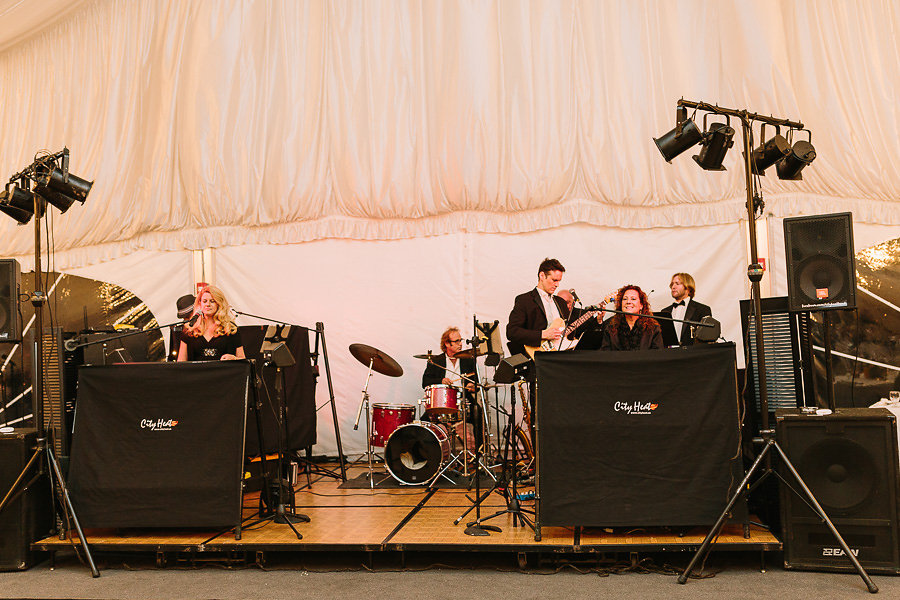 There's nothing better than when a weddings' guests and the band hit just the right note (pun intended), really feeding off each other's energy and just having a great time and that is exactly what happened at Abby and Rob's reception with the City Heat Band.
"The band was GREAT!!!! Everyone was up dancing all night and that is exactly what we wanted" – Barb & Rick, Parents of the Bride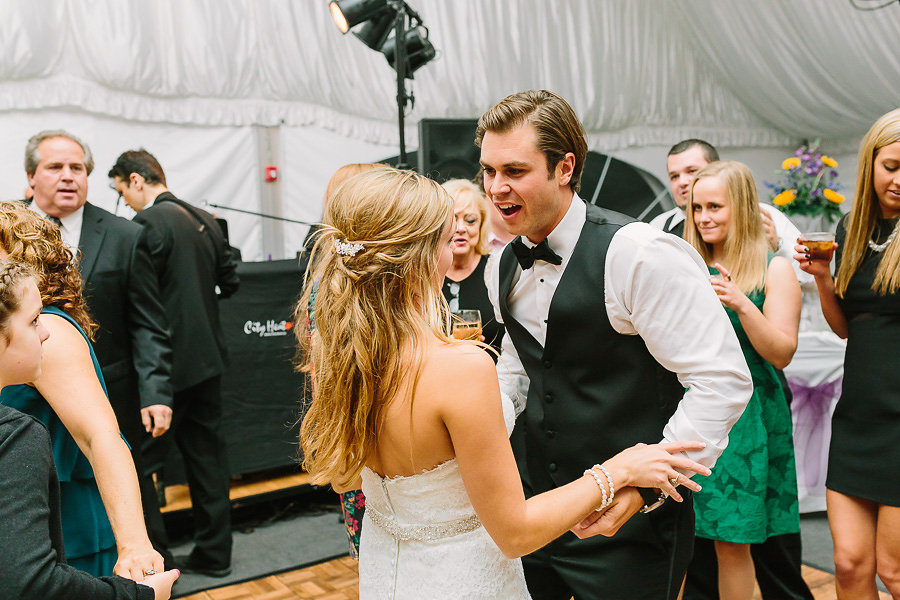 If Abby and Rob's Mountaintop soiree looks like your idea of a perfect wedding, please be sure to contact John Parker Bands to arrange for City Heat to heat up your dance floor.
We'd also like to thank the amazing photographer Cara Hudac for allowing us to use her gorgeous photos to showcase Abby and Rob's unforgettable day!