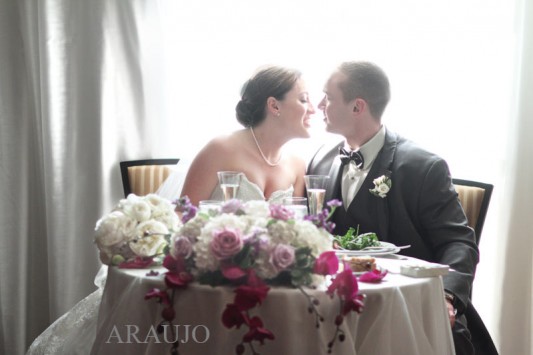 Emily and Garrett held a stunning, classically styled wedding at Pittsburgh's Downtown landmark, the Renaissance Hotel Pittsburgh. The amazing venue only added to the beauty of the day. To make sure that everyone had the time of their lives during the reception, the bride and groom looked to the musical talents of the John Parker Band for help!
Cyndi and Tony – the dynamic duo behind the scenes at Pittsburgh's Top Photographers – Araujo Photography – let us borrow a few spectacular snippets of the big day.
Emily and Garrett's ceremony took place on the Renaissance Hotel staircase, beneath a gloriously detailed glass ceiling. This unique and upscale space set the tone for the rest of the wedding, which was equally elegant and classically beautiful.
After indulging in a few cocktails on the hotel balcony, the guests filled the hotel's light-filled ballroom for 3-course sit-down dinner and some dancing. Guests couldn't help but admire the exquisite decor, which stood out thanks to the neutral color palette that was complimented by pops of rich pinks and purples. A loud shout out goes to Christine Zimmick, head of staff for the evening, who assured that the reception went off without a hitch!
Reception Soundtrack:
First Dance: "Lost in This Moment" by Big & Rich
Father/Daughter Dance: "I Loved Her First" by The Heartland
Mother/Son Dance: "My Wish" by Rascal Flats
Songs of Note: "The Way You Look Tonight" by Michael Bublé
"Multiple people I hear are looking into your band for their wedding
now as well,  
so hopefully I will see you at a future event!"
– Bride Emily –
Guests of all ages filled the dance floor throughout the course of the evening, reveling in the diverse playlist performed by Pittsburgh's most experienced & talented wedding band. There was not a single dull moment during this happy day!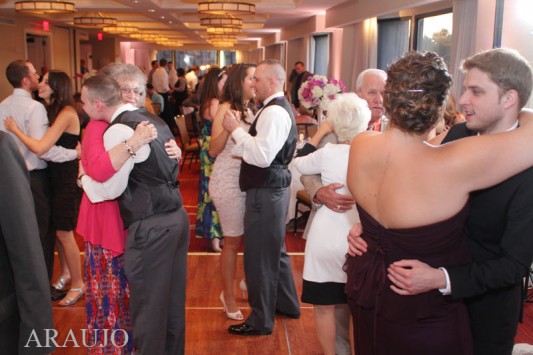 Want to have a wedding reception like this happy couple's? Then start with some great music! Get ahold of the John Parker Band for more info.
VENDORS
Entertainment  John Parker Band  |  Photos Araujo Photography
Ceremony & Reception  Renaissance Hotel  |  Flowers  Allison McGeary
Cake  Jennuine Bakery