Maura and Joe are a very sweet, happy couple. The pair came through many obstacles to be together and were so excited to become husband and wife. The couple planned for a traditional wedding with all the trimmings- a beautiful church, venue, with gorgeous flowers, cake, and one of Pittsburgh's best live bands to perform at their reception. Dreamscape played their favorite tunes and encouraged all their guests to get out on the dance floor at the Ambassador Center. The bride and groom could not have asked for more, their day was just as they imagined!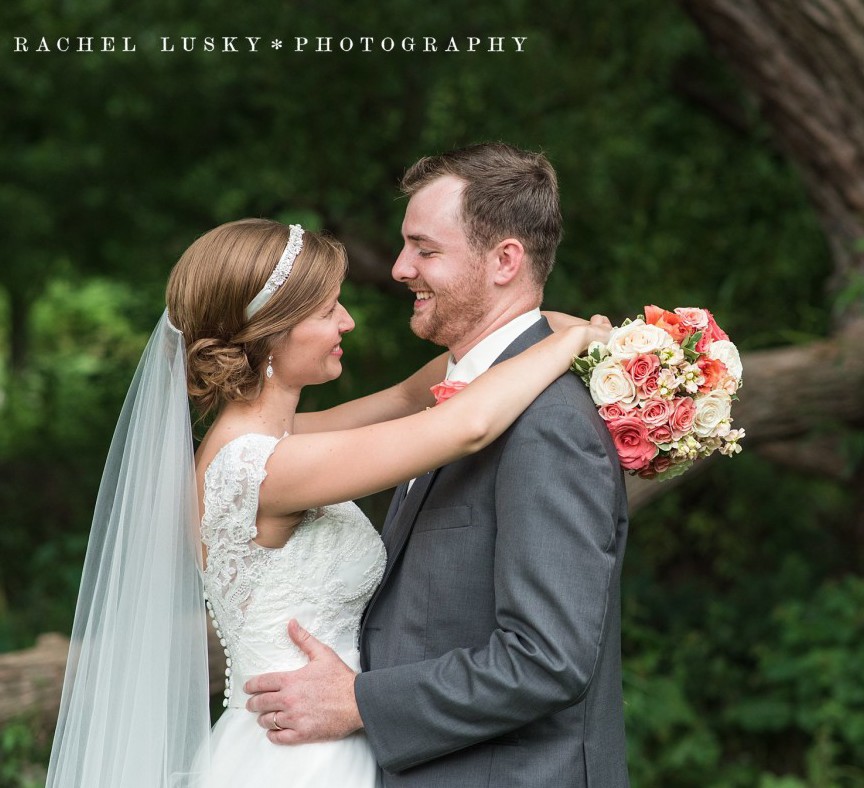 The bride was a real beauty. With porcelain skin, natural makeup, and a swept up hair do, she must have taken the everyone's breath away! Her off the shoulder wedding dress was covered in lace and her skirt was made of soft tulle. Her veil was pinned in the back and we love that she also wore a pretty headband.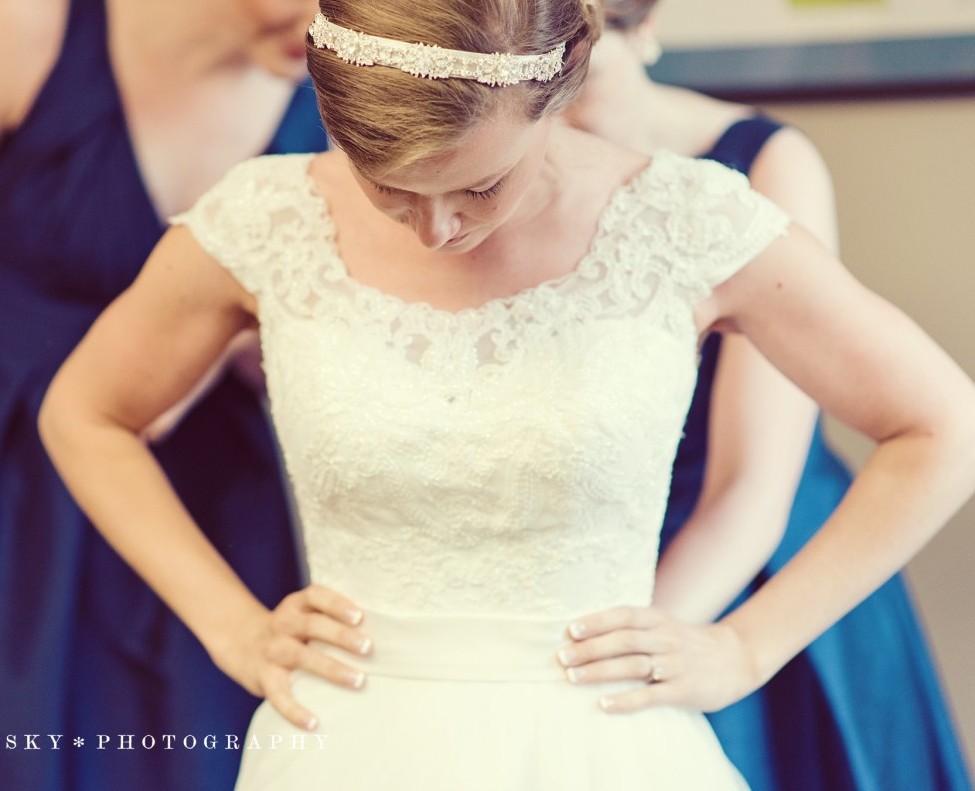 Their ceremony took place at the St. George Catholic Church. Friends and family watched as the bride and groom exchanged rings and vows. The church was modestly decorated with two large flower arrangements at the altar and clusters of roses adorned the aisle.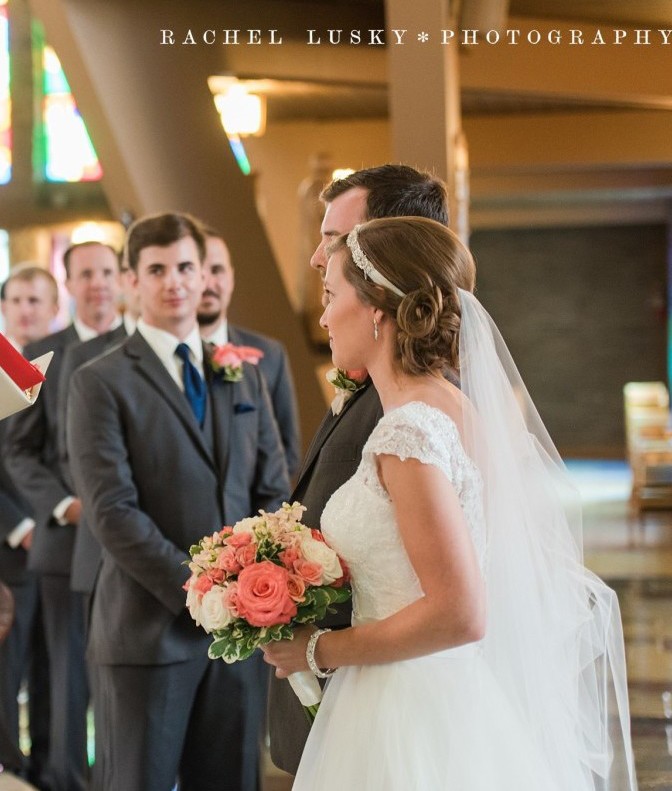 Their photographer, Rachel Lusky, took wonderful pictures of the bride and groom throughout their day. The relief and emotion was captured so well in this photo below. You did it! You're married and now it's time to party!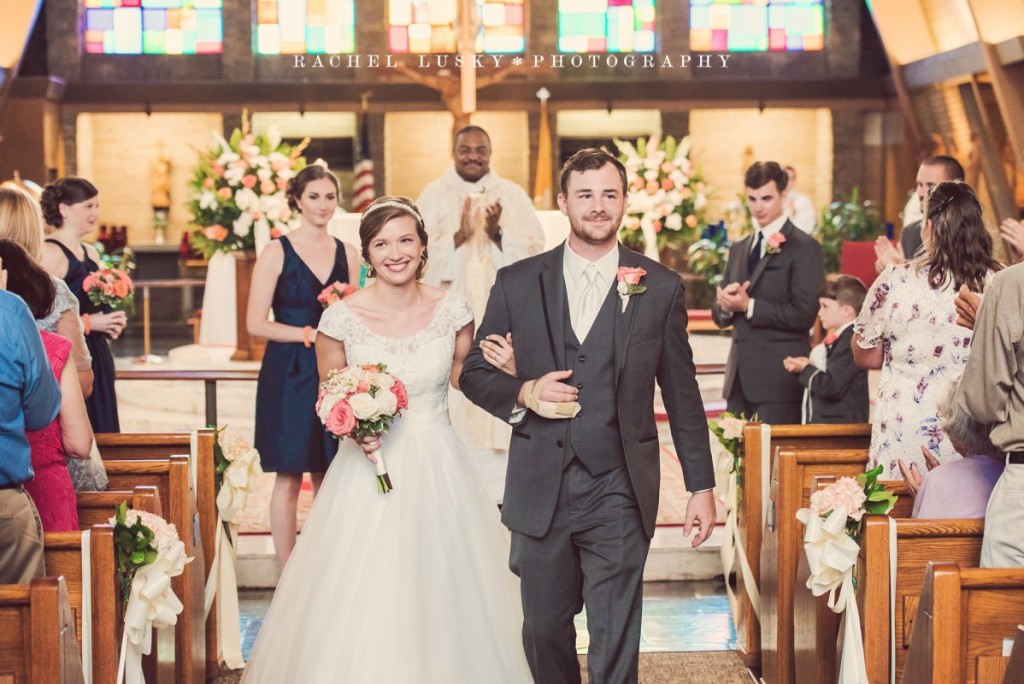 THANK YOU, John! The reception was fantastic with Tammi and Dreamscape! I told Tammi we had dancers, but I was amazed that no one sat down – the dance floor was full all night long! And the fact that the band all work so well together just made the evening flow perfectly. It was a beautiful night! – Mother of the Bride.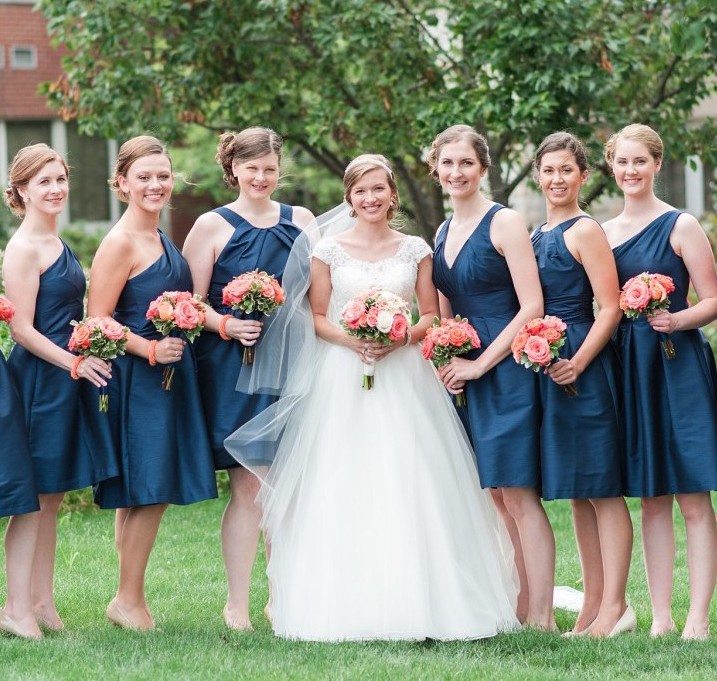 Navy and coral are not two colors you see often at weddings! Which is a shame, because the colors certainly go together very well. We love the pop of coral against the bridesmaids cool blue dresses. We also love that while each dress was short in length (easy for dancing!), the styles were different. Way to go for personal style and comfort! These ladies look great!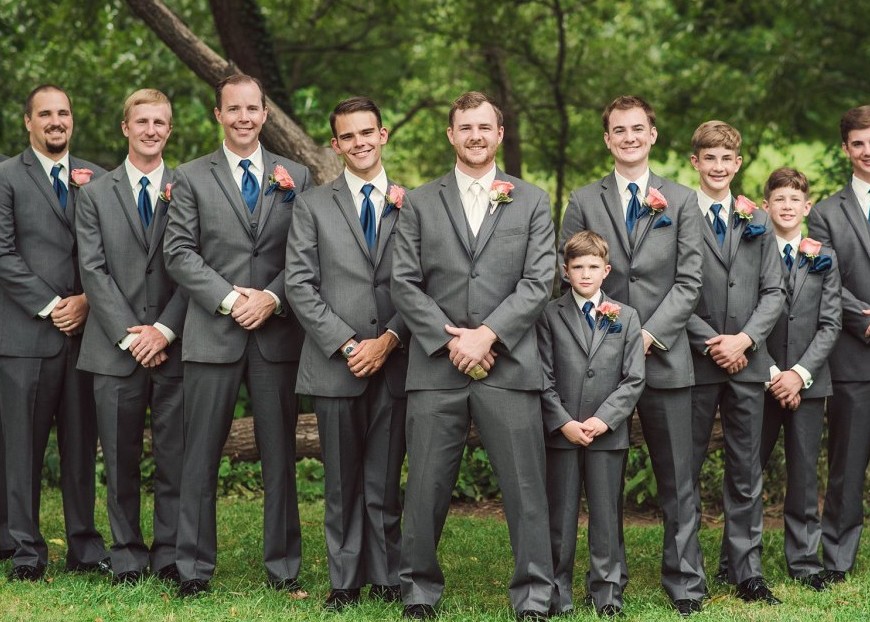 A formal pose of the groom with his groomsmen, in their charcoal gray suits and navy blue ties. Wearing big smiles and supporting the groom, we bet they were ready for some great music at the reception.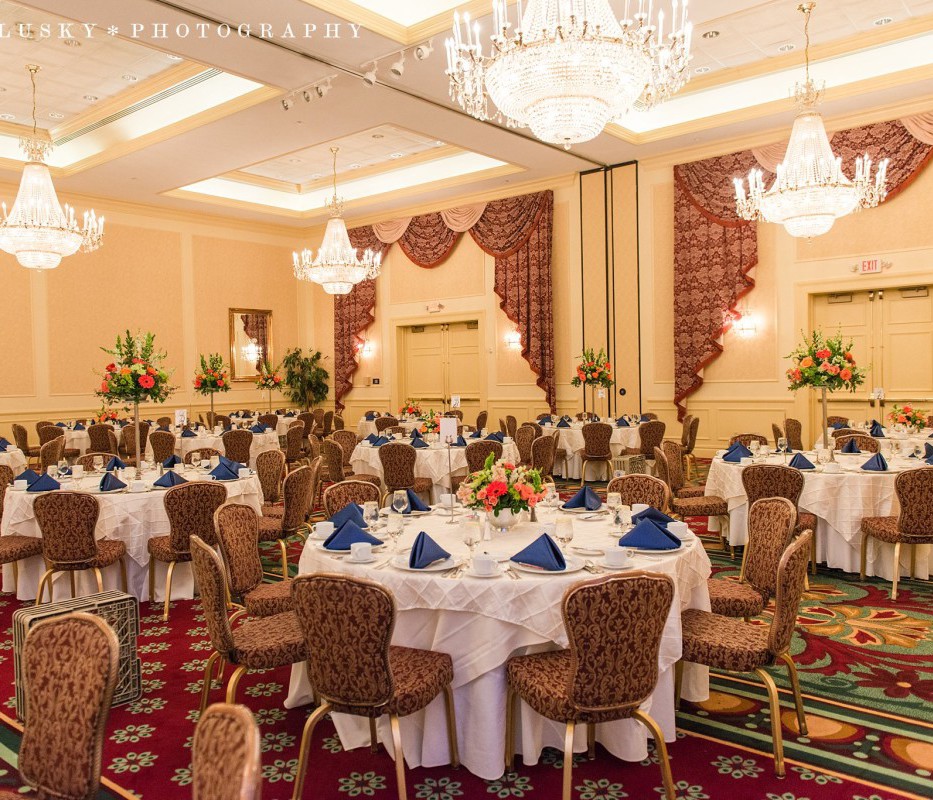 The Ambassador Center looked so gorgeous! The couple decorated the space with white tablecloths, navy napkins, and coral floral arrangements. Sparkly chandeliers and elegant lighting added to the ambiance. A large dance floor was in view of every table with plenty of room to boogie down to Dreamscape band.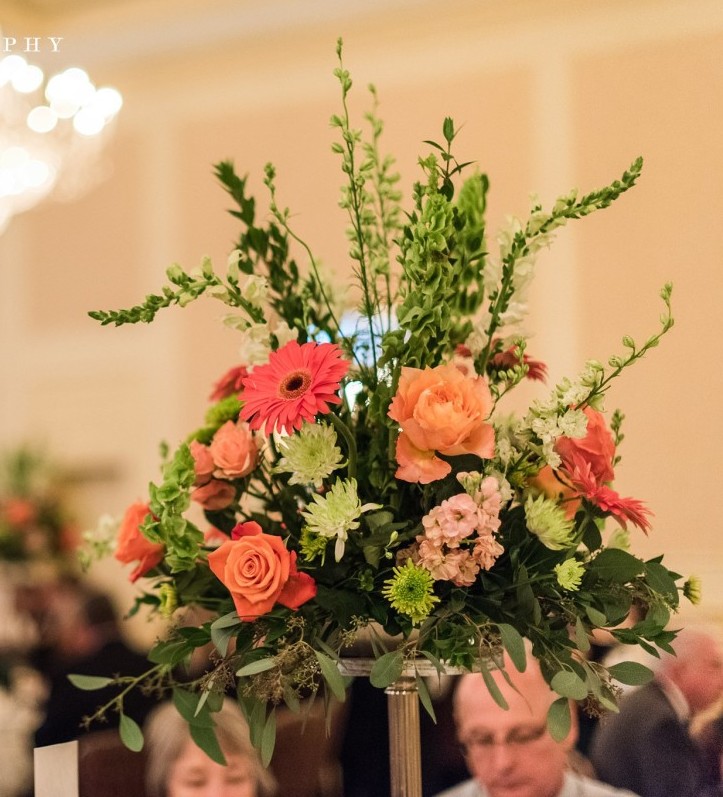 Let's take a closer look at the floral arrangements. On a bed of greenery, the coral and pink roses and daises really looked popped! Alburn Florist did a wonderful job! Not to mention the bouquets- all creations of beauty.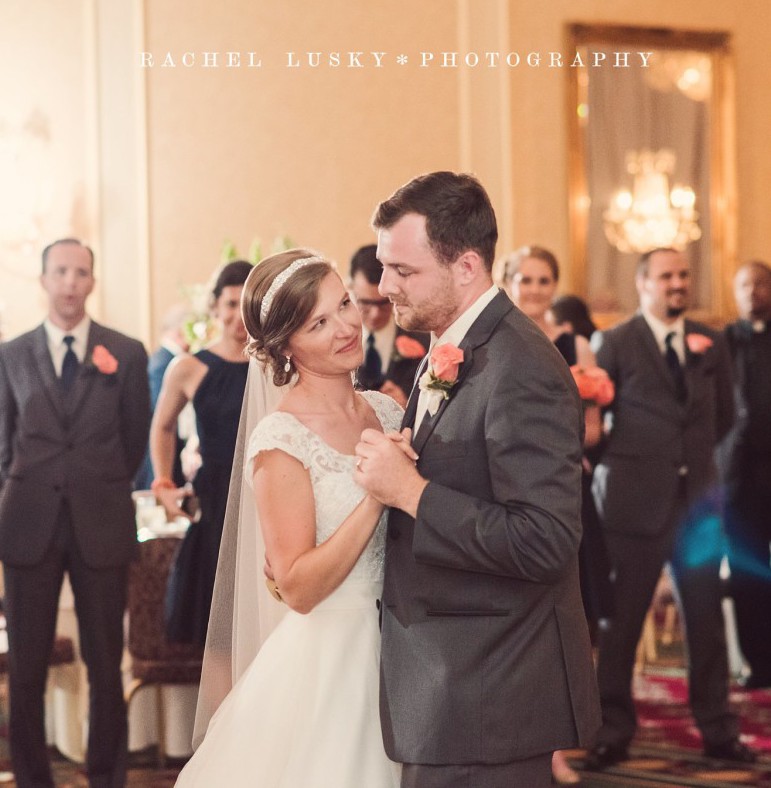 For their first dance the bride and groom chose a Beatles song- "Here, There, and Everywhere." They asked Dreamscape to play a CD recording. The bride then danced with her father to "I Loved Her First", performed live by the band. There was not a dry eye in the room!
~Reception Music Highlights:~
First Dance: Here, There, and Everywhere– The Beatles
Father/Daughter Dance: I Loved Her First– Heartland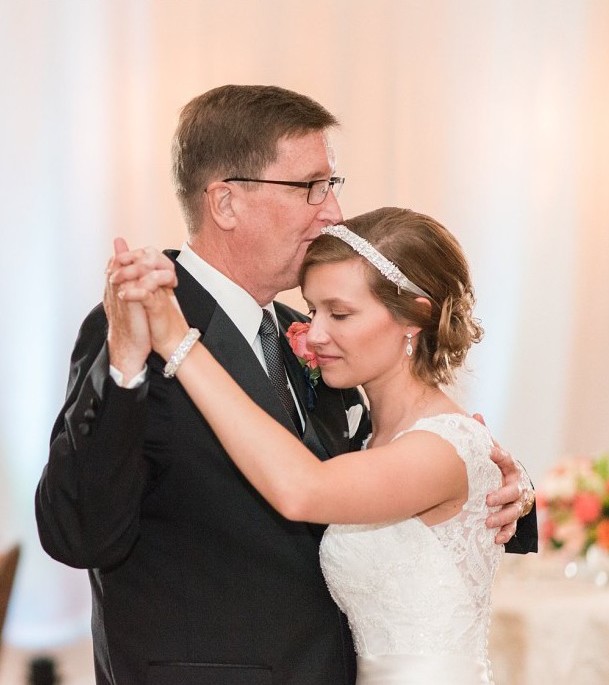 The wedding cake was simple and sweet. White, with a blue satin trim, and a crown of roses on top. The couple ordered their cake from Cindy's Let Them Eat Cake. After all the guests had finished their entrees, cake was served, and the party began.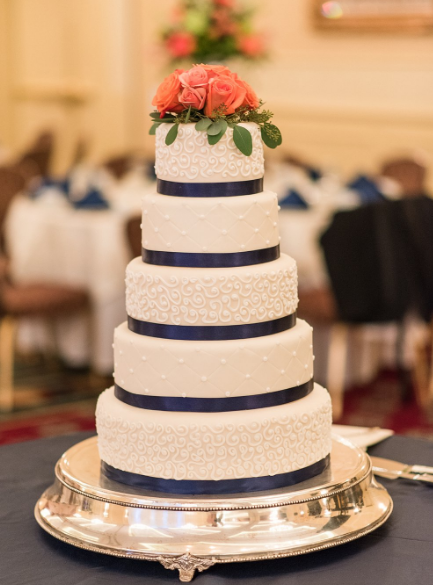 Dreamscape read the crowd and played songs to keep everyone on the dance floor. The band was rocking, guests of all ages loved the beat, loved the music. The bride and groom asked the band to play some classic rock as well as other popular party hits.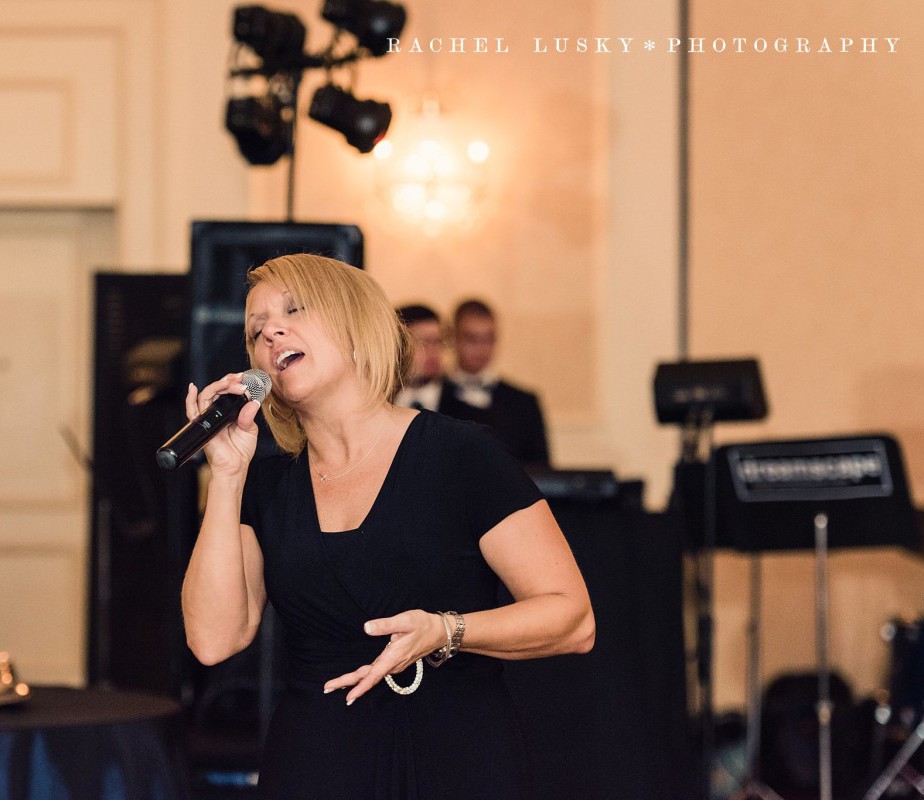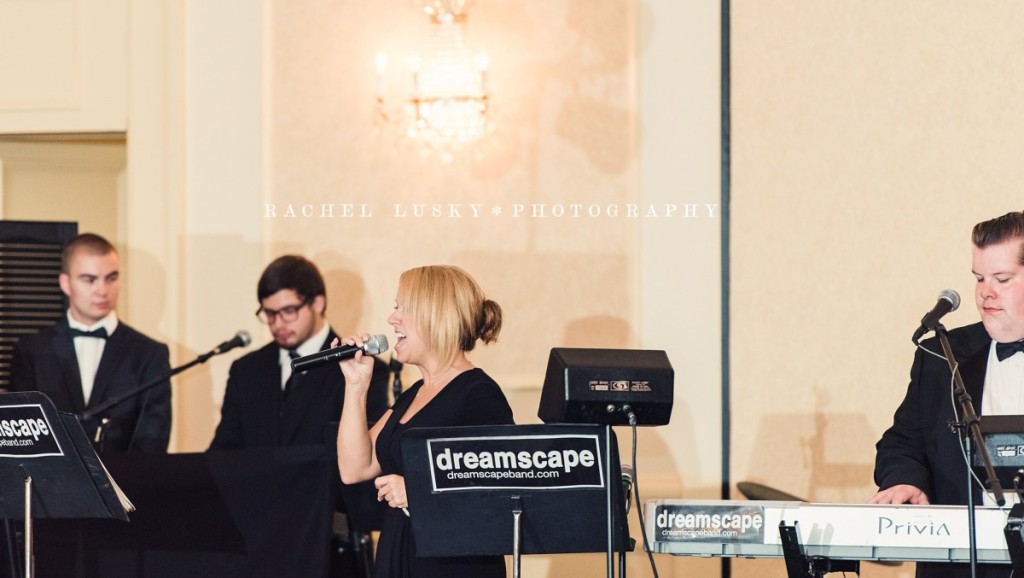 We hope you've enjoyed reading about Maura and Joe's beautiful wedding. Rachel Lusky Photography certainly retold their wedding day flawlessly. If you'd like to see even more photos of their day, you can do so on her blog. There's nothing we love more than being a part of a celebration like this one, full of love, joy, and laughter. If you're hoping to find an awesome live band for your day or event, be sure to look no further than Dreamscape band. Contact us today so that we may answer any questions you may have. For more information on the vendors Maura and Joe used at their wedding, check out the vendor list below.
~Vendor List:~
Ceremony: St. George Catholic Church
Reception: Ambassador Banquet & Conference Center
Photography: Rachel Lusky Photography
Florist: Alburn Florist
Cake: Cindy's Let Them Eat Cake
Entertainment: The Dreamscape Band